Connecting with Customers in a Virtual World
Remember when Zoom was a show for kids on PBS? These days, when you hear someone mention Zoom, it's most likely a reference to the popular video-conferencing platform.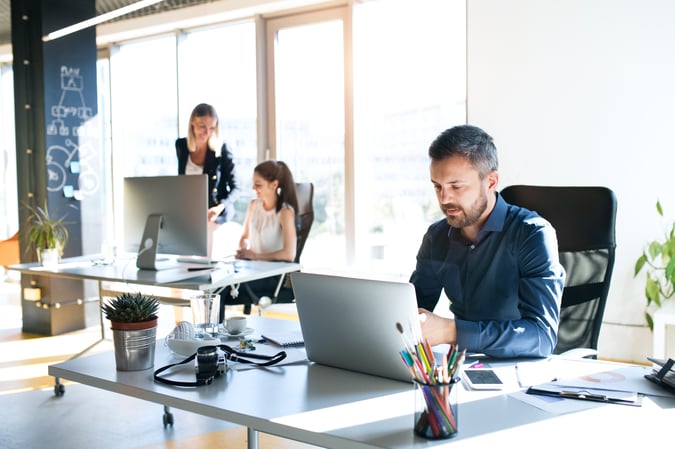 Reading Time: 5 Minutes
Though Zoom actually launched in 2013, it wasn't until 2020 that the app's user numbers really skyrocketed, spurred by the Pandemic. Almost overnight, Zoom's user rates soared by double-digit percentages. Employees working from home, families separated by social distancing, students learning in place instead of in classrooms — all were forced to connect online instead of in person.
Now, even though the world is slowly but surely beginning to re-open, the digital boom shows relatively few signs of slowing down. Virtually every type of business continues to be conducted online to some degree, from grocery shopping to court proceedings to doctor's visits, otherwise known as telehealth.
A year ago, it was the Pandemic pushing the needle on consumer and workplace digital behavior. Today, it's more of a combination of habit and convenience. At this point, very few businesses are immune to the changes, and those that haven't yet figured out an effective digital strategy are already lagging behind.
Open Enrollment Preparation for Agents in the Digital Age
Though not a digital native, the insurance industry has begun to embrace technology-driven solutions at a faster pace, particularly in the past year. Adoption rates in the health insurance space continue to climb as agencies and brokerages flock to where their clients congregate, which is online.
According to Pew Research Center, some of the lone hold-outs to increased digitization (typically Medicare-aged users) are changing their habits. Pew's Internet and Broadband study shows that 76% of Baby Boomers, ages 60–69, use the Internet daily, while those in the 70–87 age range show an adoption rate of 61%.
Numbers like these make "digital transformation" less of a tomorrow plan and more of a today's imperative.
To keep up, agents and brokers preparing for Annual Enrollment Period (AEP) and Open Enrollment Period (OEP) 2022 should be prepared to leverage digital outreach in their enrollment marketing plan, including:
Because required resources and knowledge levels vary for each of these channels, automating where possible with the appropriate insurance agent tools will help keep you aligned with best practices while increasing your efficiency and reach.
If you have an insurance agency website, consider working with a Search Engine Optimization (SEO) specialist to help boost your efforts through SEO-rich content. If your budget allows, a paid media consultant can help get results with online advertising.
For social media, think beyond Facebook. Twitter, Pinterest, Instagram, and even TikTok can prove to be powerful tools for agents, though content for each should be driven by your target audience. A study conducted by Pew Research Center, Social Media Use in 2021, provides detailed usage stats per platform on age, gender, income level, and more.
Once you've got a handle on the audiences you want to pursue and where, consider investing in a social media management tool such as Hootsuite. This will allow you to create, schedule, and collaborate on multiple social media platforms, as well as manage and measure advertising campaigns.
For other types of outreach, most video-conferencing apps like Zoom have a freemium option, which will come in handy for client enrollment planning sessions, while a platform such as Twitch can be awesome for live-streamed educational seminars, consumer workshops, and lunch-and-learns.
Digital Sales Tools That Grow with You
Once you have a insurance marketing plan for OEP in place and leads coming in, it's time to start thinking strategically about growing your OEP and AEP pipeline. Job number one? Investing in tools that do more than digitize the enrollment process.
An insurance quoting software provider like Quotit can help with the heavy lifting, whether you're an independent agent or part of an enterprise-level operation. Quotit is cost-effective and scalable, and includes robust features that help streamline the sales lifecycle.
These include:
A

multi-carrier quoting engine

with customized proposal capabilities
Automated email functionality to aid in marketing and retention efforts
Policy tracking to help you manage your clients' coverage needs
A

cloud-based API

for custom solutions.
Becoming more familiar with the digital landscape can be challenging, but as you adapt and grow with the changes, so will your business. Remember, at the end of the day, it's still about people — technology is just a tool to reach them. And whether online or off, the name of the game is still connecting with clients and serving their needs. Take care of your customers and you'll shine during OEP, and beyond.