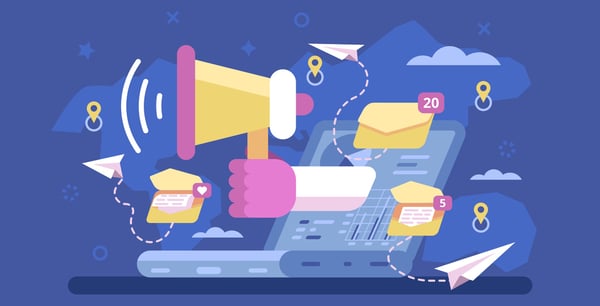 These days, customers are demanding personalized experiences more than ever before. In fact, one recent study found that 63 percent of consumers expect personalized services.
When companies recognize each customer on a personal level, it shows that they see the individual as more than merely an account or a way to make money. Personalization proves that companies are invested in adding as much value as they can.
As a result, it comes as no surprise that companies that are able to serve up these personalized experiences drive more sales. Another study found that 80 percent of customers are more likely to buy something from a brand when it delivers personalized experiences. Other reports reveal a similar upside to personalization—including increased engagement, higher transaction rates, and more revenue.
Add it all up, and personalization can help your insurance company meet clients' expectations while also encouraging them to reach deeper into their wallets.
Personalization: It's More Than Using Their Name
Now that you're aware of the benefits of personalization, you might be wondering how, specifically, you can offer personalized services.
Personalization, of course, starts with calling clients by their names—treating them as the unique people they are instead of run-of-the-mill accounts.
But personalization is about more than simply using a client's first name. It's about anticipating their needs; enabling them to customize their experience (e.g., by shopping for insurance plans online 24/7, at their own convenience); and recommending products, services, and content they might be interested in.
You might also find out that certain clients prefer communicating with you through a specific medium. For example, one client might want to do all of their communicating over email, another might prefer texting, and yet another might want to talk over the phone.
Similarly, one client might not want you to send them an email until the afternoon—something that you might be able to figure out by using technology that shows you when the individual is most likely to open your message.
With the right tools in place, it's possible to do all of this—without even using that much of your time (more on that later).
Nobody likes reading form emails that lack any sort of personal touch. In this light, personalization is about showing off your humanity, too.
For example, including emojis in your emails can give your clients a better idea about the kind of person you are while increasing your open rates at the same time.
Enhancing the Customer Experience with Personalization
In the internet age—when your competitors are only a quick Google search away—the customer experience is rapidly becoming a key differentiator.
The better your client's experience, the more likely they will be to continue buying insurance from you. At the same time, the happier they are, the more likely they will be to recommend your business to the folks in their network.
By meeting expectations with personalization, you go a long way toward enhancing the customer experience. In turn, you drive more sales and increase profitability—and, in the case of word-of-mouth marketing, you do so in a way that helps your business grow without requiring you to do much heavy lifting.
At this point, you understand why personalization is important and how it's linked to the customer experience. But you might be wondering how it's possible to personalize all of your outreach. There are only so many hours in the day, after all. And you're busy enough as it is.
Up next, we'll take a look at the final piece of the puzzle and find out how customer relationship management (CRM) technology can automate much of your personalization effort.
How CRM Tools Can Help
With the right CRM system in place, you won't have to worry much about personalization because the technology will take care of it for you, with little to no effort on your end.
For example, a CRM system can help you make sure that every email you send addresses your client by their first name. You can also make sure that you are sending emails to your clients at the best times, based on what the data says about when they're most likely to engage with your messages.
What's more, a CRM system lets you send timely emails to your clients. For example, you might set up your CRM platform to automatically send out a note that says happy birthday to each of your clients on their birthday. And when your clients are about to age into Medicare, for example, you can also send them a note letting them know more about their options.
Remember: All of this is done automatically. You can focus on other important areas of operations while trusting the technology to take care of the nitty-gritty.
The bottom line? With a CRM solution in place, you can automate the critically important personalization initiatives—thereby meeting clients' expectations, delivering a superior customer experience, and bolstering your bottom line.
To learn more about the transformative nature of CRM technology, check this out.