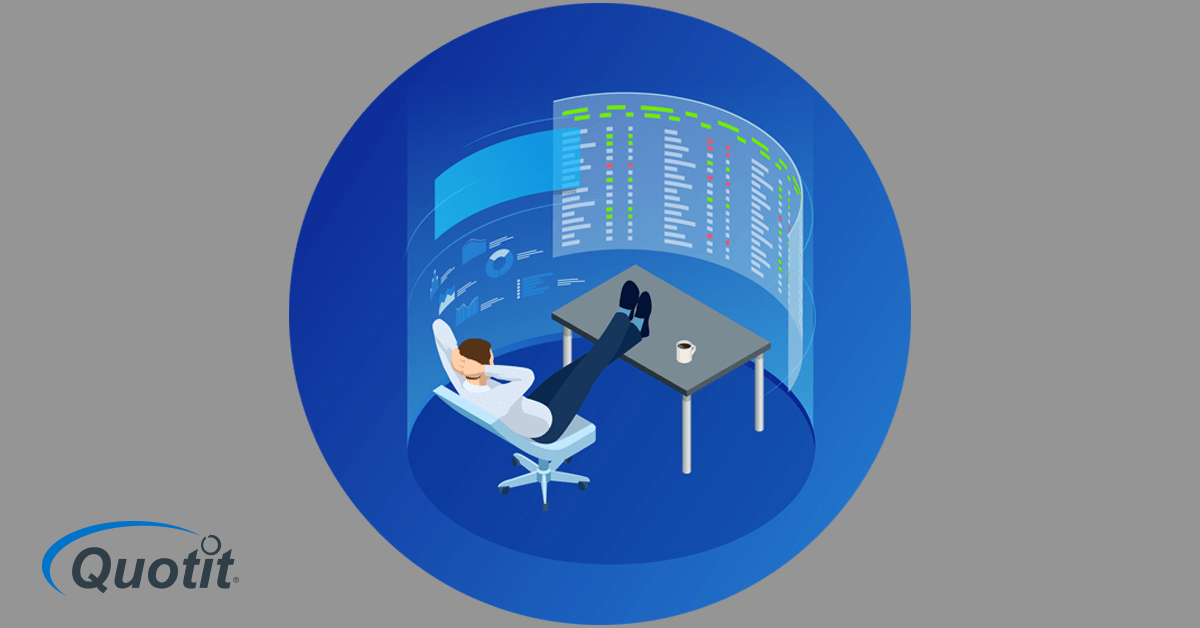 Open Enrollment (OEP) may be your busiest season, but are you really taking full advantage of its potential to expand your business and increase revenue? Using manual processes during OEP will only slow down your progress and frustrate consumers who expect instant results. There is no denying that today's digital economy has changed the way consumers shop for products and services, and the way we must approach the sales process. Prospects are looking for brokers who can provide accurate and immediate quotes from multiple carriers. If you can't meet their expectations, one of your competitors will. Enter, insurance quote software.Insurance quote software can increase efficiency and productivity – giving agents more time to focus on selling. Help your sales team focus on nurturing and converting leads by adopting innovative resources before Open Enrollment begins. With enough time to be trained on the system before your busy selling period starts, your sales team will learn how to use its features to improve the way they do business. An insurance quoting tool can give your sales force the competitive edge it deserves during this lucrative sales period and throughout the year.
In an evolving market, insurance quoting software is a game-changing investment, but during OEP, there is an additional incentive to streamline your processes. According to the Centers for Medicare & Medicaid Services (CMS), almost 12 million people enrolled in coverage during the 2018 Open Enrollment Period, 27% of those being new customers. The opportunities during OEP are clear, but you need to be equipped with the right tools to be successful. Consider the impact insurance quoting software can have on your bottom line.
OEP Quoting
Open Enrollment is an exciting but hectic time of the year and the surge of inquiries and calls can overwhelm the most seasoned professionals. If you are still using manual processes to help your prospects find plans, compare benefits and costs, deliver proposals, and enroll, you may be missing out on other sales opportunities.
Auto-responders integrated within a comprehensive quoting engine will help you reply to inquiries within a timely manner, which is more important than ever during OEP. Prospects expect a reply within minutes, and automated emails can help you connect with them instantly. Following up with immediate access to plan information, comparisons, online quoting and enrollment will keep prospects engaged.
Let's discuss the top five reasons to invest in a quoting engine before this year's OEP begins:
1. Quote multiple carriers at once.
How much time do you spend manually pulling quotes from individual insurance carriers? Having access to hundreds of carriers and thousands of plans at your fingertips will not only demonstrate your market knowledge and expertise, but will elevate your level of customer service.
Delivering instant online quotes will help you stand out among competitors who are still using antiquated methods of gathering plan information and presenting options to their clients.
Clients in today's market expect access to all the options available in their area. Eighty percent of consumers will compare products and services online before making a purchasing decision.
Customers will gravitate toward brokers that save them time and provide access to all coverage options without overwhelming them. Brokers using a multi-carrier quoting software platform can provide immediate plan comparisons and quotes based on the needs of each particular client and deliver a proposal within minutes. The ease and efficiency of insurance quoting software will allow your sales force to reach more prospects and close more sales.
2. Save time.
Filling out paper applications is not only a hassle, but it can waste precious time during Open Enrollment. Staying organized and keeping track of hard copy documents can be a challenge when you are trying to juggle multiple inquiries and deliver several proposals in the midst of a hectic work day. Open Enrollment can get chaotic, but comprehensive insurance software can help you expedite daily tasks and add valuable time to your day.
Manual processes take more time away from sales than you may think. Pulling individual quotes from several carriers and filling out excessive amounts of paperwork can distract you from building the relationships that will generate long-term revenue.
Insurance quote software can vary, but a fully integrated system that includes a Customer Relationship Management tool and connects quoting systems with carrier partner applications will improve the customer experience and reinforce your position as an industry leader and market resource for clients long after you close the sale.
3. Minimize errors.
Despite your most diligent efforts, human error is a fact of life, especially when agents are feeling frazzled during the busy Open Enrollment Period. There are a number of steps in the quoting and enrollment process in which errors can occur.
When you depend on manual processes, you are susceptible to errors caused by sloppy handwriting, misunderstandings, or tired eyes. No system is foolproof, but automated systems and insurance quoting software can help prevent mistakes that can make you seem less professional.
Your professional reputation is the driving force behind your success, and sometimes, you don't get a second chance to make a good impression. Making mistakes and sharing inaccuracies can diminish your brand. Innovative tools with accurate plan information, immediate quoting, and delivery of customized proposals will demonstrate your strength in the market and instill confidence in your expertise.
4. Streamline your process.
Performing time-consuming tasks like pulling quotes, preparing proposals, or submitting applications can take over your day and keep you from the most important part of your job – selling. Automating daily tasks will free up time to build relationships and nurture leads. Consider some of the daily tasks that can be automated:
Reminders for call backs and appointments
Marketing, including email campaigns and social media posting
Response to leads and follow up emails
Sales tracking, including purchase history, location, volume, etc.
Access to 24/7 quoting, allowing prospects to do research before they reach out to you personally
Enrollment applications when available through carrier partners
Performance reports
Insurance quote software can have a ripple effect on your internal processes. As agents adapt to seamless transitions, instant access to client information, and accurate and immediate quoting and enrollment, overall productivity and revenue will increase.
5. Cross selling can increase revenue.
It is much more cost effective to sell to existing clients than to pursue new ones. Ancillary product sales and referral business can contribute to your long-term revenue if you stay in close touch with your clients and continue to act as their go-to resource in the insurance market. Use the tools at your disposal, including your website, social media pages, CRM, and quoting engine to provide the knowledge and expertise your clients need.
Make sure your clients come back to you with any questions or concerns they have about changes in the market, their insurance plans, or additional coverage solutions, such as dental, vision, accident, critical illness, short-term health, or life insurance.
Increase your revenue by selling ancillary products to customers who already trust you. Satisfied customers will be happy to discuss their additional insurance needs with someone who has their best interests at heart. Add value and deliver solutions to the insurance-related challenges your clients face. To further your cross-selling efforts, focus on the client relationships you've established.
Installing Insurance Quoting Software Before OEP
Open Enrollment is your prime selling season – don't miss the opportunity to grow your business because you are wasting time trying to get quotes from different insurance carriers.
Use all the tools available to you – including an insurance quoting engine – to work more efficiently and increase sales. Outside of OEP quoting, you will increase productivity throughout the year during Special Enrollment Periods by utilizing an innovative system that automates marketing, including emails, social media posting, and advertising, helps you manage your client relationships, and gives you access to immediate and accurate quotes from hundreds of carriers. Be prepared for this year's Open Enrollment Period with insurance quote software.