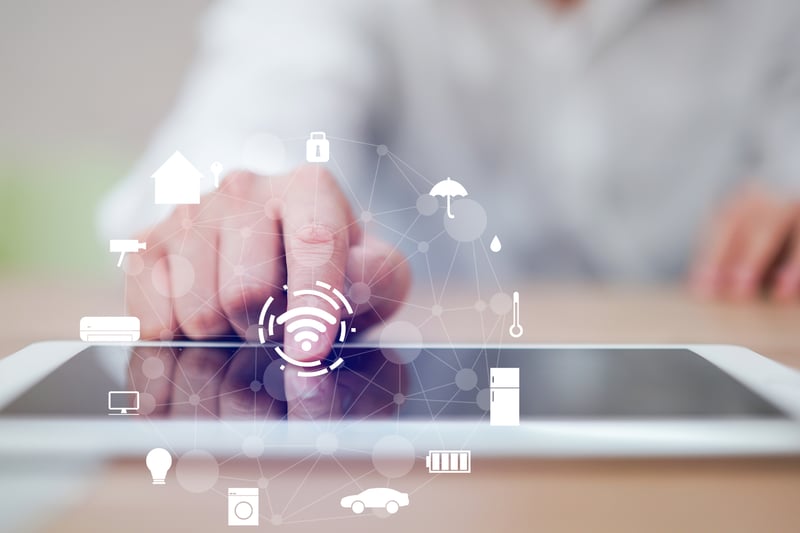 Reading Time: 8 Minutes
Cross-selling can drastically boost insurance sales for agents and brokers. Rather than starting from scratch, you can sell more health insurance to your current client base through cross-selling. And technology is now making it easier than ever to sell ancillary insurance, build relationships, deliver more solutions to your customers, and bring in more revenue.
Ready to supercharge your cross-selling routine? We've picked out four ways to sell more health insurance through cross-selling.
Start by Considering Ancillary Insurance Sales
If you don't offer ancillary options already, adding ancillary insurance sales to your arsenal can drive more revenue. And there may be even more benefits to offering ancillary insurance coverage than you realize.
Here are a few ways ancillary insurance can improve your business:
Improve customer retention: It's simple. Your customers are more likely to stick with you when they hold more policies from you. By

offering ancillary insurance

, you become a one-stop shop for all of your clients' insurance needs. That means you can strengthen your customer base and spend less time searching for new leads.
Build trust: The more benefits you're able to give customers, the more they'll see you as a trustworthy provider. This trust is essential to landing more sales. In fact, one Edelman survey found

80 percent of customers

feel they need to trust a company before they buy from it. That trust doesn't just improve their satisfaction; it also increases the likelihood that they'll refer your business to friends and family.
Improve health outcomes: Offering ancillary insurance naturally promotes more preventative care and reduces those massive crises that your clients dread. Take the case of dental insurance. As the

Centers for Disease Control and Prevention

found, people with

dental insurance

are more likely to visit a dentist. Instead of waiting for a catastrophic event to occur, these insured individuals can spot and treat small problems early, before they turn into costly disasters.
Earn higher commissions:

Of course, ancillary insurance can also boost your commissions. With more income streaming in, you can invest more in the agency, your family, or your customer experience.
How to Sell More Health Insurance with Cross-Selling
By focusing on cross-selling, you can drastically increase your insurance sales without exerting any extra energy searching for new clients. When you do it right, you can use cross-selling to grab more income from your existing customer base—all while delivering more value to your clients and solidifying your relationships.
Here's how to sell more health insurance through cross-selling:
1. Use the Right Tools to Build Relationships
The right insurance tools can drastically improve your ability to build and maintain relationships with your clients.
How important are those relationships?
They're essential to both your operation's reputation and your income. Anytime you reach out to current customers, you're able to strengthen your bond with them. The deeper those relationships become, the more loyal your customers will be, and the more likely they'll be to suggest your products to others.
To address your clients' needs, it's important to know what's happening in their lives. That means staying privy to everything from marriages, divorces, and births or adoptions to college and retirement plans. By getting to know your clients, you're able to establish stronger relationships and spark more cross-selling opportunities in the future.
Luckily, technology can simplify the relationship-building process. With an insurance customer relationship management (CRM) tool, you can house all of your contacts' information, needs, and preferences in a single organized system. That makes it easier to spot benefits that clients will appreciate, build a sturdy customer base, and position yourself as a one-stop solution for all of their insurance coverage needs.
2. Use Automation to Stay Connected
With technology advancing rapidly, it's now easier than ever to maintain relationships without bogging down your day. For instance, email automation can help you send out personalized messages without requiring much extra effort from you.
How?
One of the best ways to stay connected without pulling time out of your day is to access email templates. These resources simplify the writing process so you can stay fresh on the minds of your customers or leads and save time in the process.
Email automation can also help you develop deeper relationships—even if you're busy with other tasks. With some email automation programs, you can send personalized messages to clients or keep leads updated without taking time away from your busy schedule.
It's also possible to create automated email campaigns based on a contact's behavior. When they take an action that suggests they're a promising candidate, technology can help you identify cross-selling opportunities and open the door to more health insurance sales.
These time-savers carve out extra time for you to identify further opportunities and deliver added benefits to your clients.
3. Use Software to Simplify Quoting and Enrollment
The easier you make insurance quoting and enrollment for your clients, the clearer the path to cross-selling opportunities will be. Here's where quoting software can supercharge your insurance selling pipeline.
Quote and enroll software clearly lays out all of a client's policy options. Because you have quotes organized for you, it's easy to see which cross-selling opportunities will fit your client best.
At the same time, insurance software drives faster, easier enrollment. It's easier to build clear proposals so your clients won't be dreading heavy paperwork or long waits. And with a few clicks, your clients are signed up—which gives them more time to browse through those ancillary options that will turn into more health insurance sales.
4. Use a Cross-Sell Engine to Drive More Sales
Busy insurance agents and brokers don't always have time to put extra effort into identifying and taking advantage of cross-selling opportunities. This is another instance where technology is positioned to lift the burden off your shoulders
Cross-sell engines automatically suggest ancillary insurance products to bundle with primary plans as your client is shopping for insurance online. When your client selects an item, they get automatic suggestions on other products that might appeal to them. And this feature leaves you room to tweak your strategy where you see fit, which means you can set up rules and emphasize plans that you think are especially beneficial.
With a cross-sell engine, you can generate more insurance sales and match customers with ancillary insurance they'll appreciate, without lifting a finger.
See How Quotit Makes Cross-Selling Easy
Despite its huge benefits, cross-selling doesn't have to be an extra burden on insurance brokers and agents. With the right insurance technology, you can boost your sales, improve your customer retention, and meet the full range of your clients' insurance needs.
Want to see firsthand how Quotit makes cross-selling easy? Schedule a demo for an inside look at Quotit's latest insurance technology.