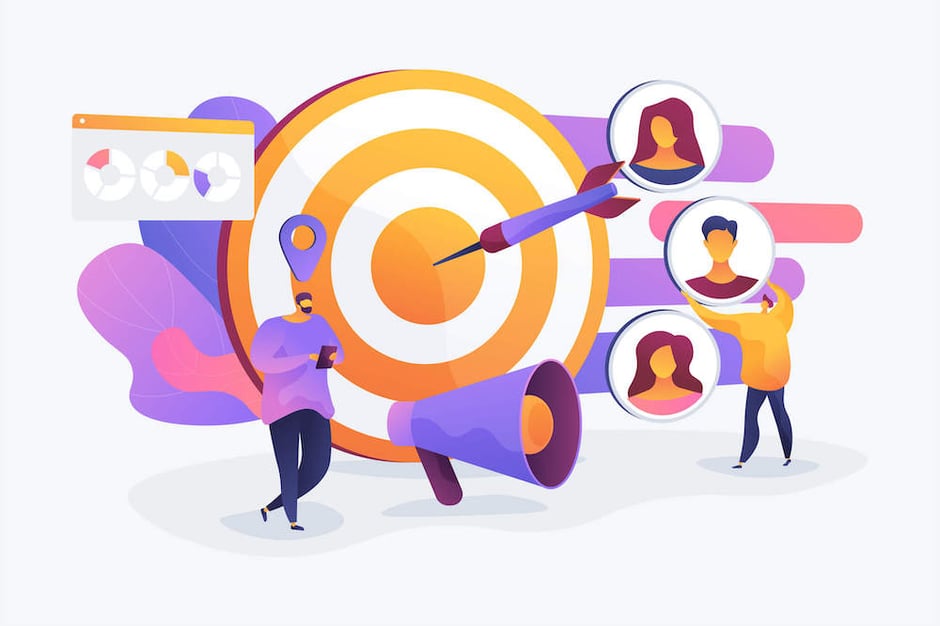 Regardless of how well your insurance business is doing, you could always improve. One way to do that is by taking a look at how your business generates and nurtures leads and what can be done to improve and optimize that process.

If it's been a while since your agency assessed its insurance lead generation tactics, you may be due for an overhaul. At the same time, you might be interested in selling health insurance from home and may be looking into how to get started.
Either way, keep reading to learn more about how your business can find high-quality health insurance leads using the power of technology.
Standing Out in a Crowd and Finding Your Own Leads
Here are five ways your insurance agency can generate more leads and, ultimately, close more deals.
1. Have a modern, user-friendly website
In the digital age, your competitors are always just a quick search away. At the same time, your agency is always just a quick search away, too. That being the case, it is critical that you have a sleek, user-friendly website that looks and operates like modern websites should.
If you're in need of a website but aren't sure where to start, AgentMethods makes it easy for insurance pros to create professional, polished websites in less than 10 minutes. You'll impress your clients and increase your odds of being found, all while collecting important information from prospects.
For the best results, make sure that your website is filled with all kinds of helpful content—including blog articles, infographics, and e-books (more on this in a bit). Basically, the more timely and helpful keyword- and SEO-optimized content you have, the easier it will be for leads to find your business when they're looking to buy insurance.
2. Prospect on social media
Unless you've been living under a rock for the last decade, you probably know how important social media is to businesses by now. When it comes to insurance sales, you need to have social media profiles set up where your clients happen to be.
Sites such as Twitter and Facebook can help you generate some results, but LinkedIn—the social network for professionals—is somewhere you definitely should be. That's where the decision makers you'll be selling to hang out.
Unfortunately, you can't just decide to create a presence on LinkedIn and expect great results. You need to build and maintain an effective and engaging profile. For more on that, check out our recent post on how to optimize your LinkedIn profile.
3. Launch a referral marketing program
As an insurance agent, you work hard to generate sales every day. But what if your clients could actually do the heavy lifting on your behalf? What if they could go to bat for you every day, doing everything within their power to sell to new clients for you?
With a referral marketing program in place, that's easily accomplished. For example, you might decide to incentivize your existing clients with discounts on premiums for every new policy they help you sell. That way, your clients—who already know what your business brings to the table and are happy with your services—can enthusiastically sell your services to the folks in their networks.
This is a big deal because we're all more likely to buy things from people we know and trust. In this light, a smart referral program can really be a game changer.
Not sure how to start a referral program? No problem. Check out these 12 referral marketing tips for insurance agents to get started.
4. Network with professionals and potential clients
Another easy way to generate new leads is by attending networking events and functions. Even if a pandemic cancels and postpones real-world events for the foreseeable future, you can attend virtual networking events to meet new people and hopefully make some good connections along the way.
Keep in mind that there's no rule that says you can only sell insurance to people you meet at professional events. You might not want to constantly try to sell insurance to everyone you come across, but you never know when a conversation with someone you just met at a neighborhood barbecue can turn into a potential sales opportunity.
5. Re-engage with leads who didn't buy last year
Just because someone might not have bought insurance from you last year doesn't mean you'll never be able to sell to them. That person could have said no to you for a variety of reasons. Maybe their insurance needs had already been met, or maybe you caught them at a bad time, for example. You also never know whether a lead who didn't buy from you is now looking for another option because they became unhappy with their previous insurance plan.
The old adage says that you need to contact someone seven times before they'll buy from you. Luckily for you, most of your counterparts are unlikely to go through with each of those seven calls. If you're determined and willing to stick to it, your persistence might very well pay off.


Tactics for Staying in Touch with Your Insurance Leads
You've got leads. But how exactly can you stay in touch with them over the course of the year?
1. Pick up the phone
As every insurance agent knows too well, phone calls come with the territory. Although cold calling might not be your preferred method of lead generation, it's a good way for you to learn how to overcome common objections and further refine your skills.
Be sure to have your game plan ready before you pick up the phone, though. For the best results, don't try to rush each lead right to a sale. A little patience and sincerity can help you position yourself as a trusted adviser.
2. Use email
Email marketing can have a positive impact on your lead conversion rate. Using email marketing automation tools, it's possible to automatically send your leads nurture emails at regular intervals to keep them engaged and keep your brand top of mind as the open enrollment period approaches.
3. Send out direct mail
Although more and more of our daily routines are moving online and more mail is coming into our inboxes than into our physical mailboxes, direct mail is still an avenue that insurance agencies like yours can use to target leads effectively.
Direct mail gives your agency the opportunity to put physical mail right in your leads' hands, which could catch them at the right time and encourage them to give you a call.
4. Give text messaging a try
If you have your prospects' mobile numbers, you may want to try putting together a brief text-message-based marketing campaign to see whether you can drive more sales using that tactic. Believe it or not, one study found that millennials actually prefer texting with businesses over other mediums of communication.
If you decide to move in this direction, you may want to make it easy for leads to opt out in case they don't enjoy that kind of outreach. The last thing you want to do is make your approach seem invasive.
5. Invest in content
Blog articles, e-books, infographics, case studies, guides, checklists, and more: All of these content marketing assets can help your business improve its SEO rankings and increase its discoverability.
Beyond that, digital content is easily shared over email newsletters and social networks. By investing in content marketing initiatives, your company can deliver more value to clients and leads alike while establishing your brand as a leader in your category.


Tips for Keeping Your Lead Generation Efforts
Organized
At this point, you might be thinking that all of this sounds great. But with so many moving pieces, what can you do to ensure that your efforts succeed?
1. Use a CRM platform
Instead of managing client data via a spreadsheet or a pen and a pad, consider whether investing in a customer relationship management (CRM) solution makes sense for your operation. The answer, almost certainly, is yes.
Quite simply, a CRM platform enables you to store all relevant customer-specific information in one place. That way, you'll never forget important milestones, and you'll remember some of the more granular details of each client—such as the last place they went to on vacation and what the name of their pet is. This enables you to personalize your outreach every time—which is exactly what clients are expecting.
2. Stay in touch frequently
It's unlikely that your leads will convert if you reach out to them once and then ignore them for months on end. Your best bet is to reach out to all leads regularly to keep a steady dialogue open and ensure your company is top of mind as they begin figuring out how to solve their insurance needs.
Leading CRM systems integrate with email marketing tools that enable you to automate much of this outreach. For example, you can automatically send out reminder emails to all of your leads two months before the open enrollment period begins, then again one month before it begins, and then in the weeks leading up to it, too.
3. Study the data
Keeping track of quotes and whom you've enrolled can help you continuously optimize your lead conversion strategy. For example, if you've noticed that you're selling a certain policy to several businesses that fit the same profile, you might be onto something. Armed with that information, you can intensify your efforts and target similar personas.
Bottom line? Study the data for your lead generation and conversion efforts and use it to continuously optimize your approach to sell more insurance.
All of the tactics outlined here can help your agency get to the next level, but sometimes the tried-and-true method of phone prospecting will be your best bet. To learn more about how you can make the most out of those efforts, download our free Phone Prospecting Checklist for Insurance Agents. Here's to capturing more leads, nurturing them effectively, and growing your bottom line!