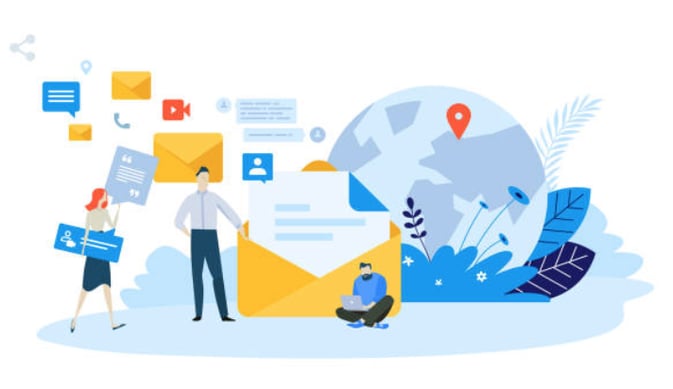 Reading Time: 6 minutes
Email is one of the most effective marketing mediums. And it's consistently rated as the marketing method that delivers the highest ROI. In fact, one study found that every dollar spent on email marketing brings back a whopping $44—a 4,300 percent return!
If you're new to email marketing, you might be thinking something along the lines of this: How can email marketing deliver that much ROI? I am bombarded with emails every day that I don't read, and it also takes me a lot of time to write each message to my clients!
Spoiler alert: Not every email marketing campaign is created equal. If you're sending emails to each of your clients on an individual basis, you're doing it wrong. And at the same time, because the average person deals with upwards of 120 emails every day, you need to make sure that every email you send is the best one you can create.
With that in mind, let's take a look at 12 ways you can beef up your health insurance email marketing efforts—and close more deals because of it.
Your Health Insurance Email Marketing 12 Tips:


1. Use email marketing tools.
2. Consider your branding.
3. Personalize each message.
4. Segment your customers.
5. Write great subject lines.
6. A/B test your emails.
7. Optimize your messages.
8. Include calls to action.
9. Send emails from a human account.
10. Optimize for mobile devices.
11. Don't overwhelm your audience.
12. Remember the preheader.
---
1. Use email marketing tools.
First things first: When you invest in the right tools and technologies, you won't have to write emails by hand. Well, at least not all of them.
Getting the best results from your email marketing efforts starts with having a customer relationship management (CRM) solution and an email marketing automation platform in place. The former enables you to easily keep track of all relevant client information, and the latter allows you to automate the bulk of the process.
When you have a CRM with email automation built into it, the process is even easier. You can automatically send messages to individuals on their birthdays, remind them that the open enrollment period is approaching, or let them know they're aging into Medicare soon and it's time to start preparing.
With the right setup in place, you can also use email to convert cold insurance leads into bona fide clients. All you'll have to do is write some emails up front, and the technology will take care of the rest.
2. Consider your branding.
Email is a great vehicle for adding value by sharing important information with customers in a timely fashion. But it's also an opportunity to market your business and reinforce your brand in your audience's minds.
That being the case, it's worth spending some time and resources coming up with an email marketing template that highlights your company's personality, branding, and color scheme while also being pleasing on the eye.
It's just an extra step that can help set your business apart from your competitors who still send emails full of text and nothing else.
3. Personalize each message.
In the age of mobile devices, social networks, and Amazon, it comes as no surprise that today's consumers increasingly expect personalized experiences from the companies they do business with.
As such, it is critical for you to personalize your email outreach to each client and prospect. But don't just take our word for it. Personalized emails have higher transactional rates, higher ROI, and higher revenue-generation potential.
And the best part? Using a CRM solution, you can automatically personalize each message. It's a simple trick that can have a significant impact on your bottom line.
4. Segment your customers.
Keep in mind that personalization doesn't mean sending a unique email to every single one of your clients and prospects! That would be crazy.
What you can do, though, is segment your clients and prospects into similar "buckets." Here are some examples:
Folks looking for dental insurance
Clients aging into Medicare eligibility
Prospects interested in family and individual health insurance plans
Clients whose current coverage is expiring
With email segmentation, it's possible to personalize each email to your audience based on the personas you've developed, which can help you enjoy better business outcomes.
5. Write great subject lines.
Great email marketing campaigns are built on a foundation of great subject lines. In fact, a HubSpot study found that 35 percent of email recipients decide whether to open a message based on the subject line alone. In other words, the better your subject lines are, the more successful your campaigns will be.
So what does a good subject line look like, anyway? Generally speaking, it's personalized, short, and to the point, and it creates a sense of urgency.
Luckily for you, technology can help you ensure your subject lines are well-received.
6. A/B test your emails.
Leading email marketing solutions enable you to easily conduct A/B testing, which makes it that much more likely that your audience will engage with your emails. In case you're unfamiliar, A/B testing, in the context of email marketing, is the process of sending two different variations of a message to a specific audience, and then using technology to ensure that the bulk of your readers receive the "better version."
For example, you might choose to send Version A to 2 percent of your audience and Version B to another 2 percent of your audience. Using A/B testing, the remaining 96 percent of your audience could automatically be sent the version that had higher open rates or higher click-through rates, depending on the metrics you're trying to optimize, after a predetermined period (e.g., four hours).
7. Optimize your messages.
Speaking about optimization: Your audience isn't going to read a 17,000-word email. It's that simple. So keep your emails short and sweet.
Write short sentences, engage your readers, and make sure that the action you want them to take is abundantly clear.
8. Include calls to action.
You can make clear what you want your audience to do by including a call to action (CTA) in each email you send.
For example, if you're targeting prospects, your CTA might be a button that says something such as, Get a Quote, and links directly to your website's quoting engine. If the goal of your outreach is to let certain prospects know that they are about to age into Medicare, your CTA might send them to an e-book or guide about the ins and outs of Medicare.
In other words, don't expect your readers to click reply and write back to you. You probably wouldn't do that, either. Instead, encourage them to click a button that sends them where you want them to go. You'd probably do that.
9. Send emails from a human account.
By now, you understand the importance of personalization in emails. It turns out that people essentially just prefer a personal touch in their increasingly digital existences.
To this end, make sure that the emails you send out come from a person. In most cases, it should be you.
Don't send emails from an account like noreply@company.com or marketing@company.com. The experience is more personal when it comes from a legitimate human being.
10. Optimize for mobile devices.
You might have been able to get away with treating every device the same five or 10 years ago. But we're now in the 2020s, and more people own mobile devices every day.
If you want great results from your email marketing efforts, you need to optimize for mobile. More and more consumers agree that the way an email looks on their device is important. Leading marketers understand this, which is why 73 percent of them are optimizing their email campaigns with mobile in mind.
By optimizing for mobile, you'll meet customers' expectations while differentiating your company from your competitors that are slower to move into the modern world.
11. Don't overwhelm your audience.
If you send your audience emails over and over and over again, you're not going to like what happens. You'll get hit with a ton of unsubscribes, and you'll probably even be marked as spam.
Be precise with your outreach. Send emails at comfortable intervals—once a month might do the trick. But whatever you do, make sure that your emails are timely. The last thing you want is for a time-sensitive email to accidentally go out two weeks late.
Good news: An email marketing platform can help you determine the best time of the week to send emails to each of your recipients based on how they engage with their inboxes. Whereas Person A might usually open emails at 8:30 a.m. on Tuesdays, Person B might prefer reading them at 3:28 p.m. on Thursdays. Using email marketing automation, it's possible to target both of these individuals with the same message at the best time.
12. Remember the preheader.
You know how there's some text displayed after the subject line in your inbox? That's called a preheader, which is a valuable piece of email real estate you can't afford to take for granted. Be sure to include personalized and helpful information in the preheader to increase the chances that your audience engages with each message.
So there you have it. The more of these tactics you employ, the more likely you'll be to generate some of that impressive ROI we touched upon at the beginning of this article.
Are you ready to take your health insurance email marketing efforts to the next level? That's great news.
Here's even better news: You don't have to go it on your own.
Download our free sales cadence for selling ancillary insurance and email templates and get started today. We look forward to seeing you grow your business by delivering more value to your clients—and without much heavy lifting at all.