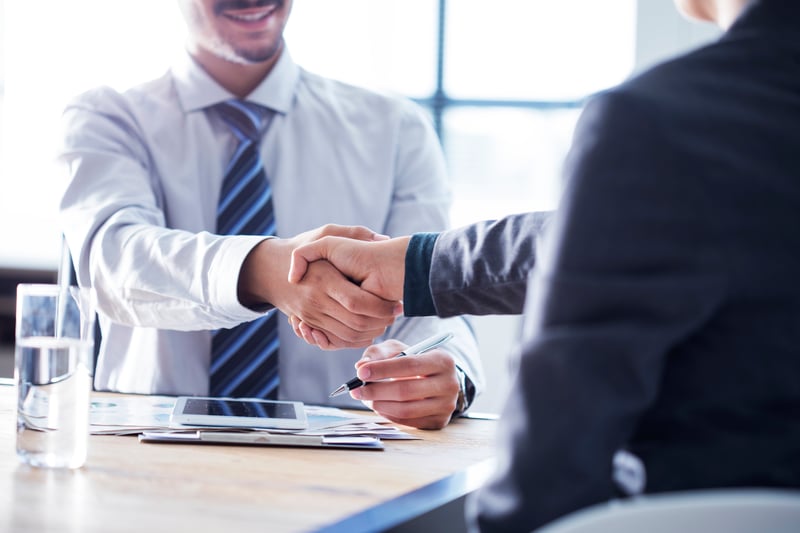 Reading Time: 8 Minutes
In the insurance world, marketing is essential to pulling in prospects, snagging new leads, and driving more insurance sales. Unfortunately, insurance professionals have packed schedules, and most simply don't have time to handle extra marketing work. Luckily, there are now insurance marketing tools that can help you master marketing without the added stress. Read on for 11 insurance marketing tools that can elevate your insurance sales without adding extra work to your plate.
First, How Can Insurance Marketing Tools Boost Sales?
Insurance marketing tools don't just attract more leads to your insurance business. They can turn them into more sales and a more loyal customer base.
Essentially, insurance marketing tools can deepen your relationships with clients and improve their insurance shopping and buying process, which leads to happier clients who morph into advocates for your business. When those clients become loyal customers, it can inspire more referrals, drive more customers to your services, and lift sales
Tools That Can Help You Follow Through on Your Best Insurance Marketing Ideas
You may have brilliant insurance marketing ideas flooding through your mind throughout the day. However, few insurance brokers and agents think they have time to put their marketing plan in motion.
That's where marketing automation can be a game-changer. The right insurance tools will help you capture more leads and land more sales without eating into your day. Here are some of the best insurance marketing tools for securing higher conversion rates and more insurance sales:
1. Automated Email Marketing Technology
According to Statista, the number of email users is expected to jump to 4.48 billion worldwide by 2024. As email users rise, email marketing is positioned to be one of the most cost-effective and efficient ways of reaching insurance prospects and customers.
With automated email marketing tools, you can tap into that pool with little extra work on your end. For instance, you can customize autoresponders to follow up with prospects at predetermined intervals, send birthday or holiday greetings, and send renewal reminders. You can also use insurance marketing technology to easily personalize email messages and meet the needs of your clients or prospects.
2. End-to-End Insurance CRMs
If you want to save time, build relationships, and capture more leads, it takes organization. That's why end-to-end insurance CRMs have become the savvy insurance professional's best friend in recent years. With an insurance CRM, your contacts are automatically organized for you, along with those personal details that fuel stronger bonds.
Insurance CRMs make it easy to sort through contacts and set up marketing campaigns that attract more leads. Rather than forcing you to fumble through handwritten notes or try to remember information about a prospect, CRMs automatically sort through personal details and provide the raw materials to spark more sales.
3. Cross-Sell Engines
Insurance cross-sell engines can help you sell insurance in your sleep. These insurance tools automatically give your clients suggestions based on the insurance policies they're dropping into their online shopping cart.
For instance, some insurance programs will prompt clients to buy ancillary insurance policies when they're finished shopping for primary plans. These insurance tools open up cross-selling opportunities, increase customer loyalty, and help you deliver more insurance solutions to happier clients. All the while, these automated tools carve out time for you to focus on bringing in more clients and delivering more sales.
4. Social Media Schedulers
Social media plays a key role in building strong client relationships. A professional, yet personal, social media page can draw in prospects and connect you to clients long after a sale has closed, encouraging ancillary product sales and more referrals.
Unfortunately, posting daily to multiple platforms such as Facebook, Instagram, and Twitter can seem impossible in the midst of busy enrollment periods, but a social media scheduler can help you tailor posts for client engagement, save time, and increase your efficiency. Here are some popular social media schedulers to consider:
Hootsuite
Buffer
SmarterQueue
CoSchedule
5. News Aggregators
A social media scheduler will save you time, but it will be effective only if you have interesting and relevant content to fill your posts with. Although you can certainly get creative on your own, it can be time-consuming to prepare original posts on a daily basis. Now, thanks to modern marketing tools, you don't have to.
News aggregator applications automatically sort relevant content to fill up your scheduled posts. That means you can easily track changes in the market, the latest health tips, new healthcare regulations, and other trending topics. Here are some news aggregators that are popular:
Google News
Apple News
Flipboard
Feedly
TweetDeck
6. Email List Scrubbers
It doesn't make sense to waste your time marketing to an invalid email list. If your emails are hitting old addresses or the inboxes of people who don't want them, it can hurt your marketing efforts. Instead, it's worthwhile to remove unengaged subscribers and focus on the people who really want to receive information from you.
Scrubbing your email lists periodically is an important part of maximizing deliverability rates and reducing bounce-back rates. Now, you can use third-party services to maintain list "hygiene." Here are a few common email list scrubbers:
Xverify
VerifyBee
ZeroBounce
7. Presentation Tools
Beautifully designed images are necessary when it comes to marketing campaigns of any size. Investing in a graphic designer might be worth it if you're creating a billboard, but you certainly don't want to hire someone every time you send an email or post on social media. That's where presentation tools can step in.
Whether you simply need to free up your time or just don't have an artist's skills, you can benefit from an online design solution such as Canva, which uses drag-and-drop features and professional layouts to help you design stunning graphics. Templates and predesigned items can help you create unique, eye-catching images for social media, emails, brochures, direct mail pieces, and more.
8. Video Marketing Tools
When it comes to marketing for insurance agents and brokers, video marketing can take your sales to the next level. And you don't have to be a Hollywood producer to make a video. Shooting live videos on your phone can be just as effective as anything produced by fancy camera equipment and lighting.
Webinars and information sessions don't have to be complex, but if you want to create a more customized video, try a super-simple, template-based video creation tool such as:
Biteable
Animoto
Blender
Animaker
Powtoon
9. Survey Tools
Tracking the success of your marketing and sales efforts is an important step in determining your future plans and investments. You can learn about your existing customers with the help of a survey tool. Here are a few popular examples:
Surveypal
SurveyMonkey
Google Forms
You can use these user-friendly online questionnaires to learn valuable information about your prospects and clients. You can ask about pain points in finding health insurance, preferred methods of searching for new services and advisors, favorite websites, or other important info. From there, compiling these results can help you improve your marketing efforts, track lead sources, and increase sales.
10. URL Shorteners
Another underestimated marketing tool for insurance agents is a URL shortener such as Bitly. Link-shortening tools will take any URL and generate a shorter one that will not only be more visually appealing but can also be easily shared.
You will also be able to track clicks on the specific URLs for email marketing campaigns or social media posts, making it easier to discover what content is generating the biggest response.
11. Google Analytics
Google Analytics might not technically be a marketing tool, but it is vital to improving your marketing efforts. Once you create a website, you'll want to boost your lead generation and conversions. Google Analytics helps you track your efforts.
Wondering how it works?
Installing a short tracking code on your website gives you access to valuable data, including the source of site visitors and the pages drawing the most attention. That information can help you determine your success rates in organic search engine optimization (SEO) and paid ads, allowing you to reprioritize your time and money moving forward.
Using Insurance Marketing Tools to Drive Sales
Marketing for insurance brokers doesn't have to be expensive or difficult. Quotit's insurance software works as an all-in-one solution for brokers and agencies. In addition to providing key marketing features, it can help you tackle everything from nurturing leads, sorting quotes, and managing contacts to enrolling clients, cross-selling policies, and more.
Want to see how Quotit can drive more sales and help you meet your insurance goals? Schedule a demo for an inside look at Quotit's insurance technology.