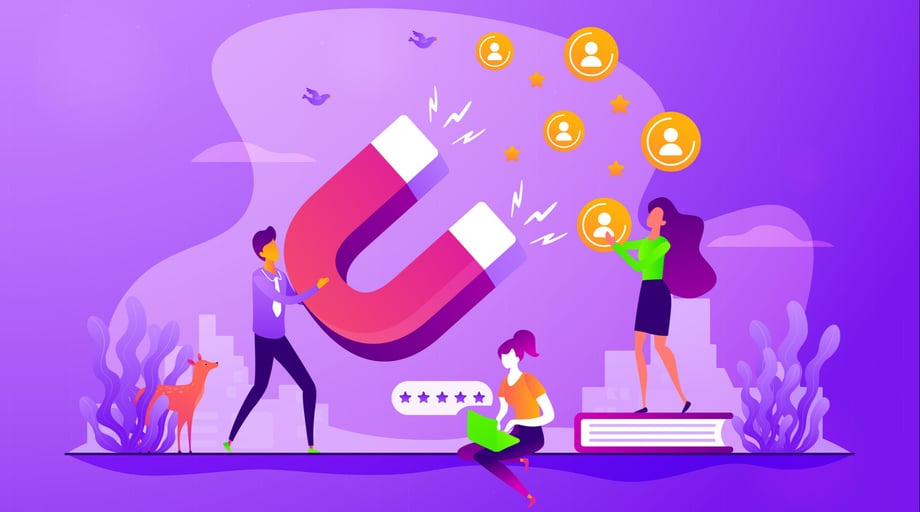 There's no such thing as a free lunch, so the famous saying goes. In the world of insurance, there's no such thing as a free lead, either.
That's because a "free lead" is not—in any way, shape, or form—actually free. For example, you might end up getting hit with office or booking fees. Or you might end up having to pay a commission after you convert one of those individuals into a bona fide client.
At the same time, "free leads" are almost always low quality. So, even if you don't have to pay any fees, odds are that pursuing these kinds of leads simply won't be worth your time.
As we all know, time, of course, is money.
So instead of thinking you've found a shortcut when you stumble across an ad for free leads, it's probably a better use of your time to figure out how you can generate high-quality leads on your own.
Does that sound like a tall order? It doesn't have to be. Thanks to modern tools designed to help insurance agencies like yours supercharge lead generation, that's easier than it might sound.
Health Insurance Leads in the Digital Age
In the era of mobile devices, ubiquitous connectivity, and lightning-fast networks, it's easier than ever to generate user data—or, more specifically for the purposes of this blog post, leads.
By investing in a modern website and outfitting it with all kinds of features the average internet user demands—things such as quote and enroll tools that work 24/7, the ability to chat in real time with agents, and e-books or white papers that are helpful to your audience—your agency can capture all kinds of data about all kinds of users.
If you're in need of a website but aren't sure where to start, AgentMethods makes it easy for insurance pros to create professional, polished websites in less than 10 minutes. You'll impress your clients and increase your odds of being found, all while collecting important information from prospects.
Armed with that information, you can then route those folks through your marketing funnel in hopes that they'll ultimately decide to do business with you.
For example, let's say that the health insurance industry experienced a massive overhaul over the last year, and many new laws and regulations were enacted. Your health insurance agency could write an e-book that explores this topic in depth in hopes that decision makers at small businesses and other companies would find the asset while they're researching their options.
By putting the asset behind a so-called "gate," you can collect relevant contact information from an individual before giving them access to the e-book. As a result, you earn a high-quality lead who very well might decide to do business with you down the line.
The Critical Role Websites Play in Lead Generation
Although the digital age has made lead generation easier, you can't just publish any old website and hope to get great results. Instead, you need a website that not only attracts visitors, but also encourages them to stick around.
Best practices say that your website should focus on the needs of your customers. Why are they coming to your site in the first place?
If, for example, they're interested in shopping for insurance plans at their own convenience, you need to add built-in quoting tools to your website. With the right solution in place, you can give users access to plans from upwards of 300 carriers across the country, and you can offer ancillary insurance products, too.
Similarly, in the age of smartphones, your website needs to be optimized for mobile devices. If mobile users come to your site only to find out it's taking forever to load and it doesn't look good on their phones, chances are that they're going to look elsewhere to solve their insurance problems.
The bottom line? Your website needs to be designed to impress and engage your clients—not your leadership team.
Ready to Generate High-Quality Health Insurance Leads?
There are only so many hours in the day. That being the case, you'll want to do everything in your power to work as efficiently and productively as possible. Although the "free leads" that come across your desk might sound interesting, chances are that pursuing those leads will end up being an exercise in futility.
The good news is that—in the age of technology—it's easier than ever to capture high-quality leads. You just need the right approach.
By building a website that meets user expectations and is full of features your clients want, publishing relevant content on a regular basis, and maintaining a robust presence on the social networks your clients hang out on, you can generate tons of great leads. And those leads are your leads alone.
To be fair, it may take time and resources to build the kind of website that your clients have grown to expect. But those investments will be well worth it because they'll make your site stand out among the competition.
To learn more about how your insurance agency can get high-quality leads in a cost-effective manner, check this out.