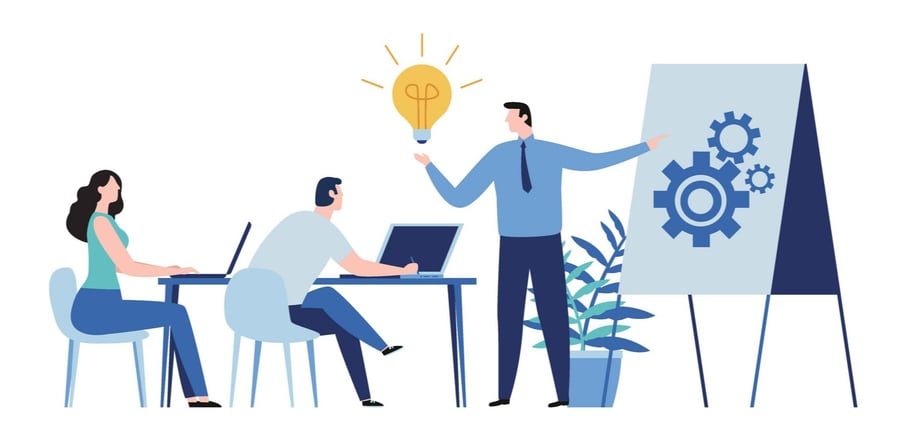 Open enrollment is the time of the year when buyers can sign up for health insurance. It's different from special enrollment—which occurs when clients get married, have children, get divorced, lose insurance because they're fired, or move to a different state, among other things. The open enrollment period for 2020 runs from Nov. 1 through Dec. 15, 2019, with plans sold during that time taking effect Jan. 1, 2020.
For agencies and brokerages, it is critical to be ready to make the most out of the open enrollment period—if for no other reason than the fact that you can sell health insurance to more people during this time frame.
With that in mind, let's take a look at four things you can do to make sure your insurance business thrives during this busy and critical time of the year.
Preparing for Open Enrollment: What You Need to Do
To an extent, open enrollment is predictable. It comes once a year—and generally during the same time period.
At the same time, open enrollment is completely unpredictable. Plans change every year, clients might not keep pace with those changes, and new technologies that transform the industry might emerge.
To stay ahead of your competitors, you need to build a system that ensures your insurance business is prepared to jump into open enrollment headfirst every year.
Here's how to do that.
1. Keep track of changes in laws, plans, and healthcare
Today's best health insurance businesses stay on top of every health insurance change and even learn how to anticipate them, to a certain extent. They also stay abreast of changes to healthcare plans so that they can serve as trusted advisers for their clients, informing them on how their current coverage might change and letting them know about other options that they might prefer.
Building off the "trusted adviser" idea, leading insurance businesses also keep tabs on changes in healthcare services and technologies. You never know when a new game-changing treatment option might make all the difference for a certain client.
In the insurance business, things change. That comes with the territory.
For example, the enhanced direct enrollment program went online in 2019 with support from leading insurance software companies. This technology enables health insurance brokerages and agencies to sell coverage to clients without visiting HealthCare.gov. Previously, agencies or brokers would have to go through carriers to begin the enrollment process, head over to HealthCare.gov to determine whether a client was eligible for plans on federal or state exchanges, and then return to their site to complete the process. Thanks to enhanced direct enrollment, the entire process is streamlined and can be completed on the agency or brokerage's website.
The last thing you want is to be blindsided by any significant changes like enhanced direct enrollment. Make it a habit to keep track of changes in laws, plans, and healthcare offerings as soon as they become available, and you will always be ready to answer any questions that might arise during the upcoming open enrollment period.
2. Communicate with your clientele ahead of time
Anyone who has bought their own health insurance—either for themselves or for their organization—knows how unappealing the process can be.
Though buying health insurance might not be the most exciting thing to do, it is a necessary thing to do.
Not all of your clients might be aware of the open enrollment period. For example, a new prospect might have started a freelancing business a few months ago, and this could be their first year buying health insurance for themselves.
Be sure to communicate with your clients through email, social media, and blog posts to give them enough lead time before the open enrollment period begins so they can start thinking about it. Once the season kicks off, send them gentle reminders to make sure they know that it's time to get serious about buying health insurance for the upcoming year.
3. Offer ancillary services to increase your revenue
There's no reason health insurance businesses can only sell health insurance.
If your business hasn't done so yet, it's time to start thinking about offering additional insurance products—such as vision, dental, disability, accident, Medicare Advantage, and Medicare Supplement plans.
From the outset, this might sound like a tall order. But rest assured that with the right tools in place, it won't be—which brings us to our next point.
4. Use technology to expedite the quote and enrollment process
Consumers are doing more of their shopping online (thank you, Amazon). And, believe it or not, more and more of them are buying their health insurance online, too. In fact, research suggests that 72 percent of clients have looked online for health insurance in recent years.
First things first: To capture business from these customers, you need to have a website that supports online health insurance sales. Leading solutions enable your clients to compare hundreds of health insurance plans quickly, selecting the one they want at their earliest convenience.
Struggling to find the time to search for new technology? Use a customer relationship management (CRM) system to automate client outreach and other mundane tasks—enabling you to reclaim time that you can then invest in other mission-critical areas of operation.
What's more, leading solutions also allow you to easily sell ancillary insurance products, so you don't have to worry about hopping from one carrier's site to the next to find out what options are available.
Now that you're familiar with some of the easy steps you can take to get ready for open enrollment, it's time to shift our attention to some questions you should ask yourself as we get closer to November.
Preparing for Open Enrollment: Questions to Ask Yourself
By no means are these the only things you should consider. But if you are comfortable with your answers to the following five questions, chances are that you're in a good position to crush it during the upcoming open enrollment period—and every one after that.
1. Do I understand all of the changes in the law and industry?
Staying on top of all of the developments in the healthcare industry is no easy feat. It requires paying continuous attention to all the news that's happening.
The easiest way to do that is by finding trusted sources for content—such as blogs, social media accounts, podcasts, newsletters, and the like.
Not sure where to get started? Here's a list of 100 healthcare blogs, websites, and newsletters you may want to check out.
2. Can my website accommodate increased traffic?
During high-traffic periods—for our purposes, open enrollment, and particularly during the end of it—it is critical that your website can accommodate the traffic.
Otherwise, your website won't work properly—which could very well lead prospects to your competitors.
Do some analysis to make sure that your website is backed by scalable infrastructure that can handle these large influxes of traffic. If your site can handle increased traffic with ease, you'll get the peace of mind that comes with knowing your business can sell to the most customers during the busiest period of time your business will likely encounter all year.
3. Am I meeting user expectations with convenience and instant gratification?
In the smartphone era, clients have grown accustomed to instant gratification and convenience. They want companies to communicate with them in the ways they're most comfortable with. They want to be able to buy things the way they want to buy them—and when they decide to make a purchasing decision.
If a customer wants to buy health insurance right now, you need to be able to sell it to them at that moment. Otherwise, you're leaving plenty of potential revenue on the table.
4. Do I have the tools I need to handle lots of sign-ups?
Are you still closing the bulk of your deals on the phone? If so, you won't be able to meet the expectations of the bulk of your customers.
On the flip side, with a quote and enroll solution in place, clients can select and enroll in their own plans online—and at their own convenience.
5. Is my team up to speed on everything?
Let's say you've decided to invest in quote and enrollment tools and a CRM system to ensure that your business can reach its full potential during this open enrollment period. That's great news!
But you can't just invest in the technology and hope to get great results. Your team needs to know how to use the tools effectively. Otherwise, what's the point?
Be sure to invest adequate resources into training so that your team is productive with the new technology and you get the return on investment you're hoping for.
You know how important it is for your insurance company to be prepared for open enrollment, you know what you need to do, and you know how to make sure you've put yourself in a position to succeed.
Now it's time to put it all together and enroll as many clients as you can—upselling and cross-selling when the opportunities arise.
Are You Ready to Dominate the Next Open Enrollment Period?
Just like retailers generate more revenue during the end-of-the-year holiday rush, health insurance businesses do the bulk of their selling during the open enrollment period.
With so much potential revenue at stake, you can't afford to drop the ball here. Rest assured that the majority of your competitors will not.
By keeping tabs on industry developments, making sure your clients are well informed about the open enrollment period, and using the right software solutions to get more done in less time, you can sell more insurance to an ever-increasing number of clients—even when you're fast asleep.
That's the ticket to happier and healthier customers—and a stronger bottom line for your business.