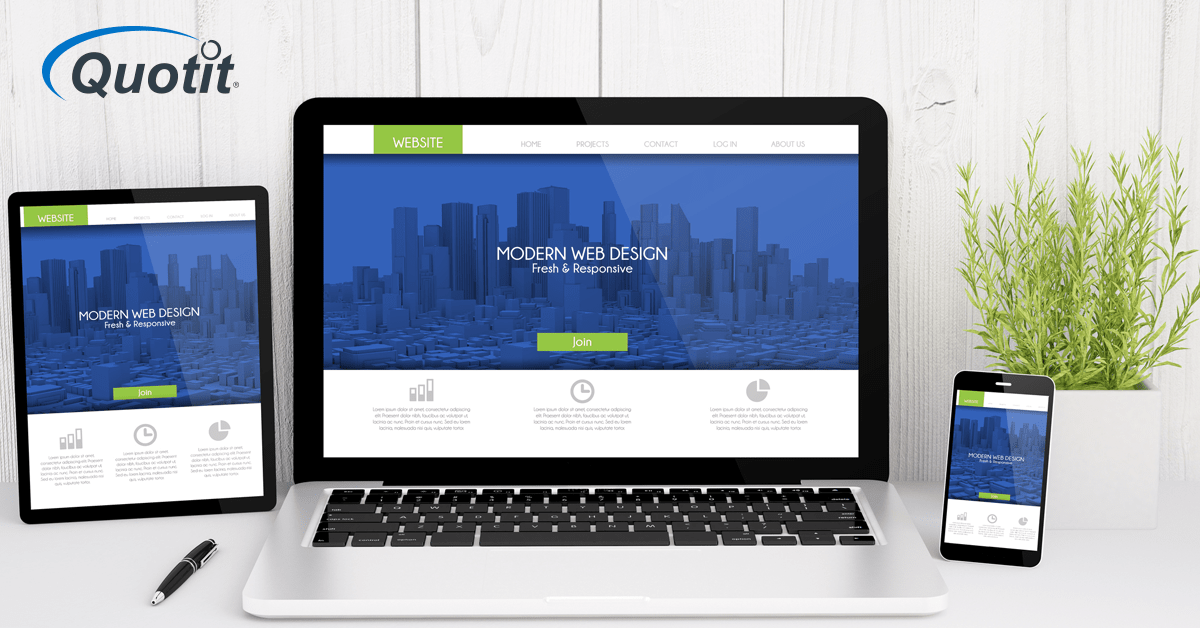 With more than three-quarters of US adults ordering products or services online, now is one of the most important times to have an effective insurance agent website. So what defines an effective website and how can you go about turning a mediocre, average site into one that reels in clients 24/7?
To start, an effective insurance agent website should address three sets of vital needs:
Those of your clients
Those of your prospects
Your own personal sales and business aspirations
Based on these three facets, there are seven essential building blocks that nearly every effective insurance website has. Ensure your site has all seven of these and you'll be on your way to a successful, lead-producing site in no time.
7 Must-Haves for an Effective Insurance Agent Website
1. Everything on Your Site is Up-to-Date
Just take a look at what happened to Healthcare.gov in March of 2014. A glitch in the site caused the poverty level calculator to give outdated information, affecting as many as 70,000 PA viewers.
Are you taking proactive steps to keep your site up to date?
Old, outdated information is not only irrelevant, but it's misleading. By setting up weekly (or even daily) scans of your site's content, you can easily catch and fix time-sensitive information with speed.
Information, however, is not all that can go out of date. If you built your site in the 1990s, it may be time for a new, fresh design. This not only will make your site more appealing, but could protect you from hackers that prey on outdated, easily compromised technology.
2. Your Site is SEO Optimized (And In A Way that Makes Sense)
With over 5.7 billion average searches a day you can be certain that prospects are actively looking for what you offer. But if your insurance agent website can't be found through Google search, then you're missing out on the most visited site online.
Search engine optimization (SEO), the process of getting your site found and ranked high in various search engines, is a vital step for every effective website. Not only can you allow others to find you using important search terms like "health insurance agent in Seal Beach, California" but you can ensure that when others search for your brand name or agency that they land on your page, not a similar competitors.
Fortunately, the process of SEO optimizing your site is relatively straight-forward.
Each page of your site has three key factors:
Meta Title
Meta Description
Page Content
The title and description are edited via your HTML source of the site and the page content includes the writing on your specific page.
>> Related: Check out the Insurance Agent's Starter Guide to Local SEO
Your goal should be to find keywords your visitors are searching for and optimize the three above factors for your web pages. Do, however, make sure that the keywords make sense and flow with your site content.
Nothing is worse than a web page stuffed with keywords and lacking in clarity.
Moz's beginners guide to SEO is a great resource to check out with more information about SEO optimization.
3. Design for Your Target Audience
It's easy for web experts to say your site needs to be mobile-optimized. But the fact is, it may not. Your website should be primarily optimized for whoever your target demographic audience is. If that target audience is seniors and those that primarily use desktops, the cost of mobile may not be worth the benefit just yet.
If, however, you do reach a younger and more tech-savvy audience, mobile is a must.
The key is to know your audience and tailor your design to their preferences. For example, the Medicare audience typically requires larger font sizes and clarity while the millennial audience is more open to modern, innovative design.
4. Know Your Numbers
Just as you have to track sales numbers to optimize your close ratio, the same holds true for your website. At its best, your website is a virtual salesman. At its worst, it's a business card people put in their pockets and find when they're doing laundry.
The only way to improve your site performance is with data. Tools like Google Analytics or Omniture give you a complete view of what your visitor does once they land on your site.
From this data, you can easily see what sites they came from, how long they stayed, and areas for improvement. Many of these tools also provide you with conversion tracking to see how many of your visitors fill out your web form. With this data available, you will have a benchmark you can work to improve.
The quick-start guide from Mashable gives you the basics of everything you need to start tracking your web visitors via Google Analytics.
5. Make Quoting Seamless and Integrated into Your Site
How many times have you filled out a web form only to hear back from the company weeks later? While you may try your hardest to respond to every lead form submitted on your site, manual quoting and proposal generation makes lagging on leads inevitable.
The top brokers and agents prevent this with real time quoting. When someone lands on their site and fills out a form, their information is immediately sent to the broker's system looped into some sort of auto-responder sequence.
This boosts conversion rates and maintains an image of trust. And if there's one thing that all effective insurance websites have, it's credibility.
6. Integrate Your USP Into Every Facet Of Your Site
You stand for something. As an agent, differentiating your unique sales proposition through customer service, loyalty, or a quick response is the very trademark that makes you a success.
Consider your website an extra limb to that success.
Far too often agents and brokers ignore their website presence, presenting a vastly different image online than offline.
You've worked hard to build up your reputation. Keep it that way by ensuring that your site projects a feeling of professionalism and trust. From how quickly you respond to emails to the way your site is designed, you want your website flowing with your unique selling proposition in abundance.
7. Don't Skimp Out
With all the free tools and services out there for building an insurance website, it's easy to take the responsibility for design, marketing, and content creation on your shoulders.
If you truly care about your success online, however, avoid this at all costs.
You're an insurance professional. Your most valuable skillset is pleasing, closing, and maintaining client relationships. Do not spread yourself thin.
Instead, find the right resources or talent that can produce the strong website presence you desire. The cost may be higher, but the results will likely surpass going the DIY way.
Quotit offers brokers and agents their own insurance websites with real-time quoting for over 300 carriers, nationwide. Learn more about Quotit software and services here.