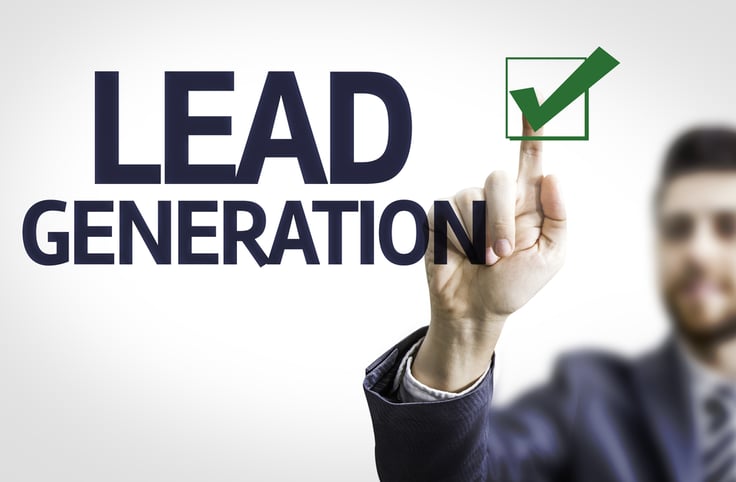 Ever heard of the Blue Ocean market strategy? Though the book outlining the concept has been around for nearly two decades now, the basic premise still holds water: Find and develop new markets for your product where there is little to no competition. According to the book, the opposite of Blue Ocean is Red Ocean, in which multiple competitors keep piling on in the same pool, fighting for what is inevitably a shrinking number of opportunities.
Drive Leads from your Website
People who are either self-employed or who don't receive health insurance from an employer basically have two options: Purchase policies directly from private carriers or through the Health Insurance Marketplace.
One of the best places to capture these consumers is through your insurance website. Consumer-friendly content is one of the easiest ways to accomplish that. Try uploading health-related content to a Blog or Resources section and gating it, which means users will need to fill out a form to view or download it. Ideally, you'll want to focus on topics that users from your prime demographic sets might be interested in, such as:
Interesting or little-known benefits included in Medicare Advantage plans, such as gym memberships,

grocery allowances

, and meal delivery services


Motivational content and

how-to fitness ideas

for people who work from home


Healthy, kid-friendly

breakfast

, lunch, and snack ideas and recipes
Use free, easy-to-use tools like Canva to produce Infographics or visually rich ebooks that appeal to women in the 25-54 age range. Not only will you capture their information, but they may also share links to the content in their own social circles, from Facebook to Pinterest, opening the door to more potential users willing to trade their email and phone number for it. Just be sure to include marketing opt-in verbiage on the form.
Another way to leverage your website is through add-ons that create options for prospects who want to self-serve. Quotit customers, for instance, have the option of adding a consumer-driven shop and enroll tool to their websites.
This allows shoppers looking for health insurance to shop for and compare quotes at their convenience, as well as enroll with Quotit's select integrated carrier partners. The add-on also has its own unique URL that you can use in social media posts, emails, blogs, and more to help drive people to it.
Get Creative with Social Media
Whether or not you currently use social media as an insurance marketing tool to help promote your business and sell more policies, you're probably aware that many insurance agents are already using platforms like Facebook and Linkedin to nurture relationships with potential customers, current customers, and even potential marketing partnerships.
But have you considered getting not only creative with your insurance social media posts, but also where you share them, and branching out to other less usual-suspect sites? You could:
Open a Pinterest page.

Health content

is popular on Pinterest, and you can fill your boards with content that is a mix of pieces that link back to your own website, as well as relevant content from other other sources


Get visible on Youtube. Consider making selfie videos for that help explain to potential clients some of the finer points of

purchasing the right insurance

policies for their needs


Socialize on Reddit. This one may seem like a stretch, but Reddit already has a place for health insurance agents

to gather

and shoot the breeze. Makes sense that you'd also find

potential clients

among the site's

430 million

active monthly users
Revisit Oldies but Goodies
Working with you've already got on-hand may not feel instinctive, but wielded effectively, this insurance marketing technique can not only prove fruitful.
If you don't already keep a list of "stale" leads, now's the time to get started. You don't want to get hit with SPAM complaints with contacts who have already turned you down once, but it doesn't hurt to re-enage old leads when it makes sense.
You already know by now that most conversions occur after multiple follow-up attempts, and with the passage of enough time, most people's health insurance needs change, whether it's the birth of a new baby or aging into Medicare. A drip email campaign or well-timed survey can help you identify and connect with leads that deserve a second look.
Network in Your Community
Look around your sales territory and you're sure to find senior living and day centers, gyms, health and fitness facilities, and more. Consider co-sponsoring, participating in, and volunteering for health and wellness-related events.
Whether you bake cookies for a pediatric fundraiser or co-sponsor a senior healthcare clinic, it will help expand your brand footprint as well as offer you face-time with a whole new slew of potential clients and clients-to-be.
Buy Leads from a Trusted Provider
Purchasing lead lists can offer you instant access to people who have already expressed interest in purchasing health insurance. However, before paying for leads, it pays to do a little recon before hitting the buy now button.
A Google search should provide customer reviews and other mentions regarding the veracity of the leads provider you're considering. Purchasing lead lists from a provider you currently work with is even better, because you've likely already established a trusting relationship.
Quotit, for instance, provides vetted, qualified leads to its customers through our Lead Marketplace outlet. Exclusive leads are not only vetted for Telephone Consumer Protection Act (TCPA) compliance, but also validated for duplication and consumer velocity, then delivered to your CRM in as little as an hour after purchase.
Lead management is essential to building your book of business, and the digital tools you choose can either fuel your sales operations or derail your efforts.
If you're not already using Quotit, now is a great time to get a behind-the-scenes look at how a solution designed specifically for health insurance businesses can help you optimize peak periods like OEP and stay organized throughout the year.
To see Quotit in action, request a product demo today.