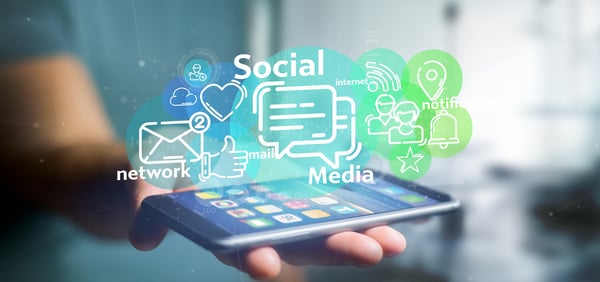 Insurance marketing through social media can increase referrals, build connections, and help insurance agents grow their business
With the ability to reach many potential insurance customers in their own comfortable online spheres, insurance marketing on social platforms can play a huge role for agents.
As an independent insurance agent or a small insurance agency, you need to be where your customers and target audience are. In today's digital world, making virtual connections via social media is a way local insurance agents can really stand out.
Facebook, LinkedIn, Twitter — even Instagram and TikTok if you're creative — can be a fantastic online billboard for your insurance agency and fertile ground to grow insurance referral marketing campaigns. Here are some tips to help you not only effectively grow your social reach to local insurance customers, but also find insurance prospects.
Insurance Social Media Posts That Set the Tone
To increase the success of your insurance lead generation efforts, focus on insurance industry-relevant content that highlights your expertise and helps you create a platform where clients can communicate and interact with your agency. This approach can help build customer trust and it also serves as social proof for potential clients who aren't sure if you're the right fit for them.
One of the best ways to use social media marketing for insurance companies is to create a brand identity that resonates with your audience. From customer service to engaging with targeted ads and content marketing, delivering insurance content that creates a connection with your community can be an incredibly effective form of digital marketing for insurance companies.
Content plays an important role in insurance marketing, but what if you're not sure what to write or how to say it? Try keeping tone and topics outgoing, informative, and friendly while steering clear of politics and negative topics.
Instead, try:
An insurance agent Q&A
Customer testimonial
Educational Medicare videos
A fun behind-the-scenes insurance agency video
Insurance industry-pertinent facts & statistics
A link to a relevant insurance news article
Pets (seriously, you can't have too many)
Contact information
Shared posts from a local charity
Profile of a community leader, student, or athlete
Insurance Social Media Posts: To Pay or Not to Pay?
A healthy mix of organic and paid posts is ideal to attract potential and existing insurance customers.
With the help of social advertising platforms such as Promoted Tweets, Facebook Ads, Sponsored Stories and many more, you can effectively promote your insurance referrals program at a low cost. Creating a Facebook ad campaign that targets key consumers will allow your insurance ads to reach the right people for specific campaigns.
Using paid social media advertising can help you get attention for your insurance referral marketing campaign. If you want your efforts to take off, it's good to use a platform that offers you multiple avenues to reach your audience.
Facebook (now known as Meta), offers a comprehensive list of resources and tools to help you connect with potential and existing customers, as does LinkedIn. A relatively quick Google search can help you discover best practices for leveraging Twitter and even Instagram.
Ask Happy Clients to Help Spread the Word
Social referrals have huge potential to take your business to the next level, but only if you know how to make insurance referral marketing and social work work together.
By asking existing clients who share your social space for referrals, you not only turn them into brand ambassadors in a reputable, highly visible way, but you also increase your chances of conversion with new customers.
Ask insurance clients who are willing to share positive reviews directly on your social media pages or tag you in posts that recommend your agency and services. If you happen to spot posts that mention you or that are shared from your page, be sure to "thank" customer advocates by liking the post and engaging in the comments section.
Up Your Customer Service Game
Using social media to solve customer problems, not only helps existing insurance customers in real time, but you also expose your business to insurance prospects as a brand that delivers value and experience.
Done right, the social approach can help build strong relationships with your customers and exponentially increase customer advocacy. The more your followers see you as an agent who is interested in helping others, the better your overall brand image will be. More importantly, you can target people whose interests and needs match the insurance services and products you provide.
By investing in paid social media advertising, creating useful content, and posting regularly on social media that your target customers frequent, you can create a highly effective digital marketing campaign.
With a little effort, you can build your social network, interact better with your insurance customers, and establish yourself as a trusted voice of expertise. By focusing your efforts on some of the major social media platforms, developing relationships, and engaging your audience, you not only become an active member of the community, but also build a larger social network that is more likely to, ultimately, result in insurance referrals.