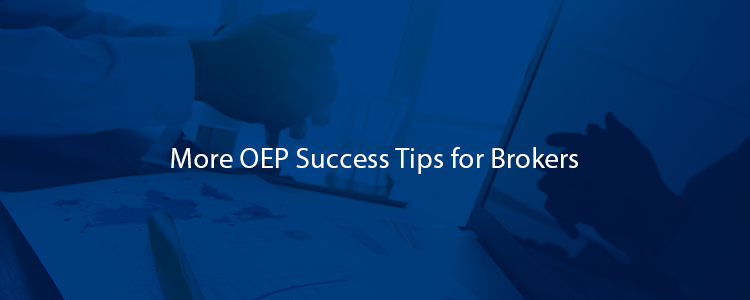 For more than 15 years, we have been helping brokers market, quote, enroll, and better manage their insurance business. As a Quotit customer, you know you can count on us to deliver the essential tools you need to sell and close more – especially during the Affordable Care Act's annual open enrollment period (OEP).

Whether you use Quotit for email marketing, online quoting (of on- and off-exchange plans), online enrollment, or client relationship management, we can help you increase your sales and enhance your Customer Relationship Management (CRM) during OEP.
Opportunities Are Out There
Quarterly data from the National Center for Health Statistics (NCHS) shows the uninsured rate in the U.S. fell to just 8.6% during the first three months of 2016.
While fewer than nine in 100 may be totally without coverage, that doesn't mean the other 91% are happy with their current health coverage. Plus, there are market segments where the uninsured rate is higher.
During OEP, new customer opportunities you should focus on include:
Those with current coverage who don't want to pay more in 2017 and are open to a change (in plan, coverage tier, or provider network – or any combination of the three); rates are up nationwide and many who have coverage will likely want to shop around to be sure they'll getting the most for their money;
Those aging into Medicare or those who may be considering a Medicare Advantage plan for the first time (but whose spouse may still be under 65 and in need of an individual plan to replace their previous family or employer-sponsored coverage);
Those without health coverage – because they've moved, left an employer's plan, gotten divorced and lost coverage through a spouse, those no longer eligible for Medicaid or another government plan, and those not previously insured who want to avoid increasing IRS penalties for 2017;
Those in need of other coverage – among those with current health coverage are many who still lack but would like Dental, Vision, or Accident Insurance.
Quotit Delivers 24/7
Quotit is working for you around the clock. No matter what your prospects are shopping for (or in need of), we can help. With access to 300+ carriers across the nation and more than 40,000 on- and off- exchange medical and other plans, Quotit delivers the most extensive coverage selection – plus side-by-side benefit comparisons to make the selection process simple for clients and prospects alike.
During OEP, Medicare's annual election period (AEP), and throughout the year, Quotit can help you achieve greater sales and increased online enrollments.