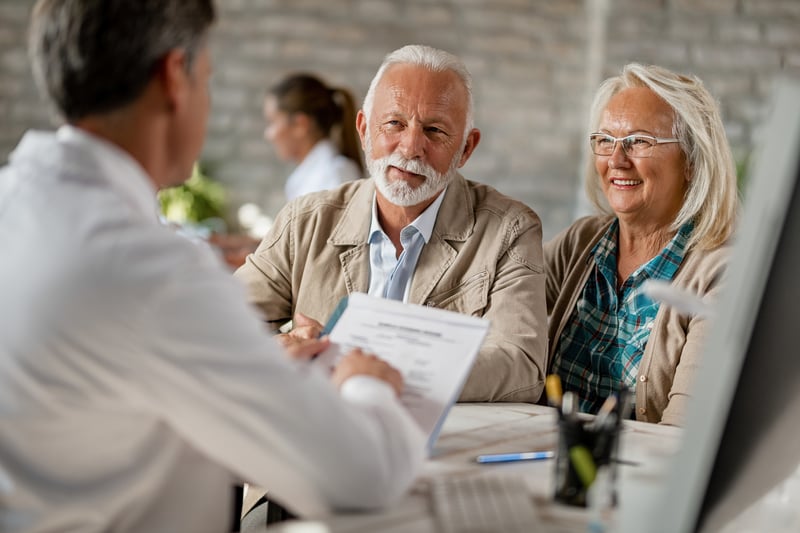 Reading Time: 8 Minutes
When it comes to Medicare insurance sales, the smoother your quote pulling process is, the more sales you can make. But if you sell health insurance to both the under-65 market and the over-65 market, it can be difficult to keep all of your clients' details and medical information organized, which can cut you off from prime sales opportunities.
Make no mistake: If you want to close new deals, retain existing clients, and meet your revenue targets, you need technology to make the Medicare quoting process seamless. Unfortunately, many agents are still using Medicare.gov and other simple tools to navigate a complicated Medicare system. However, there may be an easier, less stressful way to increase your Medicare sales.
In this article, we examine Medicare.gov vs. Quotit and lay out the technology that could help you boost your Medicare insurance sales.
What to Look for When Quoting Medicare Coverage
When it comes to landing Medicare sales, insurance brokers have the chance to reap massive returns. According to the Kaiser Family Foundation (KFF), there are currently more than 63 million Americans enrolled in Medicare and 27 million signed up for Medicare Advantage plans. Insurance pros can tap into this cash resource with the right mix of technology and best practices.
Whether you're comparing Quotit and Medicare.gov or looking at other insurance quoting software, there are several critical things your insurance tools should help you do so you can land more sales:
Stay organized: If you want to find upsell opportunities, keep clients happy, simplify your job, and work more efficiently, it's important that your quoting software keeps you organized.
Open up communication: Medicare sales rely heavily on communication. Your insurance tools should open up the line of communication and make it easy for you to cultivate relationships.
Build trust:

Throughout every interaction, your insurance software should help you build trust with clients and leads. The easier your quoting, proposal, and enrollment processes are for customers, the stronger your bond will become—and the easier it will be to turn clients into walking billboards for your services.
Medicare.gov vs. Quotit: Is There a Difference?
Because it's a U.S. government site, Medicare.gov is a popular tool for pulling Medicare quotes. And this site can be a helpful resource for some Medicare beneficiaries. However, if you're an agent who relies exclusively on Medicare.gov for pulling quotes, you could be missing out on sales and convenience. Here's a breakdown of Medicare.gov vs. Quotit and the differences between these two quoting tools:
An Overview of Medicare.gov
Medicare.gov is designed to help the 65-and-older market easily read and compare options when it comes to Original Medicare, Medicare Prescription Drug Plans, Medicare Advantage plans, and Medicare Supplement (Medigap) insurance policies. For insurance sales agents, Medicare.gov can work as a basic tool to get the job done. However, if you want to make more Medicare insurance sales and simplify your job, Medicare.gov has some disadvantages.
Data Storage Problems
The first big holdup insurance agents face when using Medicare.gov involves storing and organizing information. For starters, when you gather necessary information—such as prescriptions, doctors, and pharmacies—and load it onto the website to do a search, the data isn't saved. This means that every time you pull a new quote, you'll have to enter the same information again.
Sounds exhausting, right?
At the same time, this can make the process incredibly frustrating for over-65 clients, because if you don't have detailed records, they will have to repeat their prescriptions, doctors, and pharmacies to you every time they need a new quote pulled.
Repetition and Productivity Black Holes
Another big issue with Medicare.gov is the extra burden it piles on insurance brokers and agents. When you use Medicare.gov for Medicare quotes, you can end up spending a lot of time doing the same thing repeatedly.
Imagine if your clients want you to pull additional quotes or shop for additional products. Your research and entry duties will skyrocket if you're relying on Medicare.gov.
You might end up repeating your efforts further if you also sell to the under-65 market and have different tools and processes to facilitate that. In fact, research suggests that context-switching can waste as much as 80 percent of your time. If you have to toggle between apps and processes all day as new calls and emails come in, your efficiency will plummet.
It's that simple.
Luckily, Quotit's insurance software is designed to fill these gaps and set insurance agents up with simpler quoting.
How Quotit Makes Medicare Quoting Easy
Wondering how Quotit's insurance software simplifies Medicare quoting? Here are a few ways Quotit rises above a simple tool such as Medicare.gov:
Organize quotes: Quotit's

Medicare quoting engine

lets you pull quotes from multiple carriers on a single platform. In fact, you can quickly pull quotes from our nationwide network of more than 300 insurance carriers and lay out the best plans for your clients.
Access clear quote comparisons: With

coast-to-coast carrier coverage

for individual health, Medicare, small group, life, dental, and vision plans across the United States, you can pull up a side-by-side comparison of plans. That means it's easier to break down the benefits for clients and pick plans that customers value.
Browse across networks: Quotit simplifies the browsing process by giving you full access to multiple networks, including Medicare Advantage, Prescription Drug Plans, and Medicare Supplement plans. That makes it easier to spot opportunities for new sales.
Set up cross-selling:

Quotit's tools are made to help insurance agents and brokers squeeze more out of every sale. For instance,

Client-Driven Shopping

gives clients suggestions about ancillary insurance options based on their needs. Essentially, these tools help you sell more insurance without having to put in extra effort.
How Quotit Increases Medicare Sales
Beyond the basics, Quotit offers extra tools to help boost Medicare sales. Here are a few ways Quotit wins the Medicare.gov vs. Quotit battle with sharper tools:
A CRM Built for Insurance
With an advanced CRM, insurance agents can organize contacts, keep track of clients' preferences, and keep potential clients from falling through the cracks. With a CRM built for insurance, you can easily track important details such as:
Age
Family information
Prescription needs
Pharmacy preferences
Dependents
Previous coverage
And more
Agents can create client profiles and add Rx, doctor, and pharmacy information in just a few clicks. That information can then be saved—so you won't have to repeat the process next year (and the year after that).
You can save, sort, and filter all prospect and client data, including quote and policy history, birthdays, dependents, and more.
Email Marketing for Deeper Relationships
Quotit unlocks email marketing and automation services that allow you to schedule emails and send them to clients based on their personal circumstances. That means you can build relationships with leads who are aging into Medicare eligibility, remind clients that the Open Enrollment Period is approaching, and stay in touch with clients on an ongoing basis.
Automation to Free Up Your Day
Because Quotit's tools automate the processes that lead to sales, you have more time to connect with potential clients. With more time, it's easier to educate customers about benefits and build relationships that inspire more Medicare sales.
Quotit Bridges the Gap in Medicare Coverage
You can use Quotit to connect with both clients who are over 65 and those who are under 65. Basically, Quotit helps your clients age into Medicare so you don't lose them when they qualify for new programs.
With Quotit's software, you can track a customer's insurance preferences, needs, and interactions, whether they're over or under 65. Because you have medical information, clear quotes, and simpler proposals in front of you, it's easy to sell to both current Medicare customers and clients who are aging into Medicare.
See Quotit's Insurance Agent Software in Action
Quotit can supercharge sales and lift the daily stress off insurance pros. Are you ready to see how Quotit looks in action? Schedule a demo today for an inside look at all of Quotit's insurance tools.