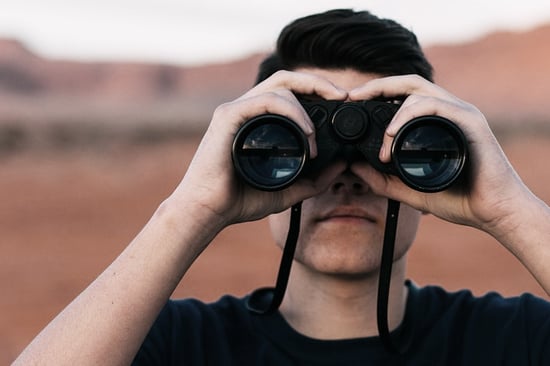 If you find insurance prospecting harder than you imagined, here are a ten prospecting tips to make your efforts easier and more effective.
10 Effective Prospecting Tips for Insurance Agents
1. Use Every Lead Generation Strategy in the Book
A highly admired sales coach was once asked what the best method to generate leads is. His answer? There is no one great method. There are, however, hundreds of ways to generate leads. The more you use, the more leads you'll generate.
These 14 strong prospecting strategies from Bryce Sanders (president of Perceptive Business Solutions) are great ways to diversify your lead generation strategy. One example is "cold walking". It's surprisingly effective, especially when you visit small businesses or office parks. It gets you outside. You get exercise.
The Pro: It's a low cost strategy. Good in primarily urban areas.

The Con: The name is terrible. It sounds like door-to-door sales.

The Work Around: Use it in support of your upcoming seminar. Deliver invitations and tell them about it.
2. Avoid Internet Roadblocks
Look back to twenty years ago and nobody used the Internet. Flash forward to today and every insurance agent has their own website competing for prospects' attention. How can you get your website to dominate?
Gary Savelli, an independent agent and consultant, recommends two critical things:
Building a strong online brand
A well-positioned spot in the search engines
In addition to this, Gary also recommends these 7 specific copy and design recommendations for attracting more leads via the Internet.
3. Specify Exactly What You Do and Who You Want to Work With
Insurance agents typically offer more than one type of coverage. While this diversifies your portfolio and can make you more business, it doesn't mean you should be marketing yourself as such.
As the saying goes, "good at everything, great at nothing." You can expect your prospects to think the same when finding out you offer multiple types of insurance. Instead, aim to follow Marty Agather's advice of positioning yourself as a specialist.
4. Create a Referral Rewards Program
Yes, referral programs are so typical in the insurance world it's almost a turn off for prospects. The reason, however, isn't because they don't work. It's because they aren't done right.
When used with finesse, a referral program can literally become a fresh fountain for new leads on a daily basis. This article shows you how to do just that.
5. Make Sure Your Sales Letters Get Read
Direct mail sales letters are one of the most efficient, effective ways to prospect for new insurance leads. Unfortunately, the way most agents approach direct marketing makes it seem otherwise. Boring, formal writing is the likely culprit.
If your sales letters don't get opened – and read – you're done. Follow these tips to ensure that your prospecting materials get results.
6. Prepare For and Overcome Objections
If you've prospected for some time, you know the typical objections you'll face. Planning for this and being ready for a way to destroy these blow offs is essential for any successful prospecting campaign.
Mike Brooks, sales trainer, offers three of the top insurance sales objections and how you can jump right over them. For example,
Objection One: "I'm happy with who I work with now"

"I'm glad to hear that __________, and I'm not here to come between the relationship you have with your current broker. Instead, I'm only interested in making sure you have access to the best new vehicles to fit where you are in your life now. You see, the issue with most insurance is that people tend to buy it and forget about it. And the problem with that is that life, situations and responsibilities change and in most cases the insurance coverage gets neglected.

Let me ask you this: When was the last time you had someone look at your existing coverage and compare it to what's now available based on where you are in your life today? Well here's what I'm prepared to do for you - I'll compare your current coverage and your current needs with what's available today, and if you have the best coverage at the best rates, then I'll tell you so. And if I have a better vehicle at a better rate, and it makes sense to you, then you can decide what to do. Either way you'll win. Is that fair enough?"
7. Use Opening Lines That Create Momentum, Not Friction
What you say during the first interaction with your prospects will have more influence on your success than anything else. It sets the stage for all future interactions.
For this reason, it is imperative that you start off on the right foot.
Your goal should be to pique their curiosity and build enough momentum to spur continued conversation. Try these 8 great opening lines to ensure success.
8. Always Include These Two Factors with Your Follow-Up
It's startling how many insurance agents fail to adhere to these two tried-and-true elements when prospecting. Maybe it's lack of time. Maybe it's stress. Whatever the case, do everything you can to make sure you're not forgetting these two critical factors for success.
Find out what these two factors are and how to use them here.
9. Find and Cultivate Every Competitive Edge You Can Get
Prospecting is hard. It takes consistent effort, speed, and perseverance. And when you're tied up with proposals, quotes, and other time-intensive tasks, it can be impossible to give prospecting everything you've got.
That's why finding every way to streamline your funnel is key. Following these three sales-streamlining recommendations from Jason Kulpa at IA Magazine is a great way to get started.
10. Embrace Technology and Save Countless Hours of Hard Work
Prospect targeting and data management used to be a time-intensive task required additional assistants to get the most out of. Nowadays with sophisticated CRM software technology these tasks can be completed in seconds.
Equipping yourself with advanced software for email marketing, customer relationship follow-up, quoting, and data management allows you to focus on what's most important: pleasing your clients.