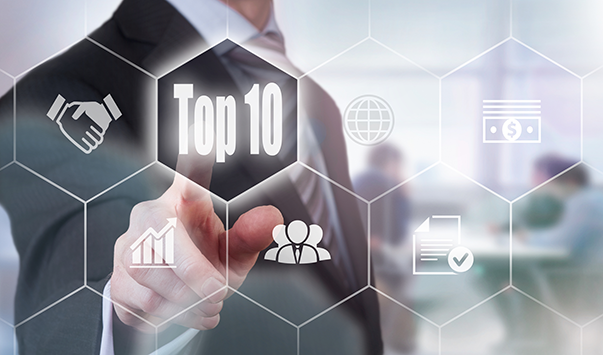 Many of us had jobs in high school or college that involved selling something…maybe clothes to shop-'til-you-drop customers at a local mall, or burgers and fries to hungry customers at a fast food restaurant. In those cases, you had a tangible product that appealed to a consumer who came to you with the intent to buy something they needed right now. Selling insurance isn't always that straight-forward.
The Challenge of Insurance Sales
Insurance sales success depends on your ability to promote a more abstract product – protection from the costs associated with unforeseen events, injuries, or illness. Your client may not need insurance coverage today, so you have to be able to sell a product they will likely need in the future. The challenge is magnified when you consider the long-term costs of buying insurance, and the level of trust a client must have in your expertise and commitment to their best interests.
How do you find a way to achieve insurance sales success? The following 10 sales tips for insurance brokers can help you prepare and practice sales techniques that can be adapted to your personal selling style.
Top Ten Insurance Sales Tips
1. Be prepared. It might remind you of the Boy Scout motto, but preparation is crucial when approaching prospects. Whether your interaction begins online, through social media, or in person, you need to be prepared to exceed your potential clients' expectations. This includes:
• Training & education
• Staying relevant with the most current industry information
• Planning ahead for questions, objections, and concerns
Frequently review your own sales techniques, and take advantage of webinars, conferences, and seminars that may introduce you to innovative sales tactics. Practice your selling in front of a mirror to make sure your facial expressions and body language complement your conversations with prospects and clients.
2. Maintain professionalism at all times. Insurance sales success hinges on a broker's ability to make an emotional connection with a prospect, but there is a fine line between a friendly rapport and unprofessional familiarity. For instance, the language you use with a friend may not be appropriate to use with a client, and although getting to know your client and what is really important to them is vital to a continued lucrative relationship, make sure you maintain your professional demeanor at all times.
Appearances can be as important as your behavior in a world where the cover of a book is often judged before turning a page. Dressing professionally and exuding confidence in your ability to help a client find the insurance coverage that will meet their specific needs will affect the perception of your expertise and knowledge before you even start to discuss insurance products and services.
3. Watch and learn. Take advantage of opportunities to speak with more seasoned insurance brokers within the industry and learn what has worked for them – and what hasn't. Find mentors who can share their experiences with you and inspire you to achieve the insurance sales success you aspire to.
4. Flaunt your listening skills. It's easy for some brokers to get lost in a sales pitch, forgetting to actually pause and listen to their clients. Every client is going to have unique circumstances, but you will have to pay attention to understand exactly what insurance solutions they really need. In an effort to demonstrate your knowledge, you may miss some vital information that will help you uncover potential sales opportunities and close the sale.
5. Know how to handle sales objections. Overcoming objections is part of the sales process for insurance brokers, but with some basic insurance sales tips, you can easily address concerns and get the conversation back on track:
• Acknowledge concerns
• Stay composed
• Be empathetic
• Isolate the real issue
• Provide information that will allow the prospect to come to their own conclusion
6. Recognize buying signals. Know when your client is ready to make a decision and enroll in an insurance plan. You don't have to keep selling them on a product once they are ready to close the sale. Instead, focus on the next step in building your relationship.
7. Always ask for referrals. Once you have a satisfied customer, your sales efforts can shift to the long-term referral relationship that can grow your business, increase sales, and reinforce your brand in the insurance industry. Ask for referrals at the close of a sale, and encourage all of your clients to participate in a referral rewards programs. (Review federal, state and local laws regarding referral programs to insure your compliance with current regulations.)
8. Use social media to promote your brand. Make sure prospects and clients have access to your products, services, and expertise on a regular basis. Social media and networking sites offer great ways to promote your brand through daily or weekly posts, so consider building a strong presence on:
• Facebook
• Instagram
• Twitter
• Snapchat
• LinkedIn
Social media can help you keep in touch with clients in a more informal way, and make a more personal connection with prospects.
Insurance sales success depends on building long-term client relationships, so use social media to build your brand, establish yourself as a trusted leader in the insurance arena, and give clients and prospects the chance to find common ground with you personally, encouraging them to refer their loved ones to you for any of their insurance needs.
9. Embrace technology to generate leads, communicate with clients, and provide quotes. Prospects are often introduced to your agency through your website - make a great first impression with a comprehensive, dynamic site with an effective Customer Relationship Management (CRM) tool and real-time quoting engine. Give clients a one-stop-shopping experience so they won't have to leave your site to get any information they need to make an insurance buying decision.
10. Customize sales techniques and technology to work for you. Every broker will have to determine which insurance sales tips will work for them personally. Try different sales techniques and figure out which tactics you are comfortable with and what leads to the most success in your specific niche within the insurance industry.
Personalize everything you do – from marketing and sales to communications and technology. Create a customized website that works with your existing tools, and connect it to your professional social media, networking sites, and blogs for brand consistency, making it easier than ever for prospects to contact you.
Turning Sales Tips For Insurance Into Success
Sales tips for insurance brokers can seem generic, but fine-tune your techniques and practice until you are comfortable. At the core of insurance sales success is a relationship, so approach any prospects or clients with sincerity, integrity, and empathy.
Selling insurance has its challenges, but listening to your clients, guiding them to insurance solutions that meet their needs, and providing them with a trusted, knowledgeable source of insurance plan information will help you overcome sales objections, increase sales and referrals, and ultimately, elevate your insurance sales business to new levels of success.