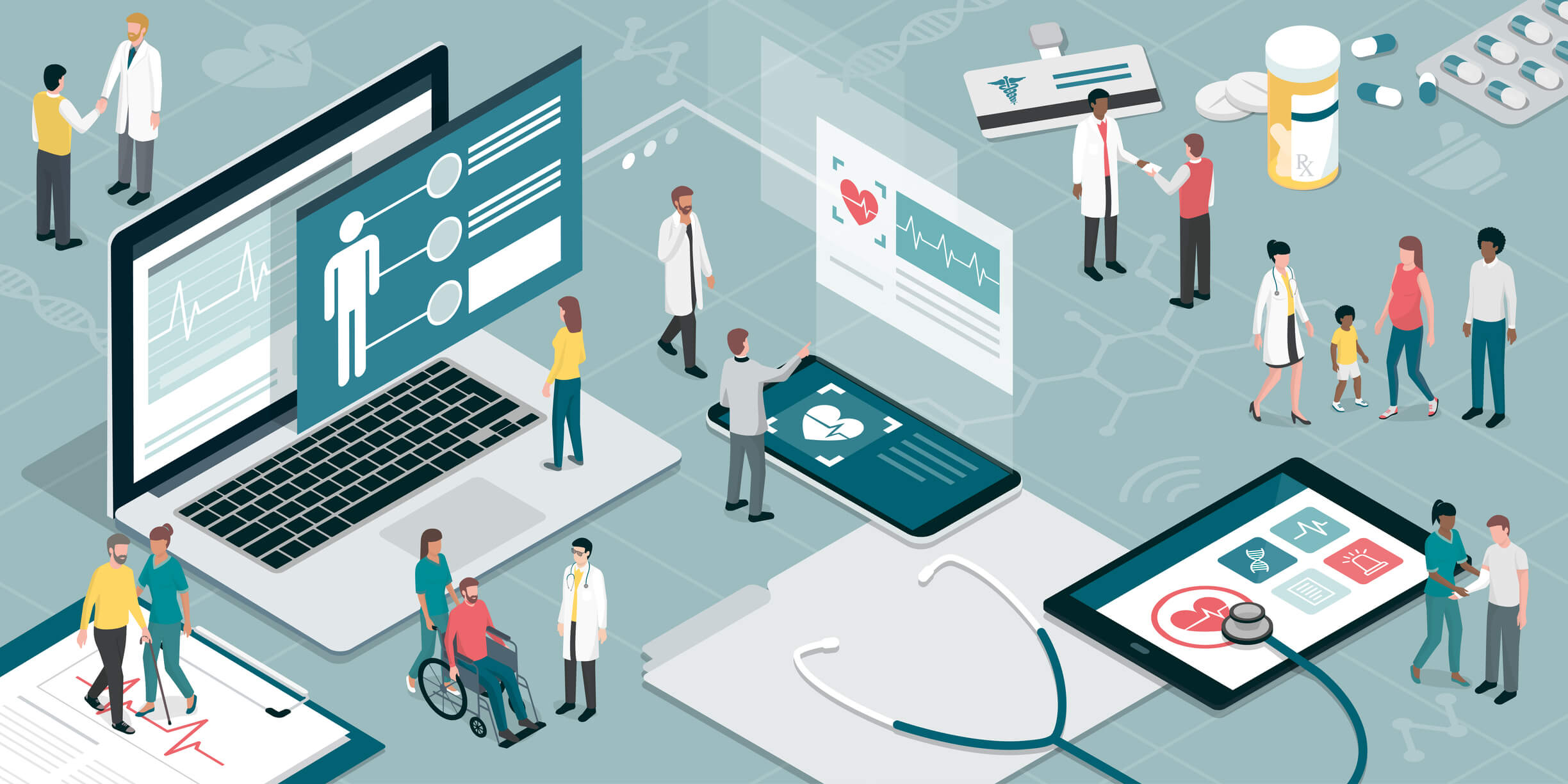 Shopping for insurance broker software can carry a pile of pressure. The decision you make now could drastically affect the way you run your health insurance operation for the next open enrollment period for Medicare and under-65 coverage and beyond.
There are plenty of traps you can fall into throughout the shopping process. Before you pull the trigger, it's worth making sure your software checks all the right boxes.
Want to know how to pick insurance software you can trust in the long run? We've nailed down the four things to look for in your insurance broker software so you can be sure you're picking up a program that will propel your business forward.
Table of Contents:

1. How Does Health Insurance Software Help Brokers?
2. What's Wrong with the Health Insurance Software Status Quo?
3. Checklist: 4 Things to Look for in the Right Health Insurance Software for Brokers
How Does Health Insurance Software Help Brokers?
For brokers and agents, there are some tasks that health insurance software should be taking off your plate. Keep in mind that every job your software lifts off your plate frees you up to reach more clients and land more sales. Here are a few ways health insurance software can help:
What's Wrong with the Health Insurance Software Status Quo?
There are a few problems that you should be wary of. If you want to avoid being stuck with headaches in the future, it's worth watching out for a few software red flags. Here's what to avoid:
Disjointed systems: If you have to use multiple tools to pull quotes and compare plans side by side and then create and send proposals, it may be difficult to track which clients or prospects have open proposals, what plans you included, and more. Using multiple systems to manage your book of business can lead to missed opportunities to close a sale.
Functionality gaps: It may seem logical to start simple and pick software that has only the most basic functions you need. However, if the software doesn't have the capabilities to do more, you may regret your decision later on. As your client base grows, you may need advanced functions, such as marketing automation. Look for a solution that can help you grow your business with functionality and

pricing packages that fit your needs

for today and the future.
Minimal training: Whether you are an independent agent looking for insurance software for the first time or an insurance agency looking to modernize your technology, training resources are important to generating a return from your software investment. If you don't know best practices or key functions, you could be missing out on the best features of a software program.
Checklist: 4 Things to Look for in the Right Health Insurance Software for Brokers
Wondering how to choose health insurance software that's a notch above the rest? Here are the four things your health insurance software should include:
1. One Tool for Everything
Running an insurance business requires much more than closing sales. Oftentimes, brokers have to handle everything from marketing and lead organization to relationship building, policy vetting, enrollment, and more. You shouldn't have to switch between multiple programs to excel at those jobs. The right health insurance software will give you the tools you need to take on multiple duties on a single platform.
Here are some things that your health insurance software should let you control on a single platform:
Contact and lead organization: Many agents and agencies have a treasure trove of spreadsheets that they've been dying to move into a single database. The best insurance software will let you finally organize lead and client data. At the same time, if it includes an advanced CRM, it will feature built-in automation that helps you connect with and manage those contacts.
Quoting: If you want to impress clients and make your life easier, it's worth searching for health insurance software that includes a

quoting engine

. With a quoting engine, you can quickly pull quotes from multiple carriers, generate proposals, and complete enrollment paperwork in one place.
Comparison and enrollment: Research can be overwhelming if you're dealing with multiple plans. Luckily, advanced insurance software will let you see coverage details and costs in a clear,

side-by-side comparison

. That means you can easily scan policies, find the best options for your clients, and automatically generate digital proposals that allow for online enrollment.
Email marketing: Communication is the beating heart of health insurance sales. And the best insurance software programs will make it easy to stay connected with clients. Your software should include automated

email marketing

features that lift work off your shoulders and deliver personalized messages to your contacts.
Customer-centric web features: Clients now expect 24/7 access to their plans and digital processes that make it easier to choose coverage. Your website

should be client-driven

. The best insurance software will give your customers instant access to policies through your website. That way, they're happy, and your brand's reputation grows.
2. Educational Resources
It may be tempting to pick up insurance software from a hands-off provider, but that's a disaster waiting to happen. After all, the software isn't much good if you don't know how to use it. Instead, it's important to find a provider that gives you training and educational resources.
Great health insurance software providers want to see you succeed as an insurance business. If a software provider shares educational resources for ancillary product cross-selling, lead prospecting, marketing, and more, it means the provider is looking to help you grow your business, not just sell you a new tool.
Before grabbing insurance software, make sure the provider has your best interest at heart. That means it should provide resources, training, and a dedicated support team to help you get more out of software.
3. Easy Access to Details on Health Plans
Your sales process depends on pulling accurate policy details quickly. If you have to spend too much time sifting through plans on multiple carriers' websites, you'll get bogged down fast.
The best insurance software will let you access accurate policy information from the carriers you sell, including deductibles, premiums, out-of-pocket maximums, primary care visit costs, special visit costs, urgent care costs, inpatient hospital costs, and more. It should also give you the option to sort and filter client data with an end-to-end CRM.
4. Constant Progress
In the insurance industry, carriers, policies, technology, and customers' needs are constantly shifting. If your software provider doesn't make an effort to keep up, you could be left with a stale program.
The solution?
Make sure your software provider listens to users and uses their feedback to improve its tools. The provider should be continuously adding features and updates that make your life easier.
See How Advanced Health Insurance Software Works
Luckily, shopping for health insurance software doesn't have to be complicated. If you want to see exactly how our software fits your business, give it a try. Schedule a demo today for an inside look at our advanced health insurance tools.