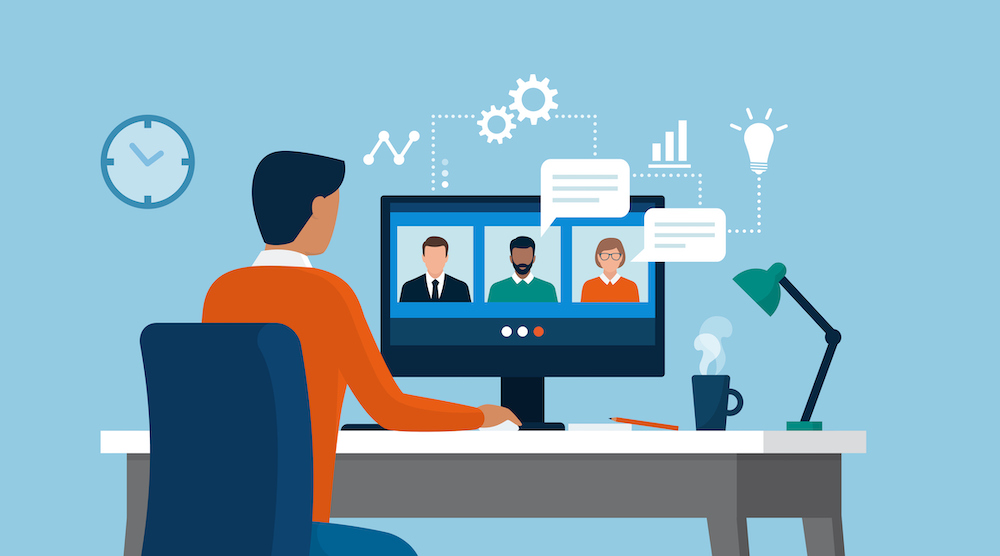 Ever thought of selling dental and vision insurance from home? Now is the time to do it. According to Global Workplace Analytics, 4.7 million employees now work from home at least half the week.
By building an at-home career, you can set your own hours, see your family more, and eliminate the frustration of your daily commute—all while building out your own at-home insurance operation. Unfortunately, it isn't always easy to know how to sell dental and vision insurance from home.
We've mapped out a plan.
Why Sell Dental and Vision Insurance from Home?
When it comes to selling insurance from home, there's a laundry list of benefits. One Buffer study found that 99 percent of people would choose to work remotely at least some of the time if they could. Here are a few reasons why more and more people are deciding to sell dental and vision insurance from home:
Lifestyle Perks
Working from home means you have more exposure to your family and more time to do what you enjoy. In fact, according to Owl Labs, 83 percent of workers believe remote work opportunities can increase their happiness on the job.
More Opportunities to Earn
Because you're able to control your own hours and work when you're most productive, selling insurance from home can boost your salary. In fact, one recent CNBC report found at-home workers earn a median salary that's $4,000 higher than that of other workers.
Lower Costs
By selling insurance from home, you can save on costs. For instance, you can conserve the fuel you would otherwise burn during your daily commute, spend less money on rushed meals, and lower your babysitting costs.
Why Sell Dental and Vision Insurance?
Even if you've already started selling insurance remotely, there are unique advantages to selling dental, vision, and other ancillary insurance.
First, adding ancillary insurance helps you turn your insurance operation into a one-stop shop. Your clients don't want to have to jump from broker to broker for different coverage. In turn, by adding dental and vision insurance to your selling repertoire, you give your clients a reason to stick with you for all of their overall health insurance needs.
Second, by selling vision or dental insurance, you'll open a treasure trove of new cross-selling opportunities. Rather than having to throw time and energy into recruiting new clients, you can tap into your existing client base to sell ancillary insurance. Plus, with every new plan you offer clients, you'll be deepening those relationships you value.
Ready to start selling dental and vision insurance from your home? Here are some tips to help you hit the ground running:
1. Create a Home Work Space Where You'll Thrive
If you want to sell dental and vision insurance from home successfully, you'll need a space to conduct business. To start, your home office can be as simple as a desk and computer in a spare room. However, if you want to build a successful career selling insurance at home, be sure to factor in these best practices as you design your at-home work space:
Cut Down Disruptions
Success in insurance sales hinges on clear communication with your clients and partners. To keep communication crisp and disruption-free, try to insulate your home office from the noise of pets, kids, family members, or outside distractions.
Organize Your Space
As you start juggling prospect, client, and carrier information, organization will quickly become an insurance-selling necessity. In addition to securing cabinets for paper files, you'll want to organize your digital files. One of the best ways to organize data is by using customer relationship management (CRM) software. CRMs organize crucial client information, such as names, policy renewal dates, and other personal notes, so you'll have everything you need when it comes time to make a dental or vision insurance sale.
Stock Up on Tech Tools
If you want to sell dental and vision insurance from home, it's smart to invest in technology that keeps you on track. Here are some resources that can help you improve sales at home:
High-speed internet
Videoconferencing software
To-do apps
Digital and cloud storage
2. Educate Your Clients About Coverage
Masses of Americans are unfamiliar with the benefits of dental and vision insurance, as well as how coverage works in general. In fact, the 2017 UnitedHealthcare Consumer Sentiment Survey found only 9 percent of the U.S. population was able to display a clear understanding of basic insurance terms.
Ancillary insurance programs, including dental and vision insurance, introduce even more foreign processes to clients. Here are the basics of each insurance type to pass on to your clients:
Dental Insurance Coverage Basics
Dental insurance protects clients against financially catastrophic oral health emergencies, and coverage often includes preventative care. In many cases, it covers annual checkups, x-rays, cleanings, consultations, and more as well as dental services that help reduce the need for more severe procedures in the future.
Dental plans can vary, but some common types include dental health maintenance organization (DHMO), dental preferred provider organization (DPPO), dental point of service (DPOS), and dental exclusive provider organization (DEPO) programs.
Vision Insurance Coverage Basics
Vision insurance also generally covers preventative procedures that can reduce the likelihood of dramatic eye care costs. In some cases, vision insurance will cover lenses, eye exams, and eye surgery.
Most of the time, vision plans are built out through a preferred provider organization (PPO), which lets clients choose from a network of eye doctors. With PPOs, your client will usually need to cover a higher percentage of their costs if they seek care outside the network.
3. Perfect Your Cross-Selling Skills
There are massive advantages to cross-selling insurance to your existing clients. After all, why spend the extra time, money, and energy pulling in new clients when you can simply expand your current base of clients? Because they're ancillary insurance programs, dental and vision plans provide excellent cross-selling opportunities. Here are ways to cross-sell dental and vision insurance:
Build Deep Relationships
The better you know your client, the more you'll understand what benefits they're after. By learning about their goals, family, and future plans, you'll be able to present them with insurance they need and value.
Communicate Frequently
Don't wait until there's a problem or question to connect with your clients. Use email marketing, newsletters, and video messages to give them frequent updates about healthcare coverage and new benefits.
Touch base with your clients often, and educate them on their options. Need help getting started? This customizable email template from VSP Vision Insurance Plans makes it easy to check-in with your clients and inform them of their options.
Give Clients the Tools They Need to Compare Coverage
Many clients will feel more comfortable picking dental and vision coverage on their own. In these cases, it helps to set up a side-by-side reference on your website that gives your clients the power to compare coverage, see the benefits, and enroll online.
4. Embrace Automation
Initially, when you start selling dental and vision insurance, you might feel bombarded by coverage options and carrier information. The more you use technology to automate your processes, the more time you'll have to focus on your clients.
Want to learn how to use the latest technology to grow your at-home insurance business? Read more about CRM software for insurance agents now.