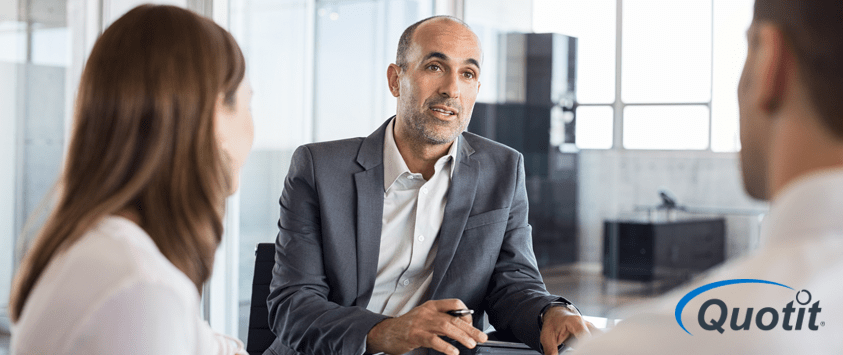 "Quality over quantity." When it comes to health insurance sales strategies, this adage certainly applies. As an independent broker, you have the opportunity to increase sales by focusing on the quality of your leads, calls, and client relationships, instead of the sheer number of prospects you can reach on any given day.
If your goal is to expand your business and improve sales, simply increasing the number of cold calls you make will not get you the results you want. Success as an independent health insurance broker comes from making quality pitches to qualified leads, backed by thorough research, extensive knowledge of the industry, a clear understanding of your clients' needs, and sales tools that will enable you to exceed customer expectations.Despite the prevalent need for health insurance solutions, it's not an exciting – or tangible – product to sell. The cost and long-term ramifications of making a health insurance decision can elicit hesitation from prospects. As an independent broker, your knowledge and expertise is just as important as the insurance products you are selling. Increase sales by presenting yourself as a trusted industry leader committed to helping individuals, families, Medicare recipients, and small businesses find the healthcare coverage solutions that meet their specific needs.
Tips for Selling Health Insurance
1. Know the Industry
As an independent agent, you have access to a broad scope of health insurance solutions, but conveying your expertise to prospective clients is essential. When building relationships with customers, articulate your knowledge of the industry, display your ability to translate sometimes-complicated insurance issues, and assert your commitment to your clients' overall well-being, now and in the future.
Being able to explain the ins and outs of insurance costs and benefits is great, but successfully selling health insurance depends on more than your ability to dissect healthcare-related jargon for your clients. With daily headlines and possible changes ahead in healthcare legislation, consumers are concerned about their options. Represent yourself as a health benefits advisor, as well as a licensed sales agent, who understands and can communicate federal, state and local healthcare coverage issues and options. Becoming a go-to resource for healthcare coverage information will encourage continued client relationships, additional insurance product sales, and referral business.
What does it take to earn a reputation as a knowledgeable industry leader?
Learn about your target audience and any niche markets you will be approaching
Research area health insurance carriers and plans thoroughly
Stay relevant with continued trainings, networking, and industry events
Keep up-to-date with any changes in legislature, healthcare news, and local carrier participation
Use technology to expand your agency's brand recognition through your website, social media sites, and networking platforms
2. Know Your Consumer
You know from your own experience that calls from telemarketers with standard, generic greetings are rarely well-received. Adding to your challenge in health insurance sales is the nature of the product itself. Healthcare coverage is a very personal decision. It can affect someone's life during a time of medical crisis and can impact their long-term health and financial well being.
Tailoring each sales call to an individual prospect or client's needs is crucial in developing strong relationships and ultimately increasing sales, but how can you use an initial sales call to convert the lead?
Before you pick up your phone, map out your call. This doesn't mean following a script, which can sound insincere. Authenticity, empathy, and sharing a personal story can move you further into the sales call than a basic sales pitch.
Consider the prospect's personal journey and find a way to establish common ground. Trust is the cornerstone of a positive client relationship, especially when someone's very personal healthcare decisions are involved.
Focus on solutions – not products. The features of health insurance plans are just never going to be as exciting as say, the new iPhone®. No one is rushing to listen to keynote speakers describing benefits and costs of health plans, but excitement is not nearly as important as the peace of mind you can help provide.
Be prepared for objections, and find ways to overcome them with empathy. Acknowledge your prospect's concerns and offer your expertise to address these particular issues together. Find out what the exact concerns are - premium costs, prescription drug benefits, out-of-pocket costs, etc. – and offer custom solutions to those specific problems.
Be persistent, but not pushy. Aggressive sales tactics will not result in a productive conversation. Allow your personality and integrity to shine through your phone call. If your prospect needs time to digest your information, schedule a follow-up call to continue the conversation.
Navigating the fluid health insurance industry can be difficult for consumers, especially if they are approaching a new chapter in their lives. Whether a client is aging into Medicare, has lost employer-sponsored healthcare coverage, has moved, or needs to transition from an individual to family plan, they need to trust that you are equally invested in finding the insurance plan that is right for them.
Research and preparation is even more important if you are appealing to the small group insurance market. With more than 28 million small businesses in the United States, you may be wise to consider the potential sales opportunities, but understanding each company, their culture, history, and needs, is absolutely critical to your success.
3. Using Technology to Sell More Insurance
As an independent broker, the pressure to expand your business and increase sales falls squarely on your shoulders. While preparation, research, and effective sales strategies can help you sell more insurance, there are only so many hours in a day. Many independent sales agents find that using innovative technology, integrated with their existing platforms, can reduce the time wasted on redundant tasks, allowing them to spend their time building productive client relationships.
Most consumers will likely research health insurance options online prior to your sales call, so investing in a comprehensive insurance program with access to multi-carrier platforms, auto-response technology, a CRM (customer relationship management) tool, and a real-time quoting engine can set you apart from your competitors. An efficient management system that creates custom proposals will move your sale along more efficiently, giving your customers the timely and accurate information they need to make an informed enrollment decision.
Not only can insurance agency software make your life easier and save you time, it can be integrated with your existing platforms to ensure brand continuity and recognition. Automatic emails, designed with your overall branding, vision and tone can be generated to touch base with prospects and existing clients while you are busy developing other client relationships.
Building your brand as a trusted leader in health insurance sales starts with a strong online presence across a variety of digital platforms, including social media and networking sites. Posting relevant and interesting content on Facebook, Instagram, and Twitter allow you to develop a more accessible professional persona, encouraging consumers to visit your website and trust you when it comes times for them to choose healthcare coverage. LinkedIn can connect you with other independent brokers throughout the country, giving you access to additional resources and insight that may help you explore more sales opportunities.
The Sales Strategy of the Independent Broker
Working in independent broker sales can be challenging, but you can sell more health insurance by improving your current sales strategies and strengthening your brand. Review your current processes and consider refocusing your efforts to improve the quality of your client engagement and your knowledge of the industry. Take advantage of a comprehensive and dynamic online agency management program that will streamline the consumer experience and help you manage the sales process efficiently – and watch your sales and revenue increase.
This article was originally published January 24, 2018 and was last updated January 9, 2020.