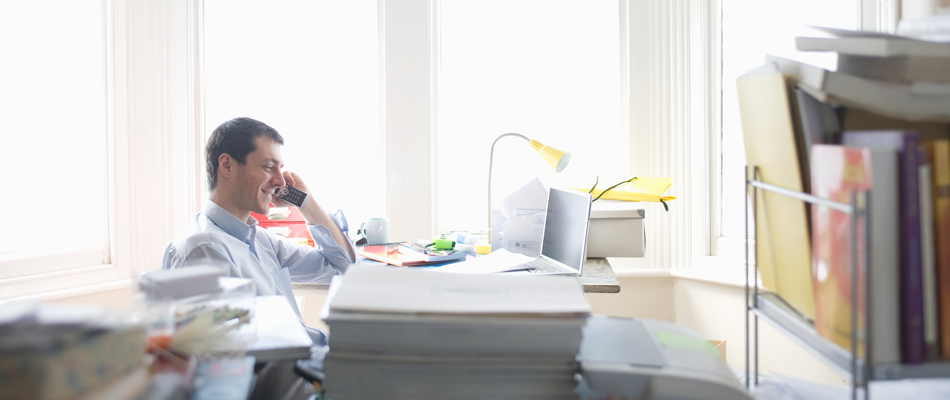 If there's one great thing about insurance, it's that you can easily do it from your own home. For those equipped with an entrepreneurial spirit and great organization skills, you will likely enjoy the freedom working from home can afford.

You can make your own hours and directly reap the benefits of the time and effort you put in. If you are driven to make an impact in people's lives, selling insurance from home could be a lucrative and gratifying business.
How to Sell Insurance From Home
With the right tools, licensing, information, partners, and resources, you can be running a successful insurance sales business in no time.
Research Your Options
As you consider selling insurance from home, you'll want to do your homework. Research your options and prepare in advance.
Decide what type of insurance sales appeal to you and what will complement your personal and professional strengths. Focusing on a specialty in the insurance market will help you fine-tune your marketing efforts.
Once you've made a decision, it's time to prepare.
Determine What Background Requirements You'll Need
If you've been selling insurance for some time, the transition to a home office is relatively straightforward. If you're getting your first start in the insurance world, however, an action-plan of what you need is a must.
Your first step is to determine what education, testing, licensing, and background checks are required. This will depend on which types of insurance you sell and where you are located.
Pre-licensing education will be required by your state, and can usually be completed through online courses that will cover insurance law, ethics, and regulations.
It will be necessary to pass the licensing test after your courses are finished in order to start selling insurance.
Before your license is issued, you will have to go through a background check by your state's Department of Insurance. This check will include any criminal history and/or pending charges.
Prepare For the Logistics of Selling Insurance From Home
Once you have received your insurance license, it's time to focus on the equipment and tools you'll need to be successful. This starts with a well-organized and efficient home office.
Choose An Office Space Conducive to Professional Conversations
Communication with clients and other industry partners is a big part of insurance sales. If you have children or loud pets at home during the day, choose an office space insulated from peripheral noise.
Install a corded landline that will be separate from your personal home telephone line, along with a compatible and corded headset. Keep in mind that much of your day will be spent speaking on the phone, so make sure you can work comfortably for hours at a time.
Organization Is a Must
Organization is key when you are managing multiple carriers, prospects, and clients. Regardless of how paperless you strive to be, you will need an easily accessible file cabinet. Consider a locked file drawer for any sensitive information in adherence with HIPAA privacy and security regulations.
Have basic office supplies on hand, and give some attention to designing professional letterhead for mailings to prospects and clients. Many health insurance agents choose to include a photograph on letterhead with the hope that this personal touch will instill confidence and trust with prospects.
Simplify Processes with Software and Technology
Take advantage of software and technology that make selling insurance from home easier than ever before.
Your computer should be updated and capable of meeting all of your professional online needs.
Design an attractive, consumer-friendly insurance website with informative and current content that can drive traffic to your site.
Use social media and networking sites to build your brand. Your online reputation can direct prospects back to your insurance website, generating leads and, ultimately, resulting in sales.
Consider adopting the right technology that can set your business apart from your competitors. With innovative CRM (customer relationship management) software, you can generate and manage leads, communicate with prospects and clients, provide multi-carrier information, give real-time quotes, deliver proposals, and assist customers with online enrollment services, all in one comprehensive system.
Software for running quotes and delivering proposals will help get invaluable information to prospective consumers, and establish you as a reputable source of insurance products and services.
Learn More About Quotit's Complete Insurance System
Quotit offers insurance management programs that bundle these services, streamlining your processes and allowing you to focus on what really counts. Learn more about Quotit's various products here.
Start Generating Leads
Success in insurance sales depends on obtaining quality insurance leads. The good news is that there are many ways to generate leads. Use all of the strategies at your disposal to garner attention for your agency, including:
Direct Marketing
Direct marketing, including personal letters introducing yourself and your commitment to helping consumers find the insurance that meets their specific needs and preferences.
Live Events
Hosting events, public seminars and information sessions can help you reach a wider audience. It also gets you out of the house - a common problem for many who work from home.
Build a Strong Online Presence
These days, having a website is a vital necessity for any business. Doing the following can help drive leads through your site:
Create original, current content on a robust website
Host webinars and videos regularly
Update social media frequently with relevant information
Forge Local Partnerships
Partner within the insurance arena to create unique marketing opportunities with shared benefits for both parties.
Use Qualified Leads
Consider purchasing qualified leads and follow through within a timely manner. This can provide your business with a steady stream of prospects who you would've likely never discovered.
Working Alone? Stay Connected
The upfront investments you make in your business can result in a more successful insurance sales business, but working from home can be challenging even in the best of circumstances. Don't allow yourself to be isolated, even if you are working alone. Get involved in industry events, continue your education with seminars and conventions, and keep networking with other insurance professionals.
Talk to everyone in your social and professional circle to explore opportunities for growing your business.
Don't Underestimate the Importance of Referrals
Referral marketing tips can help you recognize opportunities and inspire you to build your clientele:
Talk to friends and family. Let them know exactly what your business is all about. If they don't have any current insurance needs, they may have friends that do. Ask friends and family members for a few names of people you could reach out to.
Build relationships with local professionals who might have access to prospective clients.
Stay in touch with prospects and clients. Continue to express your commitment to the overall cause - helping people find the quality and affordable insurance coverage they deserve. Update customers with ways to reach you to learn more about your products and services.
Recognize that referrals can come from the most unexpected conversations and circumstances. Be prepared with business cards on hand at all times.
If you have wondered how to sell insurance from home and find success as a licensed sales agent, you can rest easy knowing that there are resources available to help guide you along the way. There are many benefits to selling insurance from home - understanding the requirements and recommendations can put you on the path to a successful insurance business.