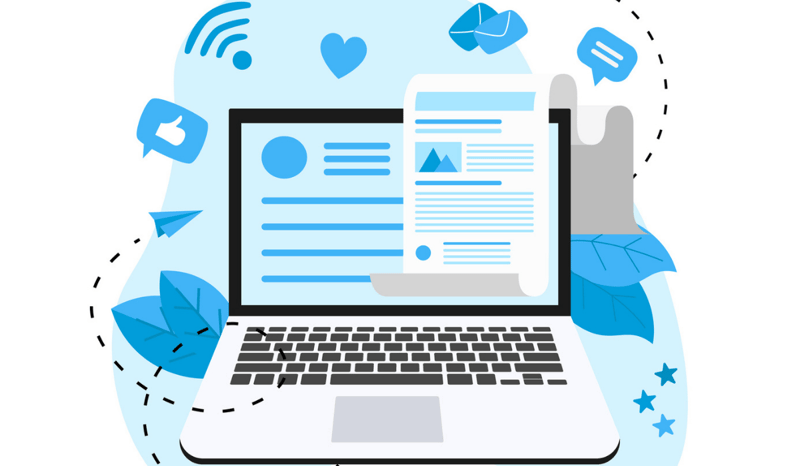 Like businesses in other industries, insurance agents need to use marketing to stay ahead of the competition. Unfortunately, many agents and insurance businesses lack enough room in the budget to do marketing the right way—or so they think.
It turns out, by making smart investments in marketing for insurance businesses, you can do more with less, stretching out your budget while also delivering more value to the people you serve. With that in mind, let's take a look at some low-cost marketing ideas you can use to take your insurance sales to the next level.
Insurance Agent Marketing Ideas that Won't Break the Bank
When it comes down to it, there are a ton of different tactics insurance agents can use to market their business effectively. For the best results, consider using a combination of these seven methods to extend your investments further.
1. Content Marketing
In the digital age, more and more businesses are turning to content marketing to raise brand awareness, engage clients, generate leads, and drive more sales.
For example, you might create evergreen blog posts that sell on your behalf for years to come. A one-time investment in a piece of content that explains the ins and outs of your insurance offerings and defines key terms can serve your business for years.
The best content marketing involves a variety of mediums. On top of blogging, you may also want to try your hand at webinars and podcasts. These can also be great lead generation tools.
2. Database Marketing
Instead of reaching out to clients manually, invest in modern tools that enable you to automatically run referral programs, send out birthday wishes, and let clients know when they're aging into Medicare or when the open enrollment period is about to begin.
With the right tools in place, automation can take care of these tasks for you, enabling you to reclaim time that you can then invest in other areas of operation (e.g., writing those evergreen blogs we just discussed).
3. Website Optimization
Did you know that 89 percent of consumers begin the buying process online by researching the products and services they're considering?
That being the case, it is critical for your insurance business to maintain a modern website that is full of helpful resources and delivers a strong user experience. You'll want to take advantage of updated Search Engine Optimization (SEO) tactics in order for you to improve the quality and quantity of your website traffic. If you're still relying on the same website you released a decade ago, it can make a poor first impression on prospective clients.
4. Social Media
In the age of social media, it is important for you to consider setting up a presence on the platforms that your clients are using. For example, if you're a local insurance business, Facebook might be a good bet. Using your social profiles, you can engage with your audience and drive people to your website and blog.
It is worth noting that your insurance business doesn't have to set up shop on a platform just because it exists. Launching and maintaining a presence on TikTok or Snapchat, for example, might not be the most worthwhile investment.
5. Good Proposals
Many insurance businesses overlook the proposals they send out to prospective clients and fail to see them as marketing opportunities. By ensuring every proposal you send to clients looks professional and contains all the information a client needs to make the best decision, you leave a good impression and increase the chances they ultimately decide to give you business.
6. Referrals and Partnerships
Another great approach to marketing for insurance agents is the creation of a referral program. By incentivizing clients to send business your way, you can leverage the power of word-of-mouth marketing to drive more sales.
Similarly, you can enter into partnerships with local businesses and organizations to have the same effect. Sponsoring local events, for example, is a great way to get your name out there and generate new leads.
7. Lead Generation
Insurance agents can also think outside the box when it comes to generating leads.
Sure, cold calling might not be the most enjoyable thing in the world, but the only cost is your time, and you never know when you might convert someone. You should also browse local directories and forums to see where you might be able to have an impact. And why not check out local networking opportunities to meet other folks in your community while you're at it?
Which Insurance Marketing Ideas Will You Try?
Many insurance businesses think about marketing the wrong way—that they don't have enough room in the budget to have a meaningful impact. But as you've just learned, there are a number of low-budget marketing tactics for insurance agents that can deliver impressive results at an affordable price point.
At this point, you might be thinking this all sounds great. But there are only so many hours in the day, so how can you possibly get started?
Simple investments in insurance software can do the bulk of the heavy lifting for you—particularly when it comes to personalized outreach and lead generation. Plus, the right solutions help you generate a ton of data that you can then use to optimize your methods moving forward.
For more information on how health insurance software can transform your insurance business, request a demo of Quotit today.