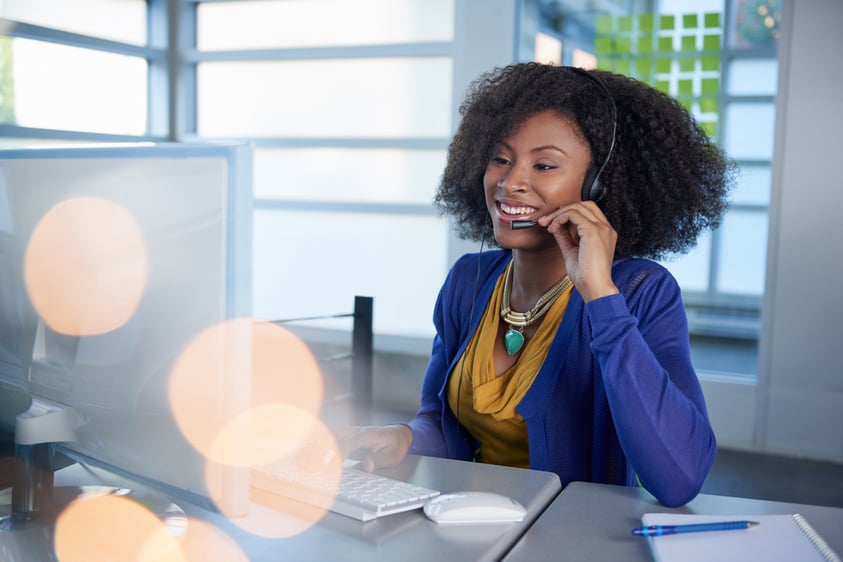 Never underestimate the value of a happy customer.
Being stuck in an airport waiting for a connecting flight and feeling just a few blood sugar points shy of "hangry" is nobody's idea of a good time. Certainly not Peter Shankman.
Just a few years ago, however, this was exactly the scenario facing the former journalist and customer service consultant as his first flight headed into the Newark, N.J. airport. Half bored, half hopeful, Shankman Tweeted his favorite steakhouse, asking them to meet him in two hours with a nicely grilled Porterhouse.
To his considerable surprise, they obliged. When Shankman deboarded the plane, he was greeted by a Morton's tuxedo-clad waiter with a to-go bag. Inside it he found the longed-for Porterhouse, plus jumbo shrimp, potatoes, bread, silverware, and napkins.
Needless to say, the famous steakhouse didn't just make Shankman a fan for life—the social media raves he gave them in return went viral, earning Morton's major social proof points in the process.
Here endeth the lesson: Fantastic customer service can yield extraordinary results, and it can also help grow the foundation of your business, one customer at a time. Going above and beyond for them is not just good service, it's smart business.
What Does Client Retention Mean for Your Insurance Business?
At the end of the day, "client retention" is really just a fancy way of saying "happy customers." Because happy customers tend to be repeat buyers, and people who aren't interested in taking their business elsewhere.
Developing a comprehensive retention strategy is crucial for growing your book of business, and a critical pillar of any successful insurance marketing plan. Not only does increasing client retention rates benefit agencies and brokerages during busy times, like Open Enrollment Period (OEP), but it also reaps rewards all year long.
For instance, policy holders who are staying put with you will reach out when qualifying life events necessitate a change in health coverage—adding to your bottom line. Loyal customers are also more likely to give you referrals that provide a reliable source of fresh leads (impacting direct sales) and testimonials you can use for enrollment marketing campaigns.
What's the ROI of Happy Customers?
If you apply the Pareto Principle to your customer retention strategy, 80% of your business should come from 20% of your clients. Cultivating those A-level relationships takes time and effort, but it's prosperous—especially in insurance, which some say has the highest customer acquisition costs of any industry.
Customers that stick, though, pay for themselves—and then some. A long-standing and oft-proven acorn from the Harvard Business Review shows that increasing your customer retention rates by as little as 5% can boost your profits by as much as 95%. And from a long-term profitability perspective, loyal customers increase their ROI not only every time they renew existing policies, but also by spreading positive word-of-mouth and bringing in referrals.
Customer referrals are in many ways a slow simmer, but there are immediate benefits too. Referred customers tend to require a shorter courting period and onboarding them is often easier and more profitable. According to research from the Independent Insurance Agents of Dallas, a referred first-year client generates, on average, 5X more revenue than a non-referred customer.
That's money in the bank any way you look at it.
Retention Tactics to Try
Bringing in new business is at the top of any agent or brokers' Open Enrollment checklist—and rightfully so. But you can optimize your sales cycle through retained business too. Here's a few tips and tactics to consider:
An existing customer already trusts you. Open enrollment season is the perfect time to fill any gaps in your customers' coverage. If you send renewal reminders through a third-party solution like Quotit, add a sentence to your email asking clients if they have any additional insurance needs this year they want to chat about. And don't forget to include a link to schedule a consultation with you!
Stay top of mind with your customers in meaningful ways. Educate clients with a newsy health and wellness newsletter, and engage them periodically with customer satisfaction surveys. You've already got a foot in the door as a trusted healthcare adviser. Maintaining consistent touchpoints that don't try to sell something with every send keeps it there.
Personalize customer communications. Obviously, we're fans of automation, but we also know that not every client communications should be an email. Building in thoughtful communications makes a great impression, like sending a real birthday card via snail-mail or a hand-written note thanking customers for their business at renewal time.
Address negative client feedback ASAP. In a recent survey by American Express, almost half of customers who were surveyed reported they dropped a planned purchase after being on the receiving end of poor customer service, and a third admitted they're willing to jump companies after even one bad experience. Don't let unhappy customers sit. Address their concerns as quickly as possible, and follow up to make sure they are back on track.
Don't Always be Hands On. Simply put, sometimes customers want your help, and sometimes they want to be left alone. A 2018 study from Forrester revealed that 69% of respondents say they buy more with businesses that offer online and offline options. If you don't have an easily accessible self-serve option to accommodate night owls and clients who want to explore their options and get back to you, now is the time to get one.
---
Keeping an eye on your customer retention rates offers you the full flavor of your business in one bite. Analyzing customer data over time can show where your business is growing, help you project scale and set new benchmarks, and identify burning customer service issues before they become raging wildfires.
To get the job done, though, you need the right tools. To see how Quotit can help, book a demo with us today and explore how our solution can easily plug into your retention plan!