Reading Time: 9 min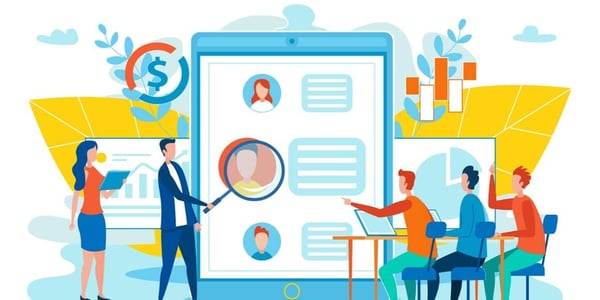 It's no secret that the insurance business is difficult, with all sorts of agents looking for new ways to stand out and trying to determine how to sell health insurance most effectively. To grow your footprint and improve your sales process, you need to hone your pitch and pick up the phone.
Although cold calling isn't anyone's favorite part of the job, it's something that all insurance salespeople have to do on a regular basis. In an industry where clients come and go, your approach to cold calling can mean all of the difference between keeping your business where it is or getting it to the next level.
Just like with anything else, odds are that you won't have the best outcomes if you're just winging all of your cold calls. Instead of shooting from the hip, go into your prospecting calls with a list of questions that will help you get the answers you need to move your prospects down your pipeline.
The foundation of a great insurance sales script is making a real connection with your prospect to start building a relationship.
By putting together a phone prospecting script with several persuasive and helpful elements in it, you can increase the chances that you sell more insurance to more prospects. With that in mind, here are eight items you should consider including in your prospecting scripts to maximize your insurance sales.
8 Things to Include in Your Phone Prospecting Scripts
1. Information about who you are and what you're trying to sell
Imagine that you're sitting at your desk tackling an important project when, all of a sudden, the phone rings. You pick up, and some fellow on the other end of the line starts ranting about how great his product is, using the same jargon and buzzwords you've heard thousands of times before.
You have no idea why this person called you in the first place, what company he works for, or how he even found your contact information. All you know is that he is aggressively pushing you to reach into your wallet and send some cash his way.
It doesn't sit right with you, so you do your darndest to get off the phone as quickly as you can.
Contrast this approach with that of the successful insurance salespeople, who position themselves as trusted advisers, are there to help clients solve their insurance problems, and don't beat around the bush. The best salespeople identify who they are and where they work right off the bat. They also explain their reason for calling and let the prospect know where they got the prospect's contact information.
A winning prospecting script begins with a two- or three-sentence opening about who you are, where you work, why you're trustworthy, and how you can help the prospect solve some of the challenges they are facing. It's also important to include what types of insurance you are appointed to sell.
>> Want to get licensed to sell from more carriers? Our friends at AHCP can help.
2. Information that's personalized to the client
Think about the last time you logged onto Amazon and products were recommended to you based on your browsing history and whatever else you've ordered. It's a nice touch—and, in the age of social networks and mobile devices, the kind of touch that all of us are growing to expect from every company we do business with.
If you treat your prospects like they are all the same person, you are unlikely to get great results with your prospecting efforts. In an age when everyone expects personalized experiences—and research suggests that people are much more likely to do business with you when you personalize your outreach—your phone prospecting script needs to be personalized to each client and their health plan needs.
Believe it or not, that doesn't necessarily have to be as hard as it might sound. With a customer relationship management (CRM) solution in place, you are able to keep track of all relevant information for each prospect and client—including their names, where they live, what their insurance needs are, and even whether they have any pets and, if so, what their names are.
By pulling up the information ahead of each phone call, you can easily personalize your script, meeting prospects' expectations while also connecting with them on a deeper level.
3. A clear value proposition
Show that you are a good fit for their needs.
Your phone prospecting script should include a clear value proposition that demonstrates how your organization can help the prospect overcome the challenges they're facing and make their life better. You might consider saying something like this: My company has a 40-year track record of helping businesses just like yours solve all of their insurance needs efficiently and cost-effectively.
The clearer you can articulate your value proposition, the easier it will be to convert the prospect into a bona fide client.
4. A way to establish a rapport and demonstrate your trustworthiness
Insurance is not necessarily the most exciting thing in the world to talk about for your prospects. That's perfectly OK. You don't have to talk insurance the entire time you're on the phone.
In fact, you should actually avoid doing that by speaking about things other than insurance whenever the opportunity presents itself when talking to a decision-maker. Don't be afraid to veer off script to move the conversation forward.
For example, you might be able to uncover the fact that your prospect is a baseball fan who likes the New York Yankees. Because baseball was paused because of COVID-19, you might try to strike up a conversation about whether the prospect thinks there will be games in 2020, and how the Yankees look stacked up against other teams.
Of course, you still need to talk about insurance. That's the whole point of the call, after all. But by veering off script and talking about things that aren't insurance-related, you can establish a rapport with your prospects and demonstrate your trustworthiness.
Who knows? The prospect might even decide to do business with you just based on the fact that they can talk baseball with you and they figure that would make the insurance-buying process more fun from their perspective.
5. The opportunity to move your call to a video meeting
Depending on the prospect, you may very well be able to close insurance deals on the phone. But some prospects might prefer face-to-face meetings.
The best insurance salespeople understand that they're most likely to succeed when they meet prospects where those prospects are most comfortable. In the age of Zoom and FaceTime, consider asking each prospect if they'd like to hop on a video call so that you can have a virtual face-to-face meeting to discuss their insurance needs.
Some prospects won't take you up on that offer, and that's perfectly fine. Those who do will be happy that you've given them the option, putting them in a better mood that should increase the chances that they ultimately convert.
6. The space your prospect needs to say what's on their mind
You won't get the best results if you're talking the entire time you're on the phone with each prospect. The most effective insurance salespeople understand this, which is why they make sure they take the time to stop talking and listen to whatever it is the prospect has to say.
Be sure to include some breaks in your script, during which you're going to give your prospect the floor and hear them out. The better you listen to their pain points, the easier it will be to follow up with great questions that specifically address their current problems—and demonstrate your ability to serve as a trusted adviser.
7. The ability for the prospect to book another meeting
Some insurance prospects will be easier to convert. Others might require more of your time, which is perfectly fine.
Give your client the opportunity to book another meeting to discuss additional questions or concerns they might have. Many prospects might not take you up on this offer. But those who do will, no doubt, appreciate that you're being so generous with your time and walking them through the complex insurance landscape.
8. A reminder to follow up each call with an email
You've just gotten off the phone with a prospect, and you're excited because the call went well—or at least you thought it did.
An easy way to make your business stand out is by sending an email to the prospect after your call. Summarize what you discussed and offer additional support and resources that the individual can look at during the decision-making process. Include a reminder in your script that will let the prospect know that you'll be in touch and then follow up accordingly.
Need some tips on writing effective emails? Check this out.
Although the above list isn't comprehensive, it should give you some ideas that will get you thinking in the right direction. And remember: Your phone prospecting script is never set in stone.
Include these elements in your script and tweak it over time as you figure out what's working and what isn't. By continuously optimizing your phone prospecting efforts, you can put together an increasingly effective script that can help you reach more and more prospects—and get them to convert.
Good luck!