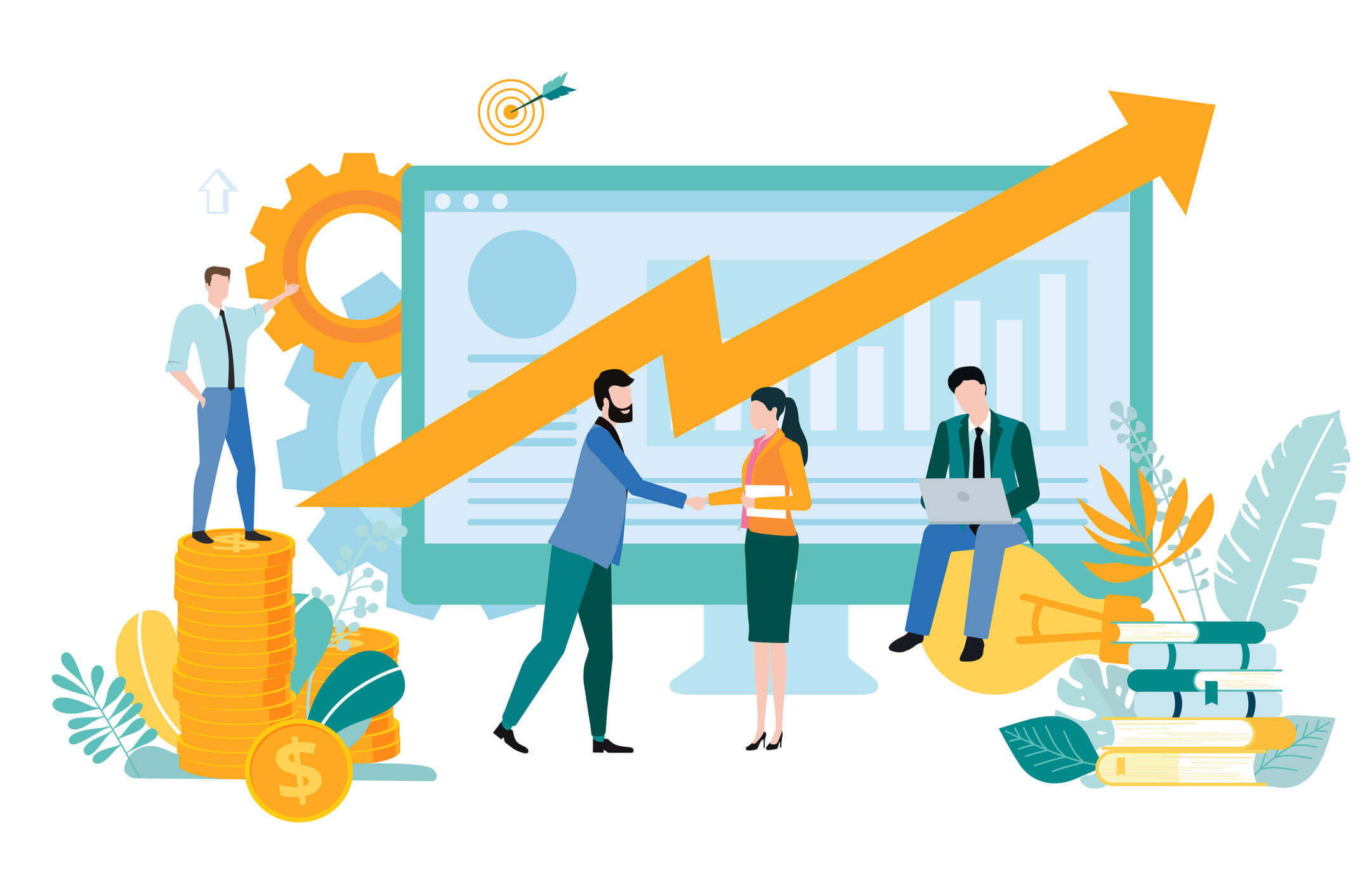 Reading Time: 10 minutes
In addition to managing leads, engaging clients, and keeping up on industry trends, insurance agents also have to meet clients' increasing desire for a strong customer experience. Unfortunately, being pulled in so many different directions every day can make meeting clients' expectations quite difficult. After all, there are only so many hours in the day.
The good news is that insurance agents can significantly increase productivity by investing in insurance agency software. With the right solution in place, it's possible for agents to reclaim a significant amount of time—which can then be invested in other important areas of operations.
With that in mind, let's take a look at six different ways you can help increase insurance agent productivity with a smart software investment.
Overview: How Insurance Agency Software Can Help Increase Productivity
1. Spend less time pulling quotes and more time developing relationships with your clients.
Insurance agents used to have no choice but to pull multiple plans from multiple carriers' websites every time they wanted to present options to clients. This took a lot of time and became a logistic nightmare for data management and proposal creation for many insurance companies.
Even in the event that you did sell insurance to every lead that came across your desk, you still ended up spending lots of time digging for the right plan and pulling an untold number of quotes. At the same time, unless you always compared every plan from all of the available health insurance carriers, you weren't able to know, with certainty, that you were giving clients the best solutions to their problems.
By investing in insurance agency software with a robust insurance quoting engine, you can automatically pull quotes from many different carriers at once based on your clients' specific needs.
As a result, you can enjoy a Kayak-like experience and compare insurance plans, apples to apples, with a few clicks of a button. This enables you to make sure that you're giving your clients the best plans every time—and in a fraction of the time, too.
With more time on each agent's hands, it's easier to develop and maintain strong relationships with your clients. Over time, this enables you to position yourself as a strategic advisor—someone who's trusted to solve your clients' needs the right way, every time.
Insurance Agency Software Features to Explore:

Cross-carrier quoting engine for over-65, under-65, and ancillary plans

Side-by-side policy comparisons

Digital proposal creation

Quote and policy management
2. Organize your lead and client details.

As seasoned insurance agents know too well, keeping lead and client data organized with any sense of efficiency has traditionally been a struggle to agency-wide productivity. Yet it's something that can't be overlooked.
If you want to develop strong relationships with your clients and effectively manage your entire agency's book of business, you need to collect data that you can use to personalize your outreach and connect with each client on a human level.
It used to be that insurance agents had no choice but to use spreadsheets or an Outlook contact book to keep track of their lead and client data. Thanks to the evolution of technology, specifically for the insurance world, however, there's a better way forward.
Insurance-specific customer relationship management (CRM) platforms are designed to help agents and their agencies keep tabs on every lead and client. Rather than thumbing through filing cabinets or wrestling unruly spreadsheets, you can use a CRM solution to easily keep track of all the information you need to reach your full potential as an insurance salesperson.
Simply create a record for each client and lead and store family details, group details, quote and policy histories, application statuses, client communications, and even prescriptions, doctors, and pharmacy details for Medicare clients.
Add it all up, and insurance CRM solutions can help you easily store, sort, and filter the information you need to sell insurance.
Insurance Agency Software Features to Explore:

Web-based CRM accessible to insurance agents anywhere
Out-of-the-box properties specific to insurance agents
Access to census data and plan details
Ability to track client communications such as emails and phone calls, application statuses, and carrier updates
3. Automate your email follow-ups.
Leading CRM solutions include marketing automation tools that enable you to send notes to clients and leads at predefined intervals and milestones.
With the right automation software in place, you can:
Trigger emails based on certain policies that are going away or have upcoming changes
Schedule emails based on upcoming dates—such as the start of the annual election period, the start of the open enrollment period, or a client's 65th birthday
Track how many emails a contact has been sent and which messages they've received
And more
Instead of having to remember a client's birthday, for example, you can send these emails out automatically to ensure you never miss the opportunity to say happy birthday again—all without even thinking about it!
What's more, you can also create and save email templates and use them to fire out specific messages. Consider the amount of time your agents can save (and the consistency you can create among agents) when they have access to templates for milestones such as:
When contacts move from group to individual coverage
When contacts age into Medicare coverage
When contacts' dependents age out of their family coverage
When specific plans change or expire
When the company has an announcement to make
And more
To save even more time, you can manage custom email templates for clients or companies that you manage group coverage for.
Both email automation and template creation can help you cut down on the amount of time it takes to send personalized and timely messages to your leads and existing clients to improve your overall customer service.
Insurance Agency Software Features to Explore:

Email automation based on dates and data in your CRM
Email template design and customization tools
Email send history in contact records
4. Streamline the enrollment process.
After you've pulled quotes, compared plans, sent proposals, and spent hours on the phone and in emails, the last thing you want is delayed enrollment. In the digital age, shouldn't the process be as seamless as crossing over the finish line?
With insurance agency software, it can be. The right solution will allow you to leverage an API to connect the client details and enrollment components you need to the other tools you use every day, enabling you to seamlessly enroll clients in the perfect plans. That way, once all the heavy lifting is done, all you have to do is click a few buttons to complete the process. With less document management and carrier website hopping, online health insurance enrollment is another easy way to build more efficiency into your mission-critical workflows—and increase your productivity because of it.
Insurance Agency Software Features to Explore:

Single-form online enrollment for multiple products per client

Client access to enrollment tools
5. Make it easy for leads and clients to compare their options.
As an insurance agent, a big part of your job is to hop on the phone (or in the car, in some cases) with a client or lead and walk them through each proposal to help them make the best decision. At the same time, you might be thinking about how nice it would be if those kinds of calls were kept to a minimum.
Quotes and proposals are critical to the success of your health insurance business. When you tighten up the proposal process and include all of the relevant details clients and prospects need to make the best decision for them, it's more likely that you'll answer all their questions up front so they won't have to pick up the phone to call you.
By keeping proposals organized and filling them with information that is easy to digest, you make the process as simple as you can for your clients. In turn, this prevents you from having to do extra work on the backside—enabling you, once again, to reclaim time and increase productivity elsewhere.
Need some help putting together top-notch proposals?


6. Give clients the ability to shop on their own.
In the age of Amazon, we've all grown accustomed to buying things online. Is there any reason health insurance should be any different?
We don't think so.
In fact, with a quote and enroll engine built into your website, your clients can buy insurance plans at their convenience, 24 hours a day—even when your whole team is asleep! Not every client wants to hop on the phone and talk to an agent. Take advantage of these prospects by making the insurance buying process as easy as possible while automating your sales process. All the time you won't spend on the phone with these people can be invested in other important areas of operations.
Insurance Agency Software Features to Explore:

Client-driven shopping features

Website add-ons for client-facing quoting and enrolling
Increase insurance agent productivity with Quotit!
Just because many insurance agencies may have operated the same way for quite some time doesn't mean that yours needs to continue in that direction.
With the right software in place, your agency will be able to move faster and deliver more value to clients and prospects while getting more done along the way. It's the easiest way to increase insurance agent productivity—without compromising on the caliber of your offerings.
We may be a bit biased, but we believe that Quotit's unique portfolio of insurance agency software products can help businesses like yours increase productivity while improving the client experience.
But don't just take our word for it.
Demo Quotit today to find out how it can accelerate your team's efforts, transform your agency, drive your competitive advantage, and grow your bottom line.