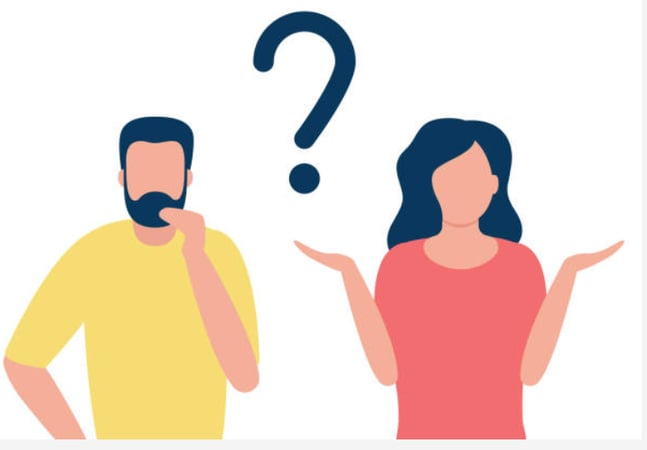 The most successful health insurance salespeople are trusted advisors. When clients and prospects reach out to them, they are able to answer any and every question that comes their way, quickly and accurately. As a result, people are much more likely to buy insurance from them, to the point where they might decide to use those salespeople to solve all of their insurance needs moving forward—which is exactly where insurance agents like you are trying to get to.
Being able to repeat that kind of success and cultivate strong relationships starts with knowing the answers to some of the top questions your prospects and clients have about health insurance. The better you know your material, the easier it will be to recall it off the top of your head when the moment strikes, making it that much easier to convince clients you're the right person to handle their needs.
With that in mind, here are 10 questions for insurance agencies that are frequently asked by prospects.
1. What is the application and enrollment process like?
First, you should explain your quoting and proposal process. Give prospects a clear idea of what to expect, what information they will need to provide, and how they will communicate with you about the plans they want to enroll in.
Depending on your process, your explanation may vary.
For some brokers, enrollees will have to fill out information about themselves—including where they live, how old they are, and which plan they are signing up for. If they're enrolling through a government exchange, they might have to include income information to determine whether they are eligible for subsidies.
Many agents complete this process manually, but leading solutions like Quotit enable you to complete the quoting and enrollment process digitally—or even allow your client to enroll at their own leisure, even when you're sleeping (for certain products). Demo Quotit to see the awesome tool in action.
2. What are premiums, and how are they calculated? Are they likely to change?
Explain to clients that their premium is the amount of money they pay each month for health insurance.
Here are some talking points:
If you receive healthcare coverage from your employer, your premium might be deducted from your paycheck and automatically routed to the insurer.
If you buy your own healthcare plan, you may have to pay your premium each month.
Failure to make a payment could cause you to lose your insurance altogether.
Once you sign up for insurance, your premium will most likely get locked in for the year. If, however, you change your insurance—say, you get married and add your spouse to the plan—your premium may also increase because you are adding someone to your policy.
Similarly, you can expect your premium to change from year to year, even if you stick to the same plan with the same number of people covered. In many cases, those changes could result in higher premiums.
Need some help with figuring out the best way to explain premiums and help clients and prospects compare plans when shopping? Check out our free health insurance proposal template and best practices guide.
3. What is preventative care, and is it included in my coverage?
If you are following best practices, you will provide cost breakdowns for what is included in the plans you've quoted to your clients, including preventative care. Here are some talking points to help you explain preventative care and associated costs:
Like the name suggests, preventative care is the practice of obtaining medical services before an illness or injury occurs. Just like you go to an auto body shop proactively to tune up your car and keep it in good shape, you might go to the doctor to make sure you're in good health and there isn't something sneaking up on you.
Under the Affordable Care Act, many preventative services are free—such as cholesterol screenings, colonoscopies for adults between the ages of 50 and 75, blood pressure screenings, hepatitis B and C screenings, immunizations (e.g., flu shots), and more.
Under some plans, women can opt to receive additional preventative services, including anemia screenings, gestational diabetes screenings, and breast cancer mammography screenings for women over 40.
There are also services available for children, including depression screenings, autism screenings, and behavioral assessments.
4. What is ancillary insurance?
For an insurance pro, this question may sound silly. But to your prospects, ancillary probably isn't a term they hear very often. Discussing ancillary insurance is not only great for informing your clients and setting yourself up as a helpful advisor on the types of coverage that fit their unique health needs, but it also opens the door for you to make additional commissions.
Here are some talking points for explaining ancillary insurance to clients:
The world of insurance includes more than health insurance alone.
There are a number of ancillary products—including short-term health, life, dental, accident, vision, critical illness, and more—that clients opt to purchase to get a little more peace of mind.
Some insurance salespeople see ancillary insurance as an easy way to grow their business. Their clients already trust them enough to buy health insurance from them in the first place. So if they're ever in the market for additional insurance products, it's a no-brainer to use the same agent.
As an insurance agent, you should always be pitching ancillary products to grow your business. Here are some email templates that'll make that process easier.
5. What is a copay?
Copays are a big deal in health insurance. Make sure these costs are also included in your proposals. Here are some copay talking points:
A copay is the amount of money you need to pay to receive a covered medical service.
For example, a copay for a regular doctor's visit might be $20, whereas a copay for a specialist visit might be $50.
6. What is a deductible?
Deductibles can be a confusing concept for some clients and prospects to grasp when they are comparing different available options for their coverage. Make sure the recommendations you include in your proposals include deductibles that meet their unique needs for how they may need coverage over the next year.
Talking points:
A deductible is the amount of money, in addition to the premium, that the insured individual needs to spend out of pocket before their coverage kicks in.
If you have a $1,500 deductible, you will need to spend $1,500 on top of your premium before your insurance starts picking up bigger chunks of the bill.
7. What is coinsurance?
According to Healthcare.gov, "Generally speaking, plans with low monthly premiums have higher coinsurance, and plans with higher monthly premiums have lower coinsurance." It is important to explain this difference to your prospects as you help them decide on their coverage based on their specific needs for the upcoming year.
Talking points:
Once you've hit your deductible, you may still be liable for certain healthcare costs, which can be calculated when you know what your coinsurance rate is. For example, your insurer might pick up 80 percent of the bill once you've met your deductible, meaning you'd still be on the hook for 20 percent of whatever costs you incurred.
It's important to keep in mind that there is a limit to how much money each insured individual will spend every year.
Every plan has an out-of-pocket maximum. Once an insured individual reaches that number, the insurance company will pick up the entirety of any medical bills (except premiums) moving forward.
8. When do I qualify for Medicare?
If you have clients who are aging into Medicare, it's important to keep tabs on their upcoming birthdays to make sure you are communicating with them ahead of time.
Talking points:
American citizens who turn 65 years old qualify for Medicare, the federal health insurance program that was created in 1965 and covers upwards of 60 million U.S. adults.
In addition to that, people with permanent disabilities, end-stage renal disease, and Lou Gehrig's disease may also qualify for Medicare.
Leading tools on the market enable you to easily determine who is eligible for Medicare based on their age or birthday and quote plans that make sense for those who qualify. Try ours out (no credit card required)!
Pro tip: Keep in touch with leads you know are about to age into Medicare before their eligibility date to help prepare them for their changing coverage.
9. What does Medicare cover?
When clients ask this question, you need to make it clear that Medicare doesn't cover everything. This is why more and more seniors are opting to buy Medicare Advantage plans to supplement their coverage.
Talking points:
Some patients also opt to buy a supplemental insurance policy (Medigap), which can offset some of the deductible and coinsurance costs that Medicare doesn't cover.
Medicare-eligible patients might also want to look into Medicare Part D plans, which cover prescription drugs.
Folks who enroll in Medicare may be eligible to receive the following services for free:

Flu shots
Colonoscopies
Bone mass measurements
Obesity counseling
Mammograms
Wellness visits
Diabetes screenings
Smoking cessation programs
Substance abuse and alcohol counseling
Depression screenings
Suffice it to say that Medicare is a massive program with plenty of nuances. The better you understand Medicare and all of its associated products, the easier it will be to help your clients who are aging into the program feel comfortable in a whole new world of insurance.

10. What is an in-network doctor, and what's an out-of-network doctor?
Helping your prospects vet insurance based on the carrier their doctors and specialists accept is a great way to show you are looking out for their best interest.
If your client isn't asking this question, there is a potential that they incur additional unexpected costs in their medical care which will cause tension in your relationship.
Talking points:
When you go to a doctor who is in-network, your insurance company has worked out a deal with the individual or their organization and covers their services. When you go to an out-of-network doctor, the services usually aren't covered at all.
When shopping for insurance, then, it is crucial to do your due diligence and make sure the doctors you go to regularly are in-network. Otherwise, you won't be able to see them without incurring hefty bills.
Want to see how Quotit can help you find plans for Medicare clients and show them if their current doctors are in-network? Talk to our team!
What other questions can you answer?
The above list is not meant to be exhaustive. As seasoned insurance agents will tell you, they've heard it all—and then some.
Still, if you know how to thoroughly answer each of these questions off the top of your head, you will, no doubt, be able to impress clients and prospects—making it that much more likely that they will ultimately choose to do business with you.
You know your business and your clients better than anyone else. Spend some time thinking about the questions you've heard the most—and be ready to answer them in a helpful way whenever someone reaches out.
With the right approach, you can develop a reputation for being an exceptional resource for all things insurance, which could even encourage clients to start referring you to folks in their networks. Put in enough time, and you might even be able to grow your business just by being an expert in a complicated field.
That doesn't sound too bad now, does it?