Referral Marketing Tips & Techniques
Build the Foundation for Successful Referral Marketing
Creativity – Experiment with different types of referral marketing campaigns
No Risk Referrals – Make sure your clients are absolutely satisfied so there is no hesitation for you to ask for a referral
Ask – All successful referral tactics require you to ask for your client's help
Social Media – Connect with a larger pool of prospective clients with shared acquaintances and common ground
Referral Rewards Program – Advertise it well but be sure to check your local, state, and federal laws regarding rewards
Quotit is the partner brokers turn to to help them write more business. We've put together these tips and techniques to help insurance brokers overcome the barriers that keep you from getting the referrals you want in order to grow your business.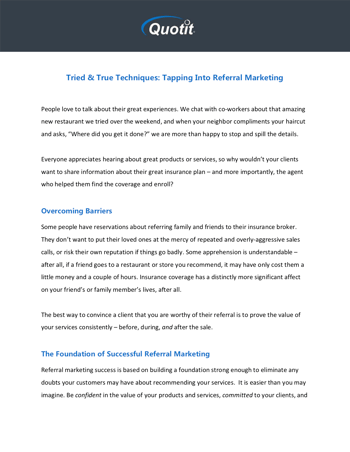 Please send me the whitepaper:
Fill out the form below to download the whitepaper.