Helping Insurance Agencies Set Goals for the Upcoming AEP and OEP
The AEP and OEPs are critical for insurance teams.
If you haven't already developed a robust plan to maximize your results and improve your selling, now is the time. We've created email templates that will help you stay in touch with your leads and clients throughout the Open Enrollment Period.

The better you communicate with your clients throughout the year—and the more you keep them engaged—the less likely they will be to get caught off guard when the open enrollment period comes around. And, of course, the more likely they'll be to buy health insurance from you.
Don't wait—reaching out to clients and prospects is a critical step toward achieving sales and marketing success for the year. Download these templates today by completing the form below.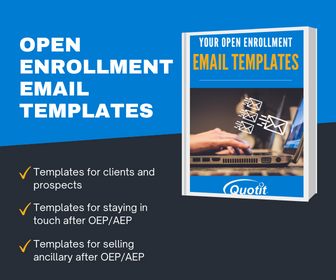 Download Now!
Fill out the form below to download the templates.