The Value of Ancillary Products
Supercharge Your Insurance Sales: Expanding Profits Through Ancillary Coverage!
Long-term success in insurance sales will depend on your ability to keep expanding your business. Adding new clients requires a great deal of time, effort, and money spent on marketing campaigns and lead generation. Instead of focusing on finding new clients, consider the vast opportunities you have within your current book of business. Increase your total revenue per client by selling ancillary insurance products to the people who already trust your expertise.
Our handy one-pager provides a useful reference for Ancillary Coverage, and highlights:
Why you should be selling Ancillary Coverage to your clients
The year-round benefits of selling Ancillary
A summary of the Carrier Quicks webinar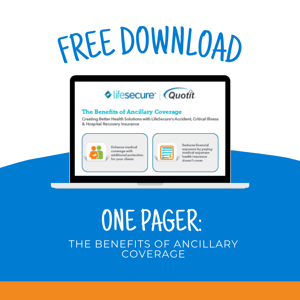 Download the Guide
Partnering with our friends at LifeSecure Insurance Company, our new guide, The Benefits of Ancillary Coverage can help you sell additional coverage to your existing clients.