Medical Sales Are Trending Up
Are you ready to hit the ground running during the busy season?
Selling health insurance isn't easy by any estimation. Not only are agents and brokers asked to help clients find the best policies for their needs, but they must also abide by an absolute morass of state and Federal regulatory standards and rules.

The ante is even higher with Medicare sales, but so are the potential payoffs. Governed by guardrails intended to protect the market's aging and sometimes vulnerable consumers, Medicare and Medicare Advantage can be a lucrative line of business for agents. But it pays to understand the insurance needs of your customer base, the inevitable changes that roll out every year, and the overall landscape.
In this guide, you'll learn::
Medicare and Medicare Advantage market insights
Tips to help you make the most of your CRM
How to spot potential blindspots in Medicare coverage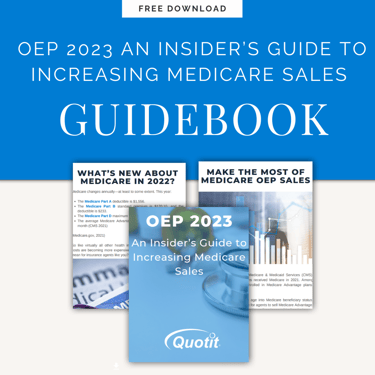 Get your copy!
Download the Guide by filling out the form below.