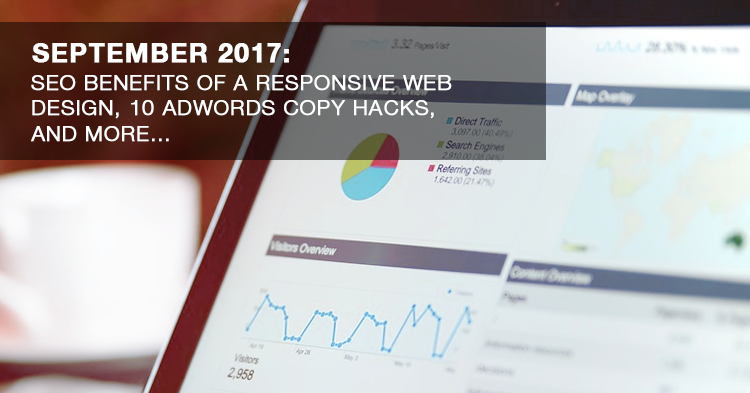 As an insurance professional, it's imperative to keep up with the latest trends and best practices in the digital marketing world. Our monthly digital marketing news update gives you the latest scoop for a variety of online media critical to online success.

For the month of September we look at SEO benefits of a responsive web design, 10 Adwords copy hacks, the ultimate Facebook marketing guide and more.
---
LATEST SEARCH NEWS:
A look at how to perform a basic local business competitive audit and SEO benefits of responsive web design.
---
How to Perform a Basic Local Business Competitive Audit
You've got to stack Business A up against Business B to identify the strengths and weaknesses of both competitors, and then make an educated guess as to which factors Google is weighting most in the results for a specific search
term. Read More
5 SEO Benefits of Responsive Web Design
In today's environment, responsive design is no longer an innovation. Instead, it has become a standard component of any SEO plan, regardless of industry. Read More
---
EMAIL BEST PRACTICES:
Insight into mobile email statistics and getting started with automated email marketing.
---
The ultimate mobile email statistics overview
Smartphones and tablets can no longer be ignored by email marketers. They represent a massive part all email interactions and revenue. But just how massive? Read More
Getting Started with Automated Email Marketing
Email marketing is one of those pivotal, game-changing facets of online marketing that nearly every serious marketer needs to not only know how to do — but do successfully. Read More
---
BEHAVIOR & CONVERSIONS:
Latest trends and findings on Adwords ad copy hacks and supercharging email click-through rates.
---
10 Adwords Ad Copy Hacks & 100 Tricks: Data From 100+ Clients
Writing ad copy successfully for AdWords should be easy. There's only a few characters required. You'd think that would take a minute or two. And yet therein lies the problem. Read More
9 Ways to Supercharge Your Email Click-Through Rates
You already know by now that high email open rates are useless if click-through rates (CTRs) are low. You need people to click the links in your email to end up on your website. Click-through rates are a much better indicator of email engagement and success than only open rates for that reason. Read More
---
SOCIAL MEDIA:
The inside scoop on top social media management tools and the ultimate Facebook marketing guide.
---
The 25 Top Social Media Management Tools for Businesses of All Sizes
How do you stay on top of all your social media marketing tasks? From creating and publishing content to analytics and reporting, it can be pretty overwhelming to think of all the jobs social media marketers have to complete every
day. Read More
Facebook for Business: The Ultimate Facebook Marketing Guide
If you're new to Facebook business options or want to add something new to your current Facebook marketing plan, this page is for you. Here, you'll find articles and resources to help beginner, intermediate, and advanced marketers use Facebook pages, profiles, groups, ads, Live video, analysis, contests, and more for business. Read More
Check out last month's Digital Marketing Update here.