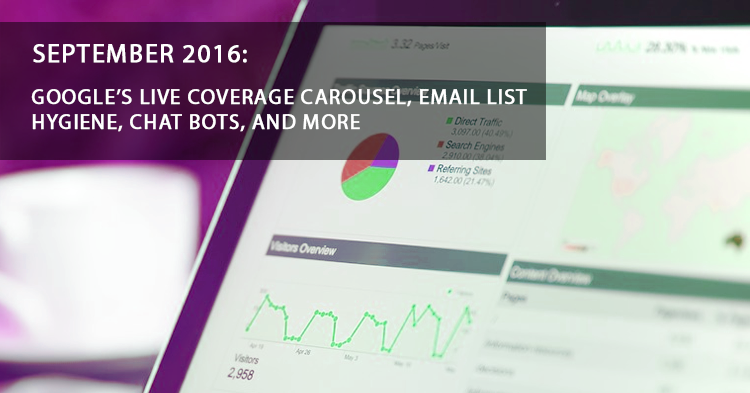 As an insurance professional, it's imperative to keep up with the latest trends and best practices in the digital marketing world. Our monthly digital marketing news update gives you the latest scoop for a variety of online media critical to online success.
For the month of September we look at Google's new Live Coverage Carousel, email list hygiene, chat bots, and more...
---
LATEST SEARCH NEWS:
A look at the latest best practices and algorithm updates for Google and other top search engines.
---
Google Introduces the 'Search Live Coverage Carousel' for Real-Time Indexing & Search Results
Google published on the developer site information about the search live coverage carousel, which lets publishers feed Google breaking content in real time that is related to live sports, elections and breaking news. Read More
How to Make Speed a Core Part of Your Traffic and Conversion Strategy
Speed can make more of a difference to the success of your online business than anything else, yet very few people talk about it. Read More
---
EMAIL BEST PRACTICES:
Insight into the most effective design and execution strategies for email marketing.
---
3 Big Email Marketing Mistakes That Are Hurting Your Campaigns
Unfortunately, we've all been there. Each and every one of us have made cringeworthy mistakes in our lives-some of which haunt us to this very day. Read More
Email List Hygiene Best Practices to Curb Unsubscribe Rates
The success of an email campaign can be dependent on many factors like crisp content, beautiful design, catchy subject line, etc., but that's just the copy side of things. Read More
---
BEHAVIOR & CONVERSIONS:
Latest trends and findings for optimizing website visitor behavior and conversions.
---
Native Ads Will Drive 74% of All Ad Revenue by 2021
Native ads - or ads that take on the look and feel of the content surrounding them - are taking over digital advertising. Read More
Conversion Rate Isn't the Most Important Metric
What metric is the best way to approximate the future success of your conversion rate optimization (CRO) efforts? Read More
---
SOCIAL MEDIA:
The inside scoop on the latest social media trends and developments.
---
The Unexpected Ways Chat Bots Could Change Marketing
Nearly half of CMOs believe they are not prepared to manage the challenges of social media. This disparity highlights an important, and potentially costly, problem. Read More
Facebook Retools Trending Topics to Reduce Human Involvement in News Selection
Facebook is reducing human involvement in how it displays its Trending Topics after a controversy earlier this year over whether editors working for the social network operator silenced conservative news. Read More
Check out August's Digital Marketing News Update for more.