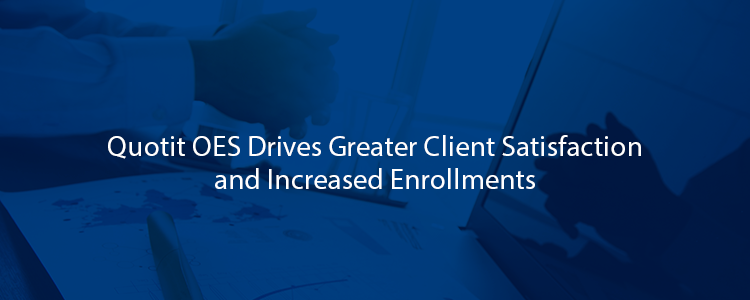 You already know how committed Quotit is to providing brokers with tools to help you write more profitable business and make your life easier. We wanted to take a moment to remind you of the capabilities of Quotit's online enrollment system (OES).
More Than Quoting – an Improved Experience
Our OES improves your clients' online shopping experience – both off and on the state and federal exchanges. We've combined our state-of-the-art comparison shopping and quoting functionality with direct-to-carrier enrollment. Customers shop right on your website, comparing benefits, rates, and providers, and then enroll in one seamless process.
When your client clicks on the "Apply" button, his or her personal information is pre-loaded into the application and the completed form loads automatically into the carrier's system. Your online shoppers are no longer directed to a second website to enroll. Everything happens right from your Quotit system, with information transmitted directly to your client's plan carrier.
OES offers single sign-on capability, integrated data validation, a customizable look and feel using cascading style sheets, HIPAA and Payment Card Industry (PCI) compliance, and multiple application delivery options. It's everything you want and need – from a single source.
Best of all, it delivers a better client enrollment experience and reduces the time it takes to enroll. You're automatically notified whenever a new application is submitted; giving you the opportunity to reach out and follow up, proving your value to your client, and driving higher enrollment numbers.
OES can help drive new sales of both Individual & Family Plans and Medicare Advantage and Medicare Prescription Drug Program plans. We're continually working to add more carriers to our OES, keep a lookout for emails announcing when new carriers are added. For information on carriers we currently provide OES for, give us a call today at 866.478.6848.