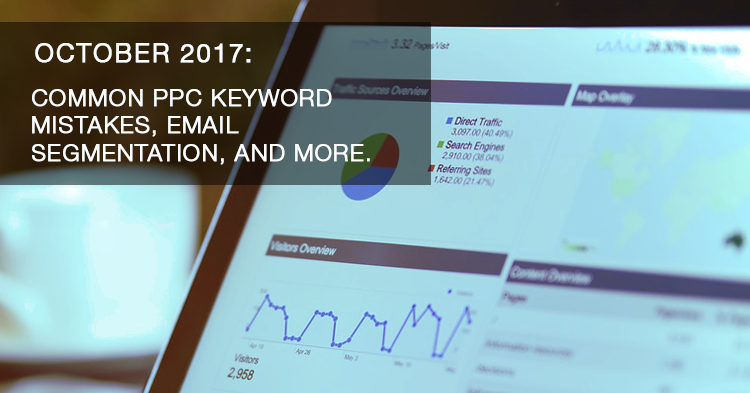 As an insurance professional, it's imperative to keep up with the latest trends and best practices in the digital marketing world. Our monthly digital marketing news update gives you the latest scoop for a variety of online media critical to your success.

For the month of October we look at common PPC keyword mistakes, email marketing segmentation, ways to increase your Facebook engagement and more.
---
LATEST SEARCH NEWS:
A look at common PPC keyword mistakes and ways to build links.
---
Common PPC keyword mistakes (Understanding broad match vs. phrase match vs. exact match)
Google AdWords offers three major keyword match types – broad match, phrase match, and exact match. It's safe to say that if not you don't know how to use each correctly, you could be wasting your PPC budget. Read More
6 Imaginative Ways to Build Links
Unfortunately, what a lot of those experts do is talk all about link building concepts without actually giving you the tips and tricks to build good quality links. They like to keep you in the dark – either because they're clueless about actual link building that works or they're waiting for you to cough up the dough before they let you into their inner sanctum. Read More
---
EMAIL BEST PRACTICES:
Insight into A/B testing emails and email marketing segmentation.
---
6 Rules to Follow When A/B Testing Your Email
Every audience is different, period. One incentive to your audience could fall flat, while another soars. That is why it's critical to test, test and test some more by split testing your content, incentives, time of send and more. Read More
Getting Smart With Email Marketing Segmentation
There is a fierce competition for attention in your subscribers' inbox. Now! is the perfect time to make your emails effectively deliver more value. Segmentation is a seemingly simple but extremely powerful mechanism. Many are already segmenting to some extent, but how about taking advantage of more advanced email segmentation? Read More
---
BEHAVIOR & CONVERSIONS:
Latest trends and findings on analyzing A/B test results with Google Analytics and advanced email deliverability tactics.
---
How to Analyze Your A/B Test Results with Google Analytics
A/B testing tools like Optimizely or VWO make testing easy, and that's about it. They're tools to run tests, and not exactly designed for post-test analysis. Most testing tools have gotten better at it over the years, but still lack what you can do with Google Analytics – which is like everything. Read More
5 Advanced Email Deliverability Tactics to Help You Reach the Inbox & Increase Engagement
Learn more about five advanced email deliverability tactics — tactics that usually aren't discussed in basic deliverability guides. These methods will help you increase your odds of getting your emails seen, opened, and clicked. Read More
---
SOCIAL MEDIA:
The inside scoop on increasing Facebook page engagement and underused tools for Facebook marketing.
---
Post Less, Boost Top Posts, and More: 14 Ways to Increase Your Facebook Page Engagement
Engagement on Facebook Pages has fallen by 20 percent since the start of 2017, according to BuzzSumo who analyzed over 880 million Facebook posts by brands and publishers. As a social media marketer, it is worrying to see these trends. Read More
Facebook's Hidden Gems: Underused Tools for Facebook Marketing
There's no denying: Facebook marketing, done right, works. It makes sense, just in potential audience alone. The potential is huge, but so is the competition. Forty million small businesses have active Facebook pages – and we all know how much "noise" is generated by everything from memes to pictures of people's lunches. Read More
Read September's Digital Marketing News Update.