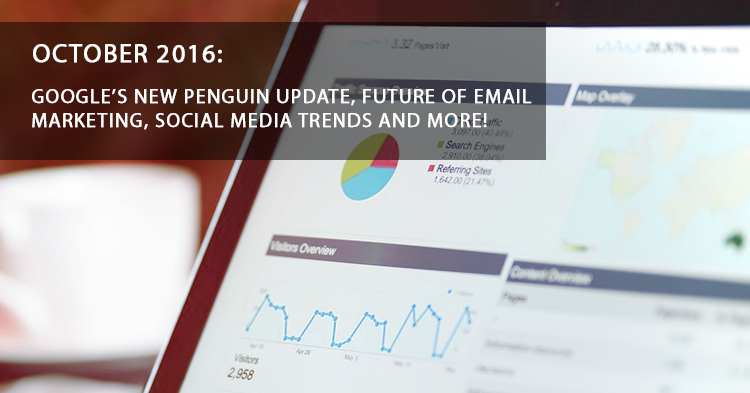 As an insurance professional, it's imperative to keep up with the latest trends and best practices in the digital marketing world. Our monthly digital marketing news update gives you the latest scoop for a variety of online media critical to online success.
For the month of October we look at Google's new Penguin update, the future of email Marketing, Social Media trends, and more...
---
LATEST SEARCH NEWS:
A look at the latest best practices and algorithm updates for Google and other top search engines.
---
SEO: Google's Algorithm Hasn't Changed, or Has It?
September has been a big month for unofficial Google algorithm changes. Business owners are seeing significant movement in both Google's core search results and "local pack" search results, though Google isn't admitting updates to either. Read More
How Google's New Penguin Update Will Affect Search
The biggest change of all is Penguin is going to operate in real-time. The new signal will be part of the core search algorithm, which is a big surprise to a lot of businesses. But what is this update and how will it impact search? Read More
---
EMAIL BEST PRACTICES:
Insight into the most effective design and execution strategies for email marketing.
---
The Benefits of an Effective Email Marketing Campaign
Many believe email marketing is on the verge of dying because all the other online marketing services (e.g. social media, search engine optimization, mobile marketing) have taken over today. However, this isn't true. Read More
The Future of Email Marketing
Email is changing just as quickly as the rest of the online landscape. In just the past few years, we've seen the growth of features like video in email, the ability of customers to text to join an email list, and even virtual reality opt-ins. Read More
---
BEHAVIOR & CONVERSIONS:
Latest trends and findings for optimizing website visitor behavior and conversions.
---
Four Ways to Gain a Holistic View of the Customer Journey
Analyzing customer data is paramount for businesses today. A total of 38% give that responsibility to their CEOs. The competitive advantage provided by basing business decisions on customer behavior has led businesses to adjust budgets accordingly for data and analytics solutions. Read More
Google Metrics Closes 'Loop' Across Search, TV, YouTube, In-Store
Advertisers rely on search advertising to increase brand awareness and drive conversions for television and YouTube video ads. On Monday, Google will announce the forthcoming release of Brand Lift metrics to measure TV campaigns showing how television ads increase searches on Google and YouTube. Read More
---
SOCIAL MEDIA:
The inside scoop on the latest social media trends and developments.
---
The Big, Fat Myth About Bots
Artificial intelligence and natural language processing research just aren't at a place yet where it's possible to create the kind of chat bots that would truly hold our attention and be compelling. Read More
5 Big New Social Media Marketing Trends
Every week, social platforms like Facebook, Twitter, Snapchat, and Instagram are releasing new features and improving old ones, and naturally, our habits as marketers need to adjust to stay ahead of our competitors. Read More
Read last month's Digital Marketing News Update.