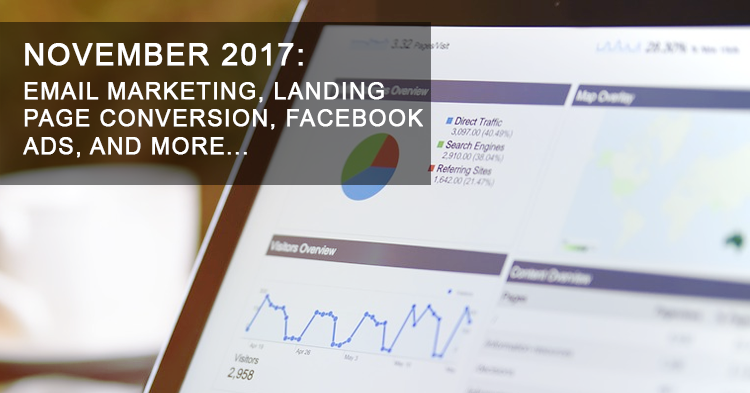 As an insurance professional, it's imperative to keep up with the latest trends and best practices in the digital marketing world. Our monthly digital marketing news update gives you the latest scoop for a variety of online media critical to your success.

For the month of November we look at how to battle your SEO enemies, improving landing page conversions, promoting your local business on Facebook, and more.
---
LATEST SEARCH NEWS:
A look at the latest best practices and algorithm updates for Google and other top search engines.
---
Competitive Research: How to Battle Your SEO Enemies – And Win
They say you should know your enemy. The same is true for your online competitors. You should know your rivals if you want to get ahead of them. But how exactly can you conduct a smart competitive research today? Read More
How Links in Headers, Footers, Content, and Navigation Can Impact SEO
Which link is more valuable: the one in your nav, or the one in the content of your page? Now, how about if one of those in-content links is an image, and one is text? Not all links are created equal, and getting familiar with the details will help you build a stronger linking structure. Read More
---
EMAIL BEST PRACTICES:
Insight into the most effective design and execution strategies for email marketing.
---
7 Reasons Email Marketing Still Works
It may (or may not) be Throwback Thursday when you read this, but when we refer to email marketing, we are not trying to do a throwback from the distant past. While some remember the days of hearing, "You've got mail" and are taken back to the early days of the Internet, this blog isn't about email back in the day or a romantic comedy. Instead, we're going to break down why email marketing is still alive and well in 2017. Read More
10 Quick and Easy Email Marketing Segmentation Strategies to Try Today
Marketers know that segmenting email marketing lists can improve open and clickthrough rates. MailChimp's latest user data showed that segmented campaigns get 14.64% more opens and 59.99% more clicks than non-segmented campaigns. Read More
---
BEHAVIOR & CONVERSIONS:
Latest trends and findings for optimizing website visitor behavior and conversions.
---
Landing page not converting: 17 ideas that work best for us
Is your landing page not converting — or perhaps, not converting as much as you hoped? Well, lucky for you, that topic is exactly what this blog post is about. Every visitor comes into your landing page with different pain points. Some are barely getting to know your product or service, while others are ready to make a purchase or call. Your landing page is there to nudge them in the right direction. This, in turn, should help increase your conversion rates, turning cold traffic into hot leads. Read More
5 Hardest Things in Conversion Optimization
Conversion optimization is hard; it's constantly changing and you need to know a lot about a lot. Keeping up with the technology changes and managing business' expectations can be tricky. Here's what some of the top experts in the field are saying about the top challenges in conversion optimization. Read More
---
SOCIAL MEDIA:
The inside scoop on the latest social media trends and developments.
---
3 Ways to Promote a Local Business on Facebook
Are you marketing a local business on Facebook? Wondering how to drive leads and customers to your storefront? Discover three ways to promote your local business on Facebook.Read More
How to create Facebook ads that convert
Placing Facebook ads with the intent to convert requires a unique approach, one that is much different than trying to get more Page likes or build brand awareness. Rather than just simply putting your brand in front of people, you need to convince your audience that behind that call-to-action button is an extremely valuable offer. With an ineffective strategy, you could be flushing advertising budget down the toilet. Read More
If you missed it, check out October's Digital Marketing News Update.