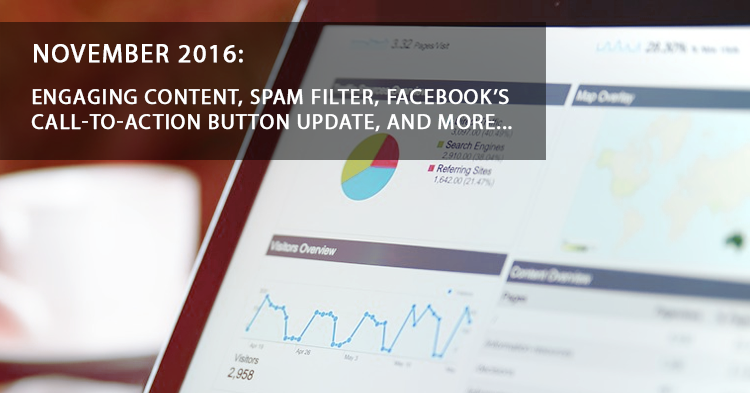 As an insurance professional, it's imperative to keep up with the latest trends and best practices in the digital marketing world. Our monthly digital marketing news update gives you the latest scoop for a variety of online media critical to online success.
For the month of November we look at engaging content to strengthen your SEO efforts, avoiding the spam filter, Facebook's call-to-action button update, and more ...
---
LATEST SEARCH NEWS:
A look at the latest best practices and algorithm updates for Google and other top search engines.
---
Using engaging content to strengthen your SEO efforts
The industry has thankfully moved on considerably since the days of over optimised pages with irrelevant keywords and purchased link placement. Through a combination of machine learning algorithmic updates by Google, the industry focus has had to shift towards the user experience with well written content and creating assets that actually earn organic links. Read More
Google's Search Index To Go Mobile First
Every 7 out of 8 minutes spent on media are on mobile devices, and more than 50% of Google searches are also performed on mobile. Read More
---
EMAIL BEST PRACTICES:
Insight into the most effective design and execution strategies for email marketing.
---
Holiday Email Best Practices: Avoiding the Spam Filter
The season is not only laden with opportunity, it's also fraught with peril when it comes to competing for eyeballs and clicks in the inbox. Read More
7 Classic Email Marketing Mistakes – And How to Avoid Them
To help you avoid the worst of the worst email marketing mistakes, we've decided to call them out. We're just listing the worst offenders and what to do to prevent them… and how to recover if you make them. Read More
---
BEHAVIOR & CONVERSIONS:
Latest trends and findings for optimizing website visitor behavior and conversions.
---
Mobile Search on the Rise: Almost Half of All People Search Only on Smartphones [STUDY]
A detailed study released by Google reveals roughly 40% of people search only on a smartphone. Read More
Authority & link building with real-time Penguin
How Penguin's latest update affects the SEO community as a whole and how the brave and the bold can continue to safely improve their organic visibility without fear of repercussions from punitive search engine algorithms. Read More
---
SOCIAL MEDIA:
The inside scoop on the latest social media trends and developments.
---
Linked Learning: Loading Education 4.0?
LinkedIn recently announced that it was entering the professional development market. Read More
Facebook Page Call-to-Action Buttons Get Big Update
Facebook has announced new call-to-action button integrations with third parties to make it easier for customers to do things like order food and book appointments. Read More
For more Digital Marketing News, check out October's issue.