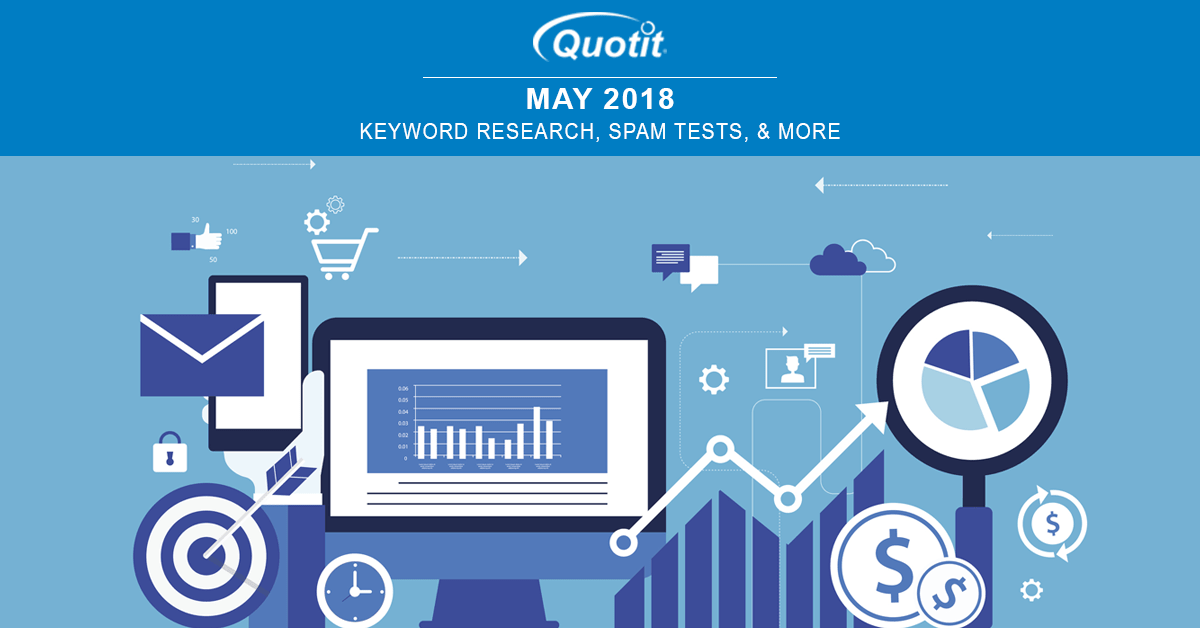 As an insurance professional, it's imperative to keep up with the latest trends and best practices in the digital marketing world. Our monthly digital marketing news update gives you the latest scoop for a variety of online media critical to your success.
For the month of May we have some great articles about keyword research, passing email spam tests, display advertising, and much more.
LATEST SEARCH NEWS:
A look at the latest best practices and algorithm updates for Google and other top search engines.
---
Google's Chrome Browser Will Mark non-HTTPS Sites As "not secure" Beginning July 2018
You've probably noticed the green padlock or "secure" next to the URL of websites that have switched over to HTTPS, which means they have added in an extra layer of security to their website. Now, Google will be taking this a step further and annotating sites that have NOT taken the extra security measure. Read More
High-Speed Keyword Research
If you're doing your own internal SEO work, chances are you don't have a lot of time to spend researching keywords. If that's the case, which we're sure it is, check out this article with tips to perform high-speed keyword research. Read More
---
EMAIL BEST PRACTICES:
Insight into the most effective design and execution strategies for email marketing.
---
How Email Spam Tests Work and What You Can Do to Pass Them
A lot of email gets lost to spam. If you're sending to your customers or prospects, there's a high probability that you're not reaching them if your emails are getting caught by spam tests. So how do spam tests work? Can you beat them? Read More
Will the Real Key Email Metrics Please Stand Up?
Sending out email marketing is not only a great way to communicate with current and prospect clients, but it's also a great way to get data. But what email metrics should you actually pay attention to? Read More
---
BEHAVIOR & CONVERSIONS:
Latest trends and findings for optimizing website visitor behavior and conversions.
---
5 Tools to Improve Your Copywriting That the Pros Love
If you want to influence behaviors and increase conversions, you need to have more compelling copy. The pros get it done with a little help from some tools. Here are five that they love to use. Read More
A Beginners' Guide to Display Advertising
Display advertising is a widely known medium since we're all constantly being bombarded with it. However, its nuances are of a much lesser known variety. Understanding how to place display advertising and how to target it correctly can mean the difference between wasted clicks and a campaign that delivers great ROI. Read More
---
SOCIAL MEDIA:
The inside scoop on the latest social media trends and developments.
---
7 Metrics to Audit Your YouTube Channel
If you haven't gotten into video yet, you need to. It has quickly become the king of content delivery and consumption. While many other players have gotten into the game, such as Facebook Live, YouTube still has a massive following. Here are some ways to improve your YouTube channel's presence. Read More
Getting Started with Instagram for Your Business: 8 Simple Steps
Instagram is just a tool for millennials posting food pictures, right? Wrong. Instagram is a quickly growing social media that is outpacing many of its competitors. In fact, it is starting to become the social media of choice among younger users, making it a great tool for your budding insurance business. Read More
Read last month's Digital Marketing News Update