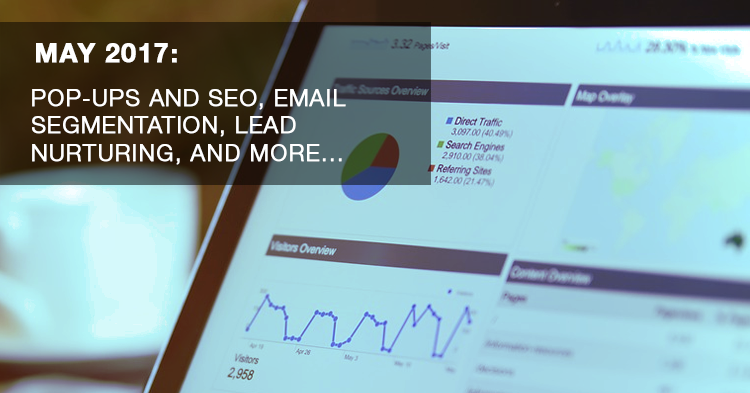 As an insurance professional, it's imperative to keep up with the latest trends and best practices in the digital marketing world. Our monthly digital marketing news update gives you the latest scoop for a variety of online media critical to online success.

For the month of May we look at pop-ups and their influence on SEO, email marketing segmentation, lead nurturing, and more.
---
LATEST SEARCH NEWS:
A look at the latest best practices and algorithm updates for Google and other top search engines.
---
Pop-Ups, Overlays, Modals, Interstitials, and How They Interact with SEO
Have you thought about what your pop-ups might be doing to your SEO? Read More
How to use Search Console for quick SEO wins
SEO doesn't have to be complicated. Here's how a closer look at Google Search Console can lead to quick SEO wins. Read More
---
EMAIL BEST PRACTICES:
Insight into the most effective design and execution strategies for email marketing.
---
Rethinking Email Marketing Effectiveness
Email marketing has become smarter and powerful in a way that helps marketers deliver the right content at the right time to the right audience. Read More
Getting Smart With Email Marketing Segmentation
Segmentation is a seemingly simple but extremely powerful mechanism. Read More
---
BEHAVIOR & CONVERSIONS:
Latest trends and findings for optimizing website visitor behavior and conversions.
---
5 Digital Marketing Measurement Tips to Uncover HUGE Growth Opportunities
Here are 5 actionable digital marketing measurement tips that you can deploy today to help you uncover huge growth opportunities. Read More
4 Lead Nurturing Strategies for Better Conversion Rate Optimization
Lead nurturing can do wonders for your conversion efforts! Here are four strategies that can take your CRO to the next level. Read More
---
SOCIAL MEDIA:
The inside scoop on the latest social media trends and developments.
---
How Social Media Influences Customer Behavior to Drive Traffic and Sales
Consider some of the following ways social media affects customer behavior to drive traffic and sales. Read More
Social Media Is the New Television
Year over year, marketers are finding that television events that previously saw high viewership are grossing lower ratings than ever. Read More
Check out last month's Digital Marketing News update if you missed it.