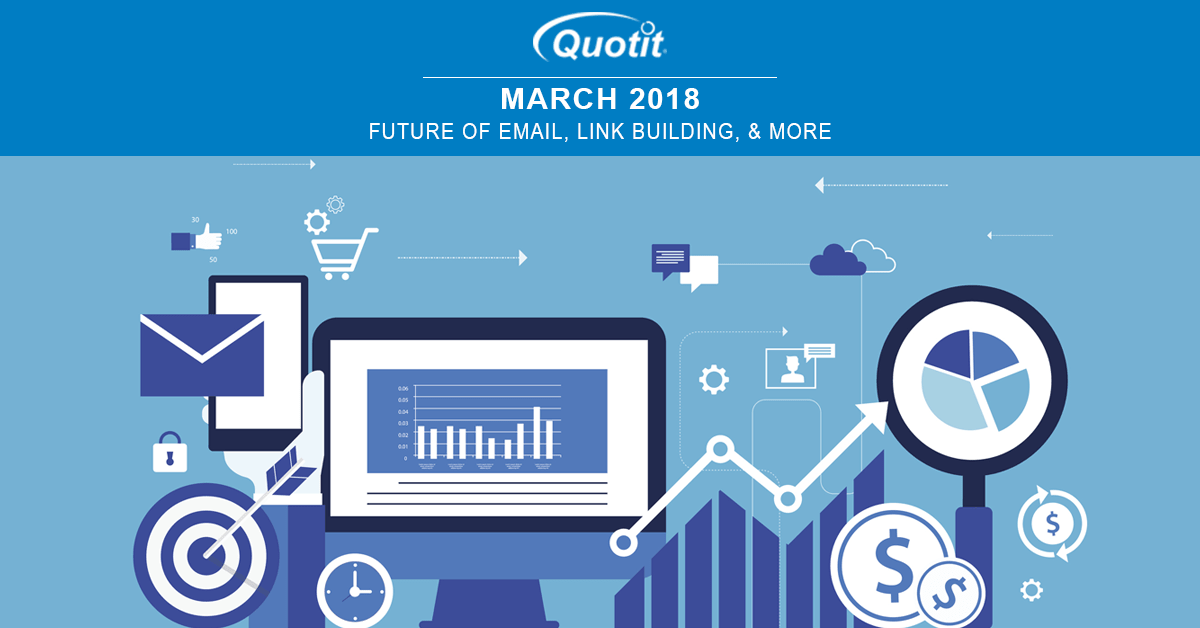 As an insurance professional, it's imperative to keep up with the latest trends and best practices in the digital marketing world. Our monthly digital marketing news update gives you the latest scoop for a variety of online media critical to your success.
For the month of March we look at some important the future of email marketing, increasing organic click-throughs, breaking social media rules, and much more.
LATEST SEARCH NEWS:
A look at the latest best practices and algorithm updates for Google and other top search engines.
---
How to Increase Click-throughs on Organic Search Listings
A lot of people spend a lot of time improving and optimizing their ad copy on Google Adwords. But have you seen the organic listings? Sometimes it looks like people aren't even trying. Work on redoing page titles and writing intriguing meta descriptions to drastically increase click-throughs on your organic results. Read More
A Beginner's Guide to Getting Valuable Links for Your Site
Link building is one of those SEO tactics that has a little more ambiguity to it. There's a lot of uncertainty for non-professional SEO people in terms of how to build links, how many to build, what is a quality link, etc. Here's a nice primer for those unfamiliar with link building. Read More
---
EMAIL BEST PRACTICES:
Insight into the most effective design and execution strategies for email marketing.
---
The Future of email marketing – 2018 edition
Email marketing is constantly evolving. So what does the future of email marketing hold? Here are some things to expect and anticipate. Read More
5 Signs it's Time for an Email Marketing Makeover
We all get into the habit of doing the same things repeatedly. Everyone also gets in the habit of using the same email templates, over and over. If it's not broke, why fix it? Despite not being broken, you email marketing could use a makeover if you start noticing these signs. Read More
---
BEHAVIOR & CONVERSIONS:
Latest trends and findings for optimizing website visitor behavior and conversions.
---
Google My Business Dashboard Showing Video Upload Section for Some Business Owners
There's no denying that video content is taking over the internet. The combination of gifs, videos, and now live videos are changing the landscape of most social networks. With this in mind, your Google My Business might be able to take part in the fun. Google has slowly been rolling out video upload sections for business owners. Read More
How to Use A/B Testing and Personalization Best Together
We could talk for days about the importance of A/B testing. We could also talk for days about the importance and emergence of personalization. So what happens when you merge these two important things together? Read More
---
SOCIAL MEDIA:
The inside scoop on the latest social media trends and developments.
---
How to Use Facebook to Drive More Traffic to Your Blog Post
Getting clicks from Facebook to your blog isn't as simple as throwing a Facebook post out there. A lot of factors can play into whether a user clicks or not. Here are some great tips to start driving engagement with your Facebook posts and increase traffic to your blog. Read More
When Breaking Social Media Rules Leads to Better Engagement
Most people like to follow the rules when it comes to posting on social media for their business. They need to keep to a certain "corporate tone". Well, that's not always for the best when it comes to social. Sometimes you've got to break the rules in order to really get users to engage. Read More
Read last month's Digital Marketing News Update