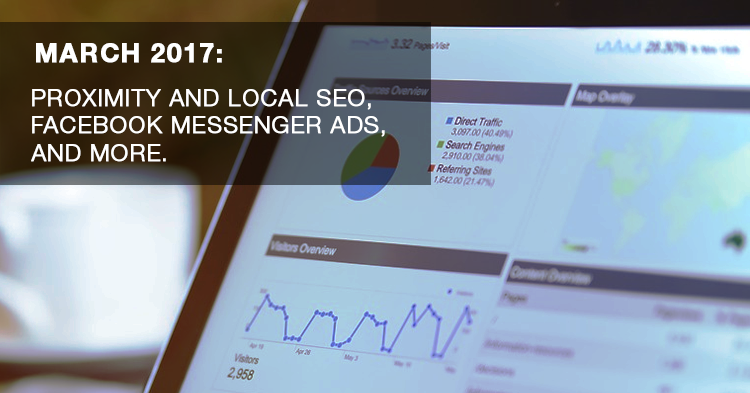 As an insurance professional, it's imperative to keep up with the latest trends and best practices in the digital marketing world. Our monthly digital marketing news update gives you the latest scoop for a variety of online media critical to online success.

For the month of March we look at proximity and its effect on local SEO, email marketing testing, Facebook messenger ads, and more.
---
LATEST SEARCH NEWS:
A look at the latest best practices and algorithm updates for Google and other top search engines.
---
Proximity to Searcher is the New #1 Local Search Ranking Factor
For most local searches these days, proximity appears to be weighted more than links, website content, citations, and reviews in the local pack rankings. Read More
On-Page SEO: Anatomy of a Perfectly Optimized Page
If you're looking for some practical strategies that you can use on your site today, then you'll love this. Read More
---
EMAIL BEST PRACTICES:
Insight into the most effective design and execution strategies for email marketing.
---
To Optimize Email Marketing, Test These 3 Elements
These are the three email-marketing elements to continually test, to optimize their performance. Read More
Using Eye Tracking Research for Email Marketing
Understanding how eye tracking works can help you to improve the content and overall effectiveness of your email marketing campaigns. Read More
---
BEHAVIOR & CONVERSIONS:
Latest trends and findings for optimizing website visitor behavior and conversions.
---
Beyond A/B Testing: Strategic Conversion Optimization For B2B Websites
When it comes to conversion rate optimization (CRO) for B2B sites, A/B testing is a great place to start — but it's only one tactic in what should be a site-wide strategy. Read More
Are you leveraging these underutilized Google Analytics features?
Here's a checklist that can help ensure you're taking advantage of the many value-added features within Google Analytics. Read More
---
SOCIAL MEDIA:
The inside scoop on the latest social media trends and developments.
---
Facebook Messenger Ads: How to Use Them in Your Business
Facebook reported that more than one in two people say they're more likely to shop with a business they can message, and 67% of people expect to message businesses more in the next two years. Read More
Report: Twitter plans major retool of its ad business
Twitter is seriously reevaluating three core areas of its ad business: direct response campaigns, Promoted Tweets and TellApart, an ad tech platform focused on personalization that Twitter acquired in 2015. Read More
For more digital marketing news, take a look back at last month's post.