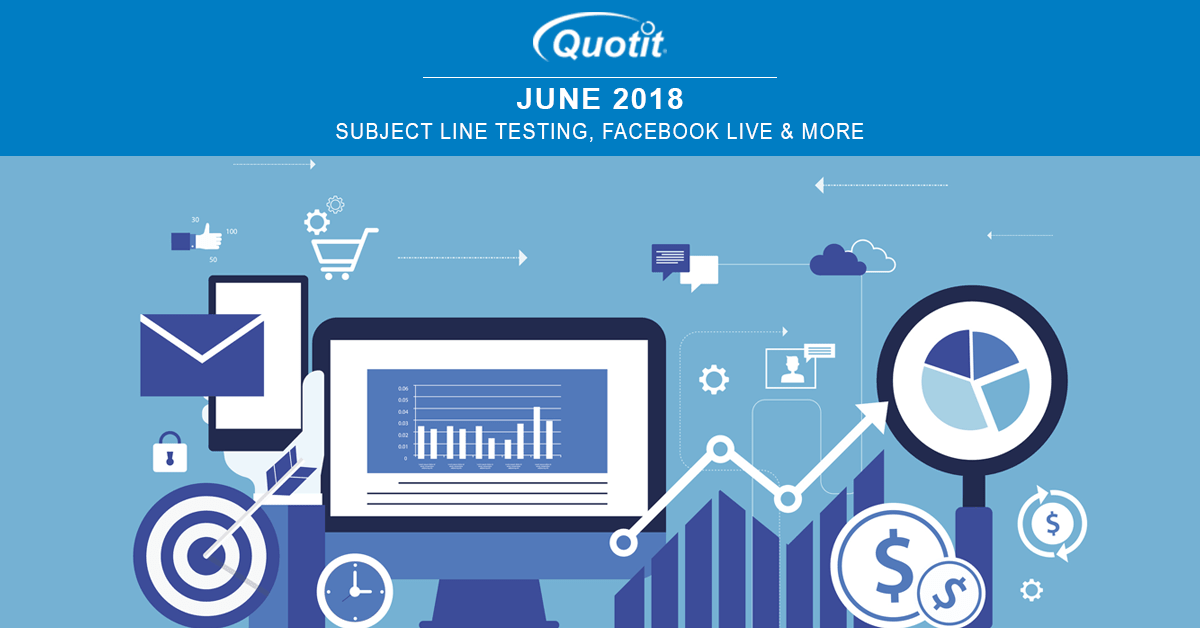 As an insurance professional, it's imperative to keep up with the latest trends and best practices in the digital marketing world. Our monthly digital marketing news update gives you the latest scoop for a variety of online media critical to your success.
For the month of June we have some great articles about subject line testing, Facebook Live Video Ads, and much more.
---
LATEST SEARCH NEWS:
A look at the latest best practices and algorithm updates for Google and other top search engines.
---
Check Your Site's SEO Yourself
Seeing a traffic drop in your website is always concerning. However, you might not have to hire the first SEO specialist you find. Often times, if you know where to look, you can check your site's SEO health yourself. Here's where to look. Read More
Keyword Research: 5 Ways to Find Great Long-Tail Keywords
You can't always compete for the one or two-word keywords. If you are a small business, you are better off finding the long-tail keywords that will help you convert. Finding these types of keywords might seem daunting but here are five great ways to get started. Read More
---
EMAIL BEST PRACTICES:
Insight into the most effective design and execution strategies for email marketing.
---
How to Catapult Your Email Campaign Optimization to the Next Level
Just sending out emails blindly is not only ineffective but it can actually be harmful for your company. You need to have a plan for email marketing. Here are some tips from Kissmetrics to take your email campaign to the next level. Read More
10 Easy Subject Line Tester Tools to Boost Email Opens
A lot of people underestimate the value of a really great subject line. This is one of the most important elements of your email. If you can't entice them to open your email, they have zero chance of clicking in your email. Here are some subject line testers to use prior to your email sends. Read More
---
BEHAVIOR & CONVERSIONS:
Latest trends and findings for optimizing website visitor behavior and conversions.
---
How to Segment A/B Test Results to Find Gold
A/B testing is important for any marketing campaign. However, if you are testing an entire list, it can be misleading. Segmenting can lead to much more insightful tests, giving you a much better idea of what works on certain audiences, and what doesn't. Read More
How to Make More Online Sales with a Low-Traffic Website
Small businesses and niche businesses often assume they can't make much money online because they don't have much traffic. However, there are definitely ways for you to increase your sales online even with a low-traffic website. Read More
---
SOCIAL MEDIA:
The inside scoop on the latest social media trends and developments.
---
Facebook Live Ads: Everything You Need to Know
Facebook Live has become a very common form of media on Facebook. With that said, it only makes sense that Facebook Live ads would start to become a very useful form of advertising. Here's what you need to know about them. Read More
LinkedIn Native Video: What Marketers Need to Know
LinkedIn Native videos are videos that you record and then upload directly to LinkedIn, rather than sharing a video hosted elsewhere (like YouTube). So why is this distinction important for marketers and what should they know? Read More
Read last month's Digital Marketing News Update