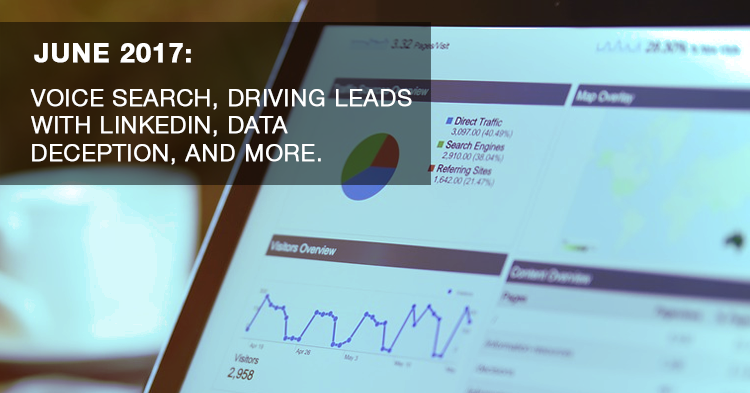 As an insurance professional, it's imperative to keep up with the latest trends and best practices in the digital marketing world. Our monthly digital marketing news update gives you the latest scoop for a variety of online media critical to online success.

For the month of June we look at the voice search race, driving leads with LinkedIn, how to avoid being deceived by data, and more.
---
LATEST SEARCH NEWS:
A look at the latest best practices and algorithm updates for Google and other top search engines.
---
Voice search: A digital space race
Voice search has been identified by the world's leading technology providers as a huge opportunity to acquire market share over the next decade. Read More
How featured snippets steal significant traffic from organic result
When a featured snippet is present, CTR for the first organic result falls below 20 percent. Read More
---
EMAIL BEST PRACTICES:
Insight into the most effective design and execution strategies for email marketing.
---
4 Reasons Why Segmenting Your Lists Dramatically Impacts Your Success
Gone are the days when digital marketers would send the same generic email blast to their subscribers. Read More
Email Open Rates: What's a Good One & Tips to Improve Yours
It's tempting to think email marketing is all about the conversion, but overlooking your email open rate is a mistake. Read More
---
BEHAVIOR & CONVERSIONS:
Latest trends and findings for optimizing website visitor behavior and conversions.
---
How to Avoid Being Deceived By Data
From the outside, it seems like data is impartial. It's cold, objective, accurate. In reality though it's more complicated. Read More
Get More Out of Google Analytics With the Help of These 4 Premium Tools
Google Analytics happens to be a highly customizable platform that plays well with third-party integrations. Read More
---
SOCIAL MEDIA:
The inside scoop on the latest social media trends and developments.
---
What Facebook Advertisers Are Doing Wrong: Q&A with Mari Smith
To have more than a billion prospects in one place, literally at your fingertips, is a marketer's dream (thanks, Mark Zuckerberg!). But turning those prospects into customers… well that's another story. Read More
Driving Leads with LinkedIn
It's important to note that LinkedIn is not actually about selling - it is about creating better relationships. Read More
In case you missed it, here's May's Digital Marketing News Update.