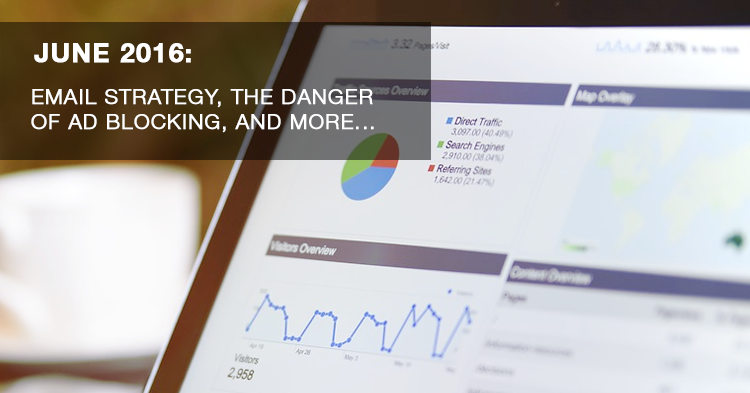 As an insurance professional, it's imperative to keep up with the latest trends and best practices in the digital marketing world. Our monthly digital marketing news update gives you the latest scoop for a variety of online media critical to online success.

For the month of June we look into the online customer path and it's relation to SEO, email marketing strategy and targeting 'cannibals', the danger of ad blocking technology, and more.
---
LATEST SEARCH NEWS:
A look at the latest best practices and algorithm updates for Google and other top search engines.
---
How to Research the Path to Customer Purchase
Moving your customers down the funnel from awareness to conversion can make for a winding and treacherous road. Read More
3 Important Ways Broken Link Building Outreach Has Changed
Here are 3 important lessons learned in over 7 years of tinkering with link building outreach techniques. Read More
---
EMAIL BEST PRACTICES:
Insight into the most effective design and execution strategies for email marketing.
---
Email Marketing: There's a Good Chance You're Doing It Wrong
Email marketing strategies aren't always all they're cracked up to be, and getting them right is more important than you might realize. Read More
Study Explores the Importance of Email Marketing ROI
Too often marketers swallow their profits with email campaigns that target "cannibals," or guests who would have come in anyway. Read More
---
BEHAVIOR & CONVERSIONS:
Latest trends and findings for optimizing website visitor behavior and conversions.
---
How To Better Measure B2B Lead Generation
From an online perspective, the lead acquisition funnel has three major steps – brand awareness, prospects acquisition, and lead generation. Read More
What The Block? An Exploration of the Future of Digital Advertising in an Ad Block Climate
If the majority of your budget, time and effort is spent on paid advertising, as is the case for 70% of respondents in the annual state of PPC report, your marketing model could be in jeopardy. Read More
---
SOCIAL MEDIA:
The inside scoop on the latest social media trends and developments.
---
Twitter Is Testing Carousel Ads for Video and Photo Tweets
Twitter is launching a new ad unit that allows brands to combine multiple tweets in a single ad unit. Read More
5 Up-and-Coming Social Media Tools You Should Know About
Social media operates in a hyper-competitive arena, and if you want to stay alive, you're going to have to use the newest tools to support your efforts. Read More
View last month's Digital Marketing News update.