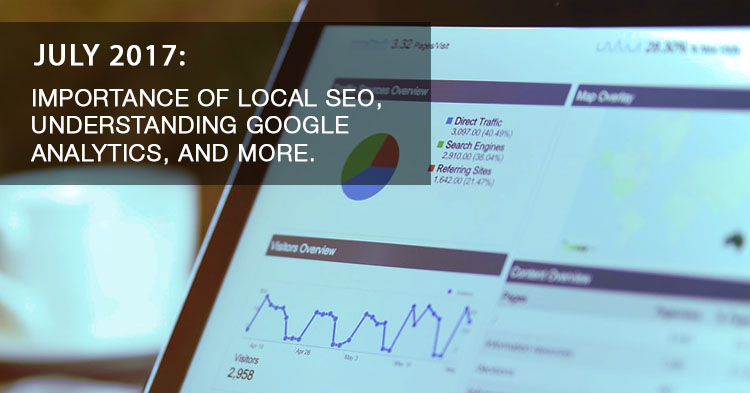 As an insurance professional, it's imperative to keep up with the latest trends and best practices in the digital marketing world. Our monthly digital marketing news update gives you the latest scoop for a variety of online media critical to online success.

For the month of July we look at the importance of local SEO, email subject line patterns, the ultimate list of blog post ideas, and more.
---
LATEST SEARCH NEWS:
A look at the importance of local SEO and what it has in common with traditional SEO.
---
How Important is Local SEO?
Search has never been more real-time, personalised and local. Read More
A Complete Checklist for Local SEO Success
Local SEO has a lot in common with traditional SEO. Read More
---
EMAIL BEST PRACTICES:
Insight into email subject line patterns and how to execute successful email campaigns using Outlook.com.
---
Email Subject Line Pattern Inspiration
What will spark engagement with your readers? What will make them want to act on your message? Read More
Techniques for Excellent Emails in Outlook.com
Since Microsoft migrated all of their users from the old Hotmail platform, Outlook.com has grown by leaps and bounds. Read More
---
BEHAVIOR & CONVERSIONS:
Latest trends and findings for understanding Google Analytics and whether you should get rid of your website's lead forms or not.
---
25 Google Analytics Admin Settings Explained
Google Analytics is without a doubt one of the most useful tools available to help you gain insight into your online marketing performance. Read More
Should You Get Rid of Your Website's Lead Forms?
The lead capture form has become one of the most ubiquitous tools in a marketer's toolbelt. Read More
---
SOCIAL MEDIA:
The inside scoop on the latest social media trends and developments.
---
The Ultimate List of Blog Post Ideas [2nd Edition]
One of the easiest ways to grow you blog is to be generous... Read More
Yelp Success vs. Ratings and Reviews
Consumers trust companies less than ever before. Read More
Read last month's Digital Marketing News Update.