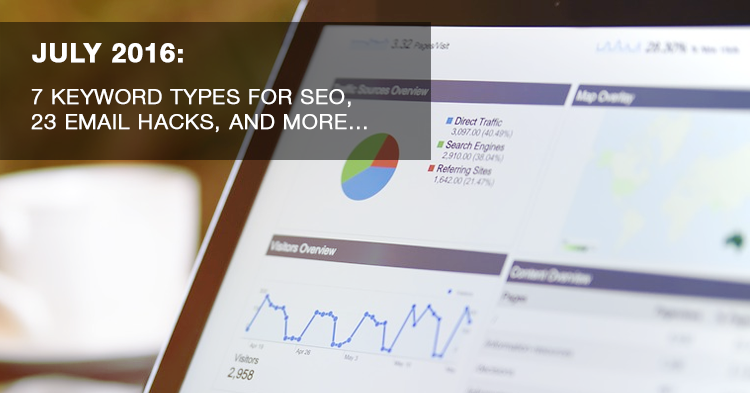 As an insurance professional, it's imperative to keep up with the latest trends and best practices in the digital marketing world. Our monthly digital marketing news update gives you the latest scoop for a variety of online media critical to online success.

For the month of July we look at 7 keyword types for boosting SEO, 23 email optimization hacks, Facebook's new algorithm update, and more...
---
LATEST SEARCH NEWS:
A look at the latest best practices and algorithm updates for Google and other top search engines.
---
7 types of keywords to boost your SEO strategy
Wondering what kinds of keywords you should be targeting? Columnist Ryan Shelley shows how to categorize keywords using a personalized and industry-focused approach. Read More
Using Schema Markup for Local SEO
Schema.org provides a vocabulary of specific, structured terms that can help local business communicate key pieces of information to search engines. Read More
---
EMAIL BEST PRACTICES:
Insight into the most effective design and execution strategies for email marketing.
---
23 Hacks To Optimize Your Email Marketing Campaign
Here are some useful ways in which you can fully optimize your marketing emails. Read More
We miss you: reactiving your email marketing campaigns for B2B
With 25 per cent of email addresses in company databases classified as inactive, B2B marketers reassessing their email marketing strategies may want to consider launching a reactivation email marketing campaign. Read More
---
BEHAVIOR & CONVERSIONS:
Latest trends and findings for optimizing website visitor behavior and conversions.
---
Study: 59% of readers will share this link on social media without actually reading it
Research from Columbia University and the French National Institute found that 59% of links shared on social media are shared without ever being read, according to the Chicago Tribune. Read More
Web Analytics Analysis: How to Find Problem Areas & A/B Test Ideas
Optimization isn't about educated guesses and hunches. It's about doing the research, asking the right questions, and running smart A/B tests. Read More
---
SOCIAL MEDIA:
The inside scoop on the latest social media trends and developments.
---
Facebook's New Algorithm Change Is A Blessing In Disguise
Essentially, Facebook has decided it is more interested in showing users photos and updates from their Facebook friends than posts from other pages. Read More
Misleading social media marketing faces serious consequences, CIM warns
Misleading marketing communications on social media is a real problem for our industry and it's evident that advertisers aren't doing enough to ensure transparency. Read More
Check out last month's Digital Marketing News update.