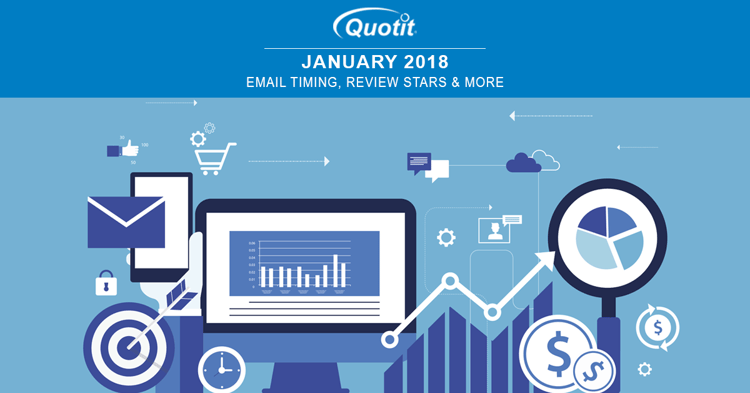 As an insurance professional, it's imperative to keep up with the latest trends and best practices in the digital marketing world. Our monthly digital marketing news update gives you the latest scoop for a variety of online media critical to your success.
For the month of January we look at some tips for sending your email newsletter at the right time, the effect of review stars on Google, Instagram marketing tips, and more.
LATEST SEARCH NEWS:
A look at the latest best practices and algorithm updates for Google and other top search engines.
---
How & Why to Make Your Website More Secure
Data security has been an extremely hot topic due to all of the cyberattacks and data theft that have been headlining the news in 2017. In a pre-emptive response, Google has made it a priority of theirs to let Chrome users know which sites are protected and which ones are not. Here's brief breakdown of what they did and how it might impact your website. Read More
SEO Basics: What is Googlebot?
For seasoned SEO veterans, knowledge of Googlebot, web crawlers, and spiders is basic. That's not the case with most of us though. So today, take a quick read through Yoast's explainer article and show off your technical SEO knowledge to all your co-workers. Read More
---
EMAIL BEST PRACTICES:
Insight into the most effective design and execution strategies for email marketing.
---
6 Tips for Sending Your Email Newsletter at the Right Time
If you are struggling with the open rates of your email newsletters to prospective clients, it could have something to do with when you are sending them. But email can be checked at any time, right? While true, and as crazy as it sounds, timing is a huge factor in determining the open rate of your emails. Read on to learn some opinions and perspective from Kissmetrics. Read More
7 Reasons Email Marketing Still Works
Based on headlines, you'd think the marketing world revolves around a battle between Snapchat and Instagram. Unfortunately, that couldn't be further from the truth. In fact, those two mediums probably aren't a good use of marketing dollars for most companies. So let's take a look back at one of the mainstays of digital marketing, the email. Read More
---
BEHAVIOR & CONVERSIONS:
Latest trends and findings for optimizing website visitor behavior and conversions.
---
Do Review Stars on Google Help Click-Through Rate?
It's a little worrisome to leave your review stars out in the open for everyone to see, especially if they are attached to your search result. However, they can have a direct impact on the amount of people that click through to your page. If you have a gleaming 5-star rating, don't hesitate to shout it to the world – it could mean even more business. Read More
5 Tips for Writing an Awesome Blog Post
So you've taken the plunge into blogging, now what? Writing out quality blogs can take a lot of time and you need to churn these guys out fast. So instead of reading a long blog about writing blogs, watch this quick video about writing blogs fast. Hint: templatize! Read More
---
SOCIAL MEDIA:
The inside scoop on the latest social media trends and developments.
---
8 Actionable Instagram Marketing Tips, Backed by 20+ Studies
It's all about being data-driven these days, even when that data is about a flourishing, completely image-focused platform. Instagram, beloved by millennial brunchers everywhere, is becoming a preferred social media platform. Should your business be on it and if so, what in the world should you post? Read More
Facebook Messenger Ads: How to Use Them in Your Business
Facebook rolls out new types of ads almost as frequently as Liam Neeson gets taken. One of their new advertising features is through Facebook Messenger. There are two types of messenger ads (depending on when you are reading this). One type is a standard Newsfeed ad that drives a user to your chat. The second is a message ad, which essentially is a mass message that shows up for a user exactly the same as a message from their friend would show up. Read More
<< Read last month's Digital Marketing News Update