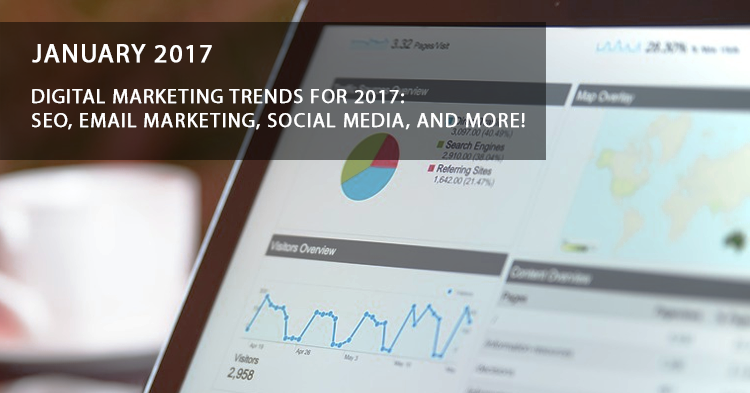 As an insurance professional, it's imperative to keep up with the latest trends and best practices in the digital marketing world. Our monthly digital marketing news update gives you the latest scoop for a variety of online media critical to online success.

For the month of January we look at engaging content to strengthen your SEO efforts, avoiding the spam filter, Facebook's call-to-action button update, and more ...
---
LATEST SEARCH NEWS:
A look at the latest best practices and algorithm updates for Google and other top search engines.
---
6 Trends That Will Dictate The Future of Local SEO
Search engine optimization has evolved every year. As new algorithms are released, SEO practitioners have tried to adhere to best practices as several businesses compete for their top position in search engine results. Read More
A New Year's Resolution for Paid Search
Paid Search. Search Engine Marketing. Pay Per Click. Google Ad Words. WHATEVER the heck you call it, getting customers to your site can be a nightmare. Read More
---
EMAIL BEST PRACTICES:
Insight into the most effective design and execution strategies for email marketing.
---
The Biggest Email Marketing Trends in 2017 Will Be...
Take a look at six promising email marketing trends in 2017 according to 1,200 email marketers. Read More
The Email Marketing Superhero: ALT Tag
"Don't you just love when all of your images get blocked by ISPs?" − said no email marketer ever (unless it was sarcastic). Read More
---
BEHAVIOR & CONVERSIONS:
Latest trends and findings for optimizing website visitor behavior and conversions.
---
5 Search Engine Optimization Trends for 2017
With every passing year, search engine portals develop new algorithms and rules with the hope of combating spam links and people trying to play the system. Read More
Google Gets Grumpy to Transpile and Run Python on Go
Citing a lack of performance when it comes to concurrent workloads, Google decided it needed to toss out the standard Python interpreter in favour of a new approach that transcompiles Python into Go. Read More
---
SOCIAL MEDIA:
The inside scoop on the latest social media trends and developments.
---
Twitter Is Rolling Out Livestreaming 360-Video on Periscope Just Weeks After Facebook Did the Same
Two of the most hyped video formats of 2016 − livestreaming and 360-degree video − are growing closer and closer together. Read More
Social Media Is Finally Growing Up
Until recently, social media platforms have needed to build and remain inside their walled gardens to avoid sharing their competitive intelligence. Read More
View December's Digital Marketing News update.