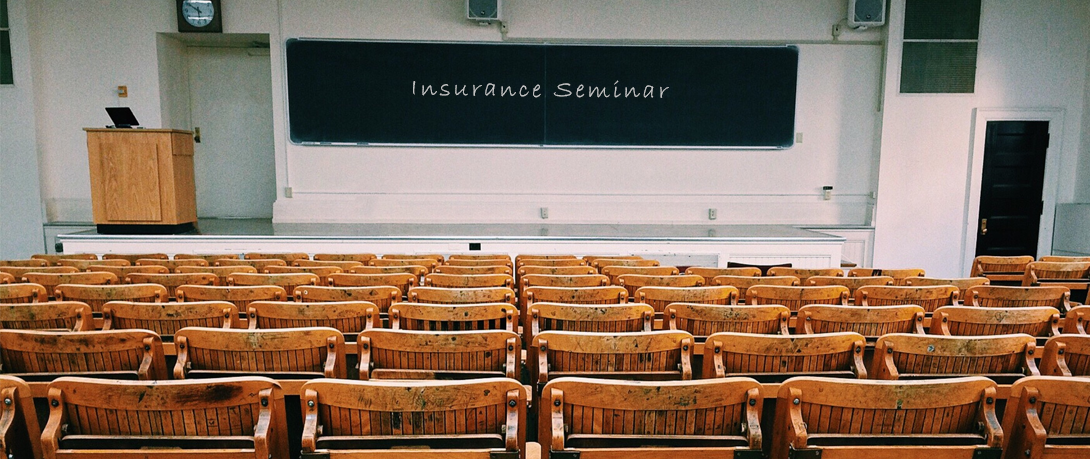 Used strategically, insurance events and webinars can elevate your business and propel your success to new levels. The following are a few recommended tactics to help you get the most out of your insurance events and webinars.
Events 101 – Types of Events
Never underestimate the power of networking. Attending your local association of health underwriter's annual event might not sound appealing, especially when you could be in your office closing sales, but these events can introduce you to other professionals and experts in your field and may actually impact your business long-term goals.
Hosting informational insurance events are an excellent way to meet people, establish a rapport, and build their confidence in you and your products. Don't forget to gather the appropriate information from those in attendance and follow up in a timely manner.
Hosting webinars and exclusive online events can allow you to introduce your products and services to your clients and a new perspective. If you don't already utilize a webinar platform, make sure you do your research to find the one that will best suit your needs.
Top Ten Reviews compiled a list of some of the top platforms available, providing an easy to follow comparison of cost and features offered. You can find the complete list by clicking here.
Understand Your Target Audience
Hosting informational insurance events can result in sales if you take the time to understand your target audience, and structure the message to meet their specific needs.
Is there a single buyer persona that will be attending this event? Or are there multiple target audiences present – all of which would have a need for your insurance services?
If the entire audience will be likely candidates for your services, it's a good idea to break this down into buyer cycles:
Unaware of your services but potentially interested
Aware of the problem your services cover but not looking for a solution
Actively looking for your solution
An audience member that's shopping around for short term health insurance, for example, will require a different messaging than someone that just lost their coverage.
When speaking to a large audience, it's best to base your content on the majority. A webinar on how to remain insured after a loss of coverage, for example, would be better catered for those unaware of solutions instead of those shopping for specific health plans.
Have a Plan for Two Way Discussions
Unlike other marketing channels such as online advertising, insurance events include both you and your audiences' reactions. The more you are prepared and organized for this interaction, the better you will perform.
Brainstorm potential questions audience members will ask and how you would ideally answer.
Work the Room (or the Webcast)
The same rules for controlling the conversation and getting insurance prospects to buy apply when hosting an event. Be consultative, add value, and build trust with your presentation.
Understand the fears, frustrations, and aspirations of your audience. Share relevant personal stories. The better you can establish rapport and build their confidence in you, the more likely they'll be interested in your services.
Build Support with Strong Marketing Materials
Use marketing materials that speak to the value of your insurance solutions. Brochures, fliers, business cards, and attention-grabbing props are great ice breakers and credibility-builders.
While webinars don't offer you this same opportunity, consider the visuals in your presentation. Avoid all-text PowerPoint slides. Use charts, visual diagrams, videos, and other interactive, engaging material.
Use Murphy's Law
As Murphy's Law states, if something can go wrong, it will. During a live event environment, this can be finding out your fliers or marketing materials have incorrect number. Vendor booths could decide to break right when they're needed. You could wake up with a raspy, weak voice.
Running webinars, you run the risk of technology failing on you – leaving attendees with a blank screen.
The better you plan for failure, the better you'll come up with quick-fix solutions that save the day.
Follow Compliance Requirements When Needed
Depending on what type of insurance you offer, you may be required to follow certain regulations. Medicare, for example, has a number of marketing guidelines you should make sure to know before engaging in events – online or off.
Know What You Bring to the Table
Never underestimate the opportunity to stand out from other insurance professionals. Make sure clients understand what you bring to the table, and how your insurance solutions can positively impact their lives.
Choose to hold events that are suited to your business, and customize them to highlight your expertise. A commitment to continued education, training, and building industry relationships will keep you relevant as you set your sights on prospecting.