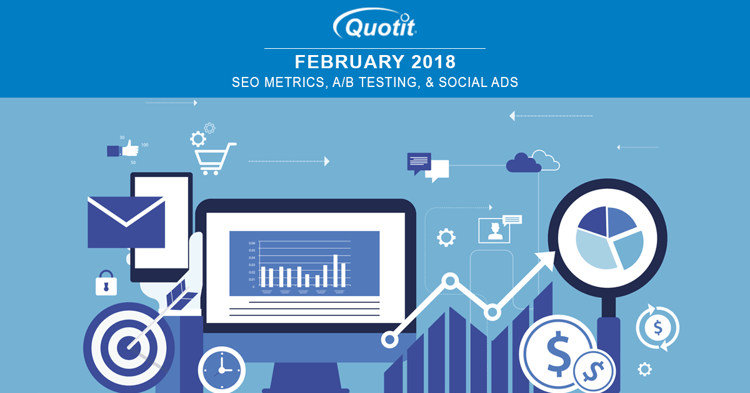 As an insurance professional, it's imperative to keep up with the latest trends and best practices in the digital marketing world. Our monthly digital marketing news update gives you the latest scoop for a variety of online media critical to your success.
For the month of February we look at some important SEO metrics to track, how to successfully A/B test, social ads, and much more.
---
LATEST SEARCH NEWS:
A look at the latest best practices and algorithm updates for Google and other top search engines.
---
SEO Basics: What is Conversion?
When it comes to online marketing, there are a lot of terms thrown around casually. So today, take a step back and look at "conversion". Most commonly it is associated with a sale, but that might actually be too specific. So, what is conversion? Read More
SEO Metrics You Need to Focus on in 2018
Unfortunately, a common misconception of SEO is that it is a one-time add-on to your website. Just add some SEO and you'll be a Google ranking machine, right? Wrong. SEO is a lifelong process for your website and there are a number of metrics you should be monitoring to understand where you need to improve. Read More
---
EMAIL BEST PRACTICES:
Insight into the most effective design and execution strategies for email marketing.
---
6 Marketing Tactics You Can Use to Boost Email Subscribers
Your email list can be one of the greatest weapons in your marketing arsenal. However, building that list can be quite a battle on its own. Here are some tactics you can use to help build your extremely important email list. Read More
6 Rules to Follow When A/B Testing Your Emails
If you are not familiar with A/B testing, it is the process of testing one factor against another. For example you can A/B test subject lines for your emails to determine which receives a greater open rate. When conducting an A/B test, there are some rules you should be following. One of these rules - only test one element at a time. Here are five more rules to keep in mind. Read More
---
BEHAVIOR & CONVERSIONS:
Latest trends and findings for optimizing website visitor behavior and conversions.
---
How to Never Run Out of Content Ideas Again
A great way to convert potential customers is to create engaging content. You want to create this content for all stages of the decision-making process. The one problem that many brokers face is the fact that creating content is time-consuming and you might run out of ideas. Luckily, there are some tips to help you produce endless content. Read More
Beyond "One Size Fits All" A/B Tests
We already shared one A/B testing focused article with you regarding emails. Here's another A/B testing article focused on avoiding a "one A/B test fits all" approach. There are a lot of elements to test, on a lot of platforms, each with their own variants and costs. This all sounds complicated but is broken down nicely in the following article. Read More
---
SOCIAL MEDIA:
The inside scoop on the latest social media trends and developments.
---
Facebook is Testing a Way for Brands to Send Mass Messages via Messenger
If you're on Facebook, you are already familiar with Facebook Messenger. This feature makes it easy for users to private message each other and even send a private message to a company page. Now the communication might be evolving into a way for businesses to mass message users, as an alternate marketing solution on the Facebook platform. Read More
A Simple 3-Step Approach to Increasing Conversions and ROI with Social Media Advertising
There are a lot of options out there for social media advertising. We even just told you about a potential new form on Facebook above. With that said, being overwhelmed by the options shouldn't be holding you back from partaking in social ads. Here's a simple yet effective approach to making sure you are using your social marketing budget to its fullest potential. Read More
<< Read last month's Digital Marketing News Update