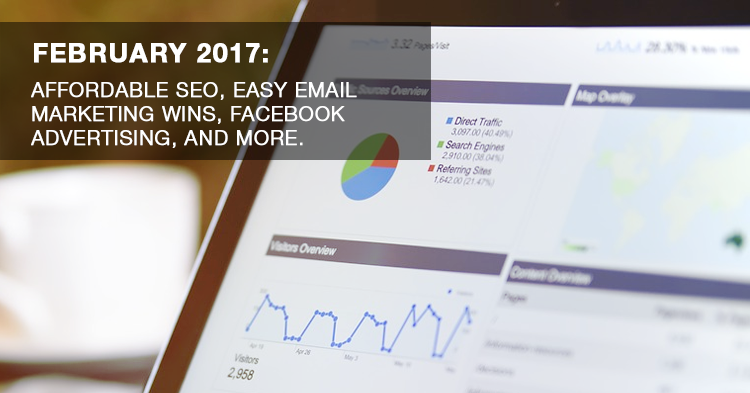 As an insurance professional, it's imperative to keep up with the latest trends and best practices in the digital marketing world. Our monthly digital marketing news update gives you the latest scoop for a variety of online media critical to online success.

For the month of February we look at affordable SEO methods, easy wins for email marketing, Facebook advertising, and more...
---
LATEST SEARCH NEWS:
A look at the latest best practices and algorithm updates for Google and other top search engines.
---
Affordable SEO: Five Ways To Cut Costs And Get Traffic
Hiring experienced SEO experts can leave a huge dent in your business' finances. Here are five affordable SEO tips to help you get started. Read More
Black Hat SEO No Longer Works (And Sets You Up For Punishment)
Today, nearly all black hat techniques no longer work. What's more, employing them can do serious harm to your placement on search engine results pages. Read More
---
EMAIL BEST PRACTICES:
Insight into the most effective design and execution strategies for email marketing.
---
The future of Email Marketing: Artificial Intelligence, Interactivity, Personalization, and More
Here's a sneak peek at some of the changes email marketing is set to undergo. Read More
7 Easy Wins to Add to Your Email Marketing To-Do List
Looking to step up your email marketing program this year? Chad White shares 7 ways to give your email marketing a boost. Read More
---
BEHAVIOR & CONVERSIONS:
Latest trends and findings for optimizing website visitor behavior and conversions.
---
The Data Types You Should Be Using to Create Segments for Personalization
To help you understand the different types of segments that can be created, let's dive into attributes and behaviors in this blog post. Read More
How an Analytics Mindset Changes Marketing Culture
The most significant culture shift today for marketing teams is adopting an analytical marketing approach. But there's a problem. Read More
---
SOCIAL MEDIA:
The inside scoop on the latest social media trends and developments.
---
Life Insurers 'Like' Social Media Marketing
U.S. Life insurers are expected to budget about $4.2 billion for advertising and marketing in 2017, a 12 percent increase over last year, according to a recent survey. Read More
How to Create a Facebook Advertising Checklist in 4 Easy Steps
While these four steps can't guarantee success, they do simplify the campaign launch and provide a focused roadmap for testing and measuring success. Read More
View last month's Digital Marketing News update.